Farah to face world's best
Mo Farah will face some of the greatest long distance runners of all time when he makes his full debut over 26.2 miles at this year's Virgin Money London Marathon.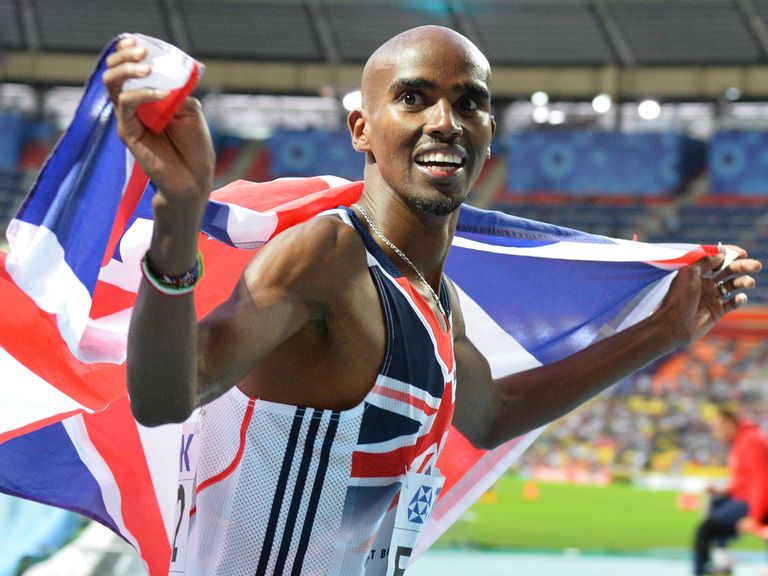 Britain's double Olympic and world champion willjoin an elite men's field on Sunday 13 April that includes marathon world-recordholder Wilson Kipsang, Olympic and world marathon champion Stephen Kiprotich,reigning London Marathon champion Tsegaye Kebede, and London course recordholder Emmanuel Mutai.

Farah ran the first half of the race in 2013 to assess the course andopposition in preparation for his full marathon debut this April. He went on towin the World Championships 10,000m title in Moscow last August beforeretaining his world 5000m crown, adding another global track double to his twinOlympic triumphs from London 2012.

The 30-year-old then ran his fastest half marathon when second in the GreatNorth Run last September and has since been training hard for his firstmarathon race.

"I gained a lot of valuable experience running part of the course alongside thetop guys last year and can't wait to race over the full distance this April,"said Farah, who will have an eye on the long-standing UK record of two hoursseven minutes 13 seconds.

"The London Marathon always attracts the world's best runners to its elitefields and this year will be no different. I am expecting it to be one of mytoughest races and a real learning experience.

"I had another great year on the track in 2013, but the marathon is my mainfocus for this year. As a young boy growing up in London it has always been myambition to run¿ the London Marathon and to be able to make mymarathon debut in my home town is very special."

It will be even more special if Farah can reward his British fans with victory,but the debutant will come up against an experienced field that includes threemen who have run quicker than two hours four minutes and six who have broken2:05.

Quickest of the lot is Wilson Kipsang, the Kenyan who broke the world recordwhen he won last September's Berlin Marathon in 2:03:23. Kipsang will be keento regain the London Marathon title he won in 2012 just a few months beforeclaiming the bronze medal at the London Olympics.

Kipsang was fifth in last year¿s race when Tsegaye Kebede triumphed here forthe second time, the Ethiopian coming from behind in a dramatic finish toregain the crown he first won in 2010. Kebede is the sole non-Kenyan to win themen¿s race in the last 10 years and his aim in 2014 is to become the fourth manto win the title three times.

Kebede ran his personal best of 2:04:38 to win the 2012 Chicago Marathon and heclinched the 2012/13 half-million dollar World Marathon Majors prize when hewas second in the New York City Marathon last November.

The second quickest man in the field is Emmanuel Mutai who set the courserecord when he won the London Marathon in 2011. The Kenyan looked odds on towin again last year until Kebede overtook him in the final mile. Mutai wasrunner-up again in last October¿s Chicago Marathon when he clocked 2:03:52 tobecome the fourth fastest man of all time.
His namesake, Geoffrey Mutai, will also be among the favourites after runningthe fastest marathon ever in 2011. He won the Boston Marathon that year in2:03:02, although it did not qualify as an official record because of thenature of the Boston course.

One of the most consistent men on the marathon circuit, Mutai also won the 2012Berlin Marathon in 2:04:15 ¿ his best time on a legitimate course ¿ and hastwice triumphed in the New York City Marathon in recent years. He dropped outon his London debut last April so will be keen to make amends this time.

Kebede will be joined by two other super-quick Ethiopians who also return toLondon with realistic hopes of victory.

Ayele Abshero produced a sensational debut when he won the 2012 Dubai Marathonin 2:04:23 and he reached the London podium last year when he was third. Thatwas one place ahead of his compatriot, Feyisa Lilesa, the 2011 world bronzemedallist who produced his best time when second at the 2012 Chicago Marathon.

Farah will be keeping a wary eye on another Ethiopian, Ibrahim Jeilan, who willalso make his marathon debut in London. The pair have fought out a fierce trackrivalry in recent years - Jeilan beat Farah to the 2011 world 10,000m title inDaegu, but the Briton got his revenge in Moscow last summer.

Stephen Kiprotich will again be one to watch as the Ugandan returns to Londonjust eight months after adding the world marathon title to the Olympic crown heclaimed in spectacular fashion on The Mall in August 2012. The Ugandan will behoping to make the podium this time after finishing sixth here last April.

The Kenyan challenge is completed by Stanley Biwott, the 2012 Paris Marathonchampion who was eighth in London last April, and Martin Mathathi, winner ofthe 2013 Fukuoka Marathon. The field also includes Marilson dos Santos ofBrazil, the two-times New York champion who was fourth here in 2011.

Farah will be joined three fellow Britons, including his former trainingpartners, Scott Overall and Chris Thompson.

Overall made an impressive marathon debut when he was fifth in the 2011 BerlinMarathon and represented Britain at the London 2012 Olympics, but he droppedout of the London Marathon last year and will be keen to make a betterimpression this time.

Like Farah, Thompson will tackle the marathon for the first time after animpressive career on the track, including a 10,000m silver medal at the 2010European championships. Another Briton, Ben Livesey will also make his fullmarathon debut after moving up to the half marathon in 2013.

London Marathon race director Hugh Brasher said: "We are delighted to announceanother superb elite men¿s field for the 2014 Virgin Money London Marathon, aline-up containing the usual array of record breakers, global champions andworldwide marathon winners.

"Of course, much attention in Britain will focus on the performance of Mo Farahand we are very pleased that he has chosen London to make his marathon debut.But it will be an extremely tough challenge for Mo with the quality of theelite field as high as ever.

"The London Marathon is rightly known as one of the hardest races in the worldto win, and the line-up of world-class talent we are announcing today showsthat 2014 will be no exception."