Trott wins gold on final day
Double Olympic champion Laura Trott was Great Britain's solitary gold medallist on the final day of the Track World Cup in Manchester as the hosts suffered the unfamiliar feeling of finishing second on the medal table.
Tour de France. Click here to bet.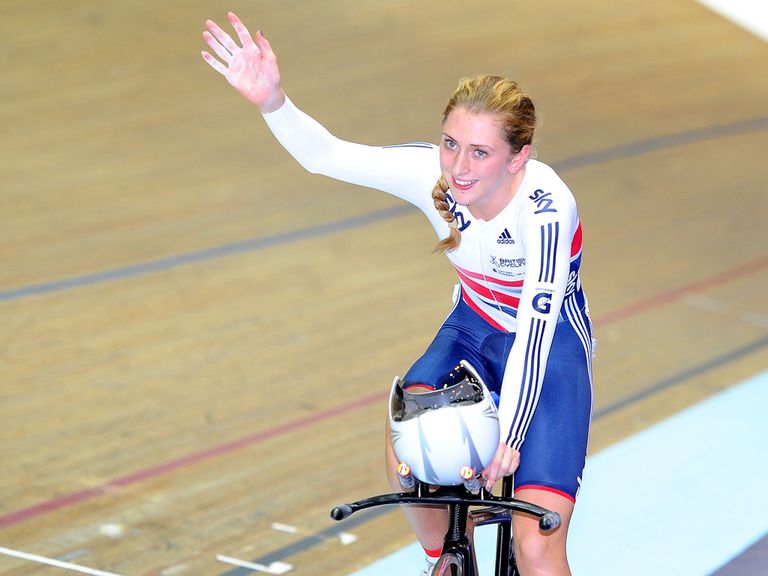 Britain's track cyclists are used to dominating in the velodrome, but the last of three days of racing at their home track did not begin as planned, as Olympic champion Jason Kenny suffered an embarrassing early exit in the men's sprint, failing to negotiate qualifying.
Trott, Kenny's girlfriend, triumphed in the six-discipline omnium after winning the final two events, taking her second gold after victory in the team pursuit on day one.
World champion Becky James was second in the women's Keirin, claiming Britain's second medal of the day, as the hosts finished with four gold medals and eight in all.
All five of Germany's medals were gold, with two claimed on the final day as Kristina Vogel took her third title from three events in the Keirin and Robert Forstemann added the individual sprint title to the team gold claimed on day one.
Trott was sixth overnight at the midway point in the omnium before a second-day rally.
She placed second in the individual pursuit before a gutsy winning ride in the scratch race propelled her to top spot in the rankings with one event remaining.
The bunch races are not normally Trott's forte, yet she seized her opportunity by being the second of two riders to lap the field and out-sprinted Poland's Malgorzata Wojtyra to win. It was the first time she had gained a lap in a scratch race.
"Normally in the omnium you're sitting back and you're just racing the people in the top six," the 21-year-old from Cheshunt said.
"I was never going to win the omnium by doing that. My coach (Chris Newton) said to me 'just go for it'.
"When you're a kid and you race nationals, you race like that. You just think 'sod it' and go.
"If I didn't get the lap I didn't get it, at least I'd tried. But I did get it and it paid off, because then I only had to sprint against one person."
Trott also won the sixth discipline, the 500metres time-trial, to win by 19 points, five points clear of runner-up Gillian Carleton of Canada.
She was roared on by a partisan crowd.
Trott added: "I don't think I would've won if it wasn't for them.
"In the 500 as well, my first half-lap felt horrendous, but they were cheering and I was like 'I've got to do it, haven't I?"'
Despite her formidable run of results continuing, Trott knows there is work to do in the event, particularly specific training for the bunch events.
She added: "I wouldn't necessarily say I'm getting better at it; there's a lot of room to improve."
Trott's win came at the end of a day which began with frustration for Kenny, who was unusually not among the leading 16 in sprint qualification and did not proceed to the knockout stages.
"I haven't spoken to him yet," Trott said. "He will be disappointed.
"He tried quite hard yesterday (in finishing fourth in the Keirin) and he said in his warm-up he didn't feel great.
"The qualifying times were amazing and he obviously just didn't have the legs for it."
Matt Crampton did advance, placing fourth after being beaten 2-0 by Shane Perkins of Australia in the battle for bronze.
Forstemann, who beat Trinidad's Njisane Phillip 2-0 in the best of three final, was imperious in the men's sprint and Vogel was in the women's Keirin, accelerating away from James, with France's Sandie Clair taking bronze.
James said: "I really wanted to try to get on her wheel and hang on. She's got so much more speed, everyone was hanging on.
"She had the legs on me."
The 21-year-old from Abergavenny won team sprint silver on day one and sprint bronze on day two and reflected on a good weekend's work.
"It's gone really well," she added.
Jon Mould, riding for Wales-Team USN, was third in the men's scratch race, won by Austria's Andreas Muller, with Britain's Owain Doull 11th and world champion Martyn Irvine of Ireland 18th.
Laura Brown of Canada won the women's points race with 29 points.
Elinor Barker of Britain was 11th, Ireland's Caroline Ryan was 14th and Katie Archibald, riding for Scotland-Braveheart.com and a medallist in the individual pursuit and scratch race, was 15th.
---
New Sky Bet customers: Claim free £5 bet every week
---