Pistorius waits on bail hearing
Oscar Pistorius must wait until Wednesday to discover whether he will be granted bail after being charged with premeditated murder over the death of his girlfriend Reeva Steenkamp.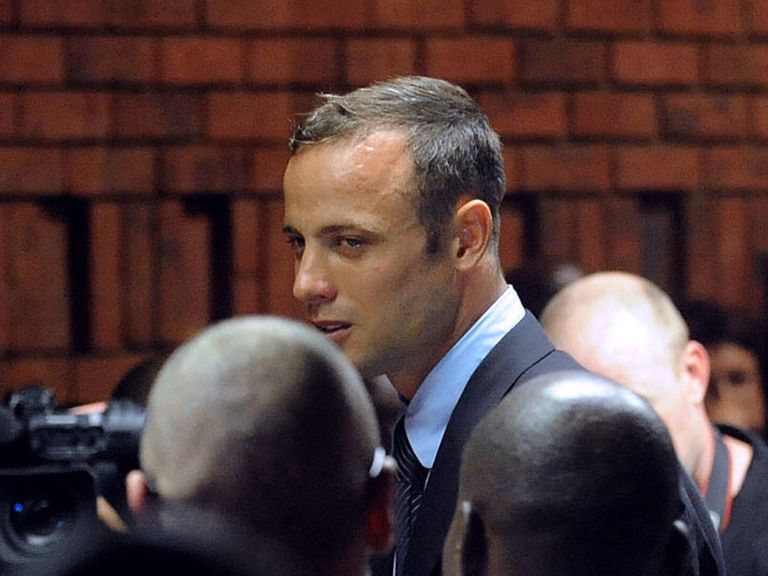 A court hearing in Pretoria was adjourned on Tuesday with no decision over the immediate fate of Pistorius, who has been held in a police cell since his arrest following the shooting incident last Thursday.
In an emotional statement read out in court by Pistorius' lawyer, the athlete claimed he shot Steenkamp because he thought she was robber, and stressed the couple were "deeply in love".
The 26-year-old, who broke down in tears on several occasions, said the pair were in bed together when he woke up and went on to a balcony to bring a fan inside.
On his return to the bedroom he said he heard a noise and thought an intruder had broken in through his bathroom window.
Pistorius claimed he was too scared to switch a light on, so he grabbed his 9mm pistol - which he kept under his bed after receiving death threats - and walked towards the bathroom, which contains a toilet with a separate door.
"On my way to the bathroom I screamed words to the effect for him/them to get out of my house and for Reeva to phone the police. It was pitch dark in the bedroom and I thought Reeva was in bed," he said.
"I believed that when the intruder/s came out of the toilet we would be in grave danger. I felt trapped as my bedroom door was locked and I have limited mobility on my stumps.
"I fired shots at the toilet door and shouted to Reeva to phone the police.
"She did not respond and I moved backwards out of the bathroom, keeping my eyes on the bathroom entrance.
"Everything was pitch dark in the bedroom and I was still too scared to switch on a light. Reeva was not responding.
"When I reached the bed, I realised that Reeva was not in bed.
"That is when it dawned on me that it could have been Reeva who was in the toilet.
"I returned to the bathroom calling her name. I tried to open the toilet door but it was locked.
"I rushed back into the bedroom and opened the sliding door exiting on to the balcony and screamed for help."
According to Pistorius he then smashed his way into the toilet using a cricket bat, finding her "slumped over but alive". He then phoned for an ambulance and carried her downstairs, but she died in his arms.
The defendant said he was "absolutely mortified" by what had happened, but insisted the evidence would prove his innocence.
Magistrate Desmond Nair ruled that the case was a schedule six offence - meaning premeditated murder - for the purpose of the bail hearing in Pretoria.
Prosecutor Gerrie Nel told the court the victim arrived at the house between 5pm and 6pm on Wednesday, and went to the bathroom after an argument between the pair.
He said that at 3am Pistorius got up from his bed, walked to the bathroom door and fired four shots through the closed door, hitting her three times.
Nel said: "She couldn't go anywhere. You can run nowhere."
He told the court Pistorius later told a friend he thought she was a burglar. Nel added: "It was all part of the pre-planning. Why would a burglar lock himself inside the bathroom?"
Pistorius' lawyer, Barry Roux, said Steenkamp was not murdered, and there were a number of cases where men shot members of their own family through doors after mistaking them for burglars.
He also suggested that Pistorius broke down the bathroom door after the shooting to help Steenkamp.
"We submit it is not even murder," Roux said. "There is no concession this is a murder."
The bail hearing came as Steenkamp's funeral was held in her home town of Port Elizabeth.
Steenkamp was cremated at a memorial service attended by family and friends who had travelled from around the world. Six pallbearers carried her coffin, draped with a white cloth and covered in white flowers.
Her brother, Adam Steenkamp, said after the service: "Everyone is sad, understandably, but at certain points we were smiling whilst remembering Reeva, because we only have good memories of her.
"There's a space missing inside all the people that she knew that cannot be filled again.
"We're going to keep all the positive things that we remember and know about my sister and we will try and continue with the things that she tried to make better. We'll miss her."
The court hearing was adjourned until Wednesday.