Adlington confirms retirement
Double Olympic champion Rebecca Adlington announced her retirement from competition before revealing her goals for the next generation which she claimed "would be the greatest legacy of all".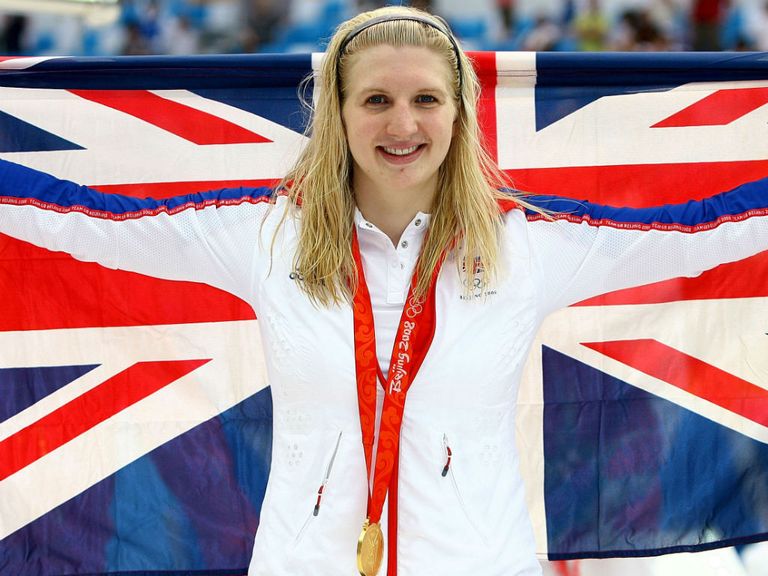 The 23-year-old's future has been the subject of much debate since she claimed two bronze medals at the London Olympics to add to her double gold in Beijing in 2008.
The Mansfield-born swimmer confirmed she was to bring to an end a glittering career which has seen her claim medals at Olympic, world, European and Commonwealth level.
She extolled her love of the sport and said: "I hate the word retire so I don't want to say retires from it at all because I will never retire from swimming in general.
"I love swimming, it's something I've always loved.
"As a competitive element, as an elite athlete, I definitely won't be competing any more.
"I will always be swimming, even when I am 90 years old I will still be getting in the pool."
Such is her passion for swimming and her desire for children to get involved that she has set up a learn to swim programme called 'Becky Adlington's SwimStars' with the lofty ambition of ensuring every child in Britain can swim 25 metres when they leave primary school.
Should such a goal be achieved, for Adlington it would surpass everything she has done in the pool.
She said: "I think the whole thing about the Olympics is legacy and everyone keeps throwing legacy around.
"Obviously the Games did that: people saw us, all the little kids were on TV going 'I want to be a Chris Hoy, I want to be a Becky Adlington' but you can't just leave it at that - 'right I've done my job in London, that's it'.
"I want to create a deeper legacy which is trying to get every single child swimming 25 metres when they leave primary school.
"That would be my absolute goal in life to do that.
"I know it's ambitious, I know it is very out there but I wouldn't have said five years ago that I'd have four Olympic medals in my drawer at home.
"I know it's ambitious but I know with a lot of hard work you can do that.
"It is such a life skill, it would be amazing, it would overtake anything I've achieved medal-wise.
"That would be the greatest legacy of all."
Adlington is hopeful a partnership can be formed with a leisure operator and the programme would employ its own teachers as well as offering teacher training and resources.
Such programmes, which would also teach values of respect and friendship, have played an ever increasing part of Adlington's life since Beijing.
The former Nova Centurion athlete has qualified as a swimming teacher and is vocal in her desire to pass on her knowledge with a real love of being in with the three/four year olds.
She added: "It shocks me we learn how to walk and run but we don't learn how to swim.
"Especially now with the floods and we live on an island and it's just shocking to me people can't swim.
"I would definitely like to change that stuff. It's not about hammering down the government on it, it's just hopefully about being connected with the right people and
being more involved.
"I am definitely learning more and more about it and that is what I have been doing since Beijing."
While Adlington looks to the future, never did she envisage her own career would culminate in the global success she earned.
Her partnership with coach Bill Furniss at Nova Centurion started when she was 12 although at the time it was not such an appealing prospect to the young Adlington.
"I cried my eyes out when they told me I had to go and be coached by Bill," she added.
"I was at a different club at the time and I didn't know Bill and I was like 'I don't want to leave all my friends' and just started crying.
"But straight away we clicked but it was never something I thought at that stage that I would go on to the Olympics.
"That wasn't why I did it. I just wanted to go and learn and I loved going."
After such beginnings came a pairing that saw her win her first senior international medal at the 2006 European Championships in the 800 metres freestyle before the Olympic trials two years later marked her out as a real contender.
Come Beijing and what unfurled was astonishing.
Gold in the 400m freestyle - the first Olympic title by a British woman since Anita Lonsbrough in 1960 - was followed by a second gold in the 800m, taking more than two seconds off Janet Evans' world record, then the longest-standing global mark.
Looking back, Adlington said: "Beijing changed my whole entire life.
"It was without a doubt the best moment of my entire career: I never, ever thought in a million years I would have two Olympic gold medals.
"And my world record still stands: I know it will go soon but it is still there."
Success brought overnight fame and although she enjoyed all the invitations, it was also overwhelming for a 19-year-old .
Having experienced such intense attention, Adlington would now like to help other up and coming youngsters in the sport on how to be prepared for what may be ahead.
Adlington would be especially well qualified given she experienced a cutting low at the World Championships in Rome when she finished outside the medals in the 800m freestyle, just a year after Beijing.
There have been far more highs than lows with the swimmer memorably elated after claiming the world crown in Shanghai in 2011 following a stroke for stroke duel with Dane Lotte Friis.
Last summer in London, Adlington claimed double bronze, two of just three British medals.
While some expected at least one gold to be a formality, Adlington insists that, while disappointed with her time in the longer race, she "could never, ever be disappointed getting two bronze medals."
She felt the trials, in early March, came too soon but added: "I can look back with no regrets, I gave that everything I possibly could" and described the crowd chanting her name as "a very special moment, I didn't feel I deserved it."
She was outspoken in her criticism of British Swimming following the inquest into the team's below-bar performance .
Adlington had said the swimmers felt "ignored" but now a leadership group has been set up where there will be close involvement with Furniss - yesterday unveiled as the new British head coach - and Chris Spice, the national performance director, as well as chief executive David Sparkes.
She paid tribute to all the team around her, saying: "I've always said with all my medals I've got at home, they are not just mine - they are my parents', they're Bill's medals.
"Bill doesn't get enough credit."
She believes his new role is "a brilliant step for him" and predicts a bright future for the team confident in the pairing of Furniss and Spice.
As to how she would like to be remembered, Adlington mused: "I'd like to be (thought of as) someone who I hope has enabled people to have a bit more confidence and belief in themselves.
"No one ever expects a British swimmer to get two golds, nobody expected it before Beijing, so hopefully the younger guys coming up can see it is possible.
"I'm just a girl from Mansfield and I've done it.
"I'd like to be remembered as somebody who has helped other athletes and always been a nice addition to the team.
"I've tried to get on with everyone, I've had such a laugh, I've had the best memories due to my team-mates.
"Hopefully they feel the same about me as I do about them."
---
Click here for completely free £10 bet with Sky Bet & £5 free every week
---