Button reveals Perez bond
Jenson Button has already noticed a considerable difference around McLaren since Lewis Hamilton's departure.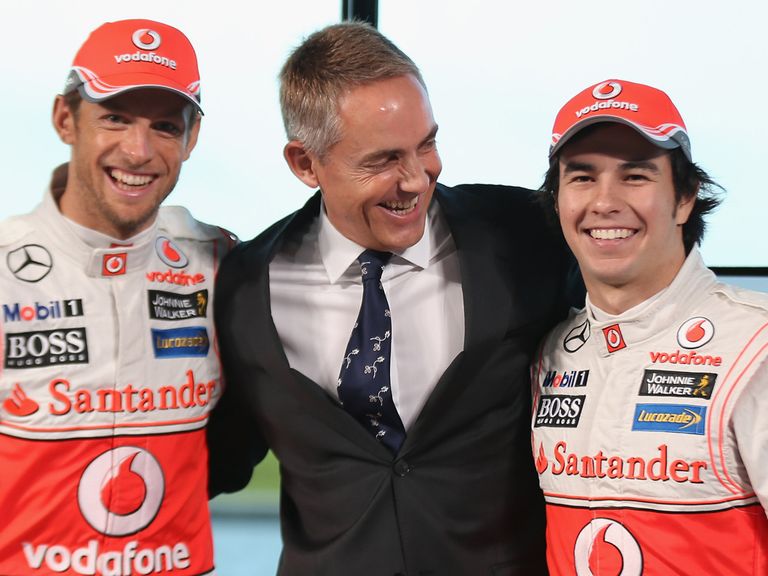 Button is far from being detrimental towards his fellow Briton and former team-mate of three years in light of Hamilton's defection to Mercedes on a three-season, £45million contract.
But in terms of starting afresh in working with a new team-mate in Sergio Perez, there already appears to be an instant rapport between the veteran 33-year-old and the Mexican who only turned 23 five days ago.
That was evident on Thursday as they unveiled McLaren's latest challenger for the forthcoming campaign, the MP4-28, at the team's Technology Centre (MTC) in Woking.
Button revealed he was starting to develop a closer working relationship with Perez than he previously enjoyed with Hamilton.
Asked whether it had been different at the factory over the past couple of weeks without Hamilton, Button replied: "It is different. For me, I've seen Checo (Perez) around the place a lot this week, the last two weeks, which has been good.
"It's good to see he has been getting into the spirit of McLaren and spending a lot of time here, doing sponsor activities or developing his relationship with the team.
"When Lewis and myself were here together we never used to see each other. It used to be one day in the simulator and out the other.
"For me and Checo it's been very useful for us to get to know each other, but also for us to spend some time talking to the engineers, and actually in the same room together discussing things."
Button believes if he is to win a second world title then fostering his relationship with Perez, particularly over the 12 testing days that begin in Jerez on Tuesday, is of paramount importance.
"We're both going to have six days in the car and both going to be learning as much as we can," added Button, effectively the team's de facto number one driver now Hamilton has gone.
"We have to make sure we work well together, probably better than I have with a team-mate so I can really understand if he makes a change to the car, whether it's a positive or a negative.
"You need that. Being limited to only 12 days in total, I need to work closely with Sergio, and as I say, probably closer than I've ever worked with a team-mate."
For his part, Perez has confidently made it clear on many occasions - and again on Thursday - he wants to be world champion this season.
With McLaren's resources at his disposal it is an understandable claim, although he admits to being grateful for the support shown to him so far by Button.
"I'm really getting on well with him. He is a great guy, a really simple guy, and he has a lot of talent," Perez said.
"He is a great champion, so I admire him a lot, I have a lot of respect for him, so I'm really looking forward to learning from him, to working together with him. We're going to be good team-mates.
"He has been great, welcoming me into the team, working together with me.
"So far it has been a great partnership, and I hope we can go on like this for the rest of the season, and hopefully many seasons together."
As for the car itself, even Button admitted an untrained eye would be hard pressed to differentiate between the current model and that from last year.
In essence, from the cockpit forward the McLaren sports an entire new front end, while Button claims that "under the skin it is so different".
It is a car team principal Martin Whitmarsh knows has to deliver the titles long overdue at McLaren given their resources.
"Since 1966 when we started in Formula One, we've won 182 races, more races than any other team, and 20 world championships, but recently we have not won nearly enough," said Whitmarsh.
"Last year we started and ended with the fastest car, and it was always competitive, but we can't be satisfied with an outcome where we win quite a few races, but don't secure the championship.
"When you look at what Ferrari and Fernando (Alonso) did last year, they maximised the points out of the product they had, and we didn't.
"So we've worked hard on that over the winter, and we seriously intend to put that right this season."
By way of a prelude to the unveiling, and given this year is the 50th anniversary of the team's inception, six cars were driven around the lake that fronts the multi-million MTC and into the building itself.
They included the championship-winning cars from 1974, 1988, 1998 and 2008 that were driven in those years by Emerson Fittipaldi, Ayrton Senna, Mika Hakkinen and Hamilton respectively.
---
Click here for completely free £10 bet with Sky Bet & £5 free every week
---