WADA: 'Confess under oath'
The World Anti-Doping Agency has told Lance Armstrong to inform the authorities of the details of his sordid past after Oprah Winfrey revealed the disgraced cyclist admitted to doping during an interview.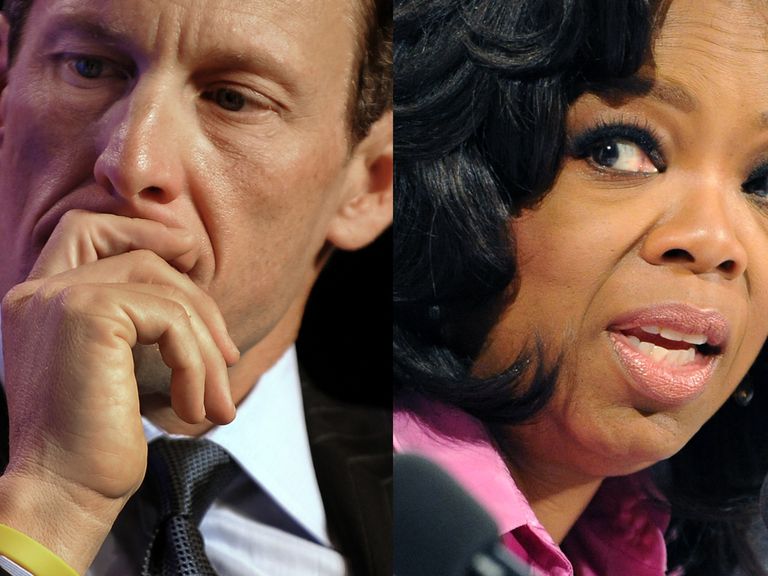 Armstrong was stripped of his seven Tour de France titles by the International Cycling Union last year and banned for life after the United States Anti-Doping Agency found he had been at the heart of "the most sophisticated, professionalised and successful doping programme that sport has ever seen".
The motives for an admission are unclear but the 41-year-old Texan, who retired from cycling for a second time in 2010, was competing in triathlons until he was banned last year.
Reacting to Winfrey's comments ahead of Thursday's broadcast of the first part of the interview, WADA director general David Howman said in a statement: "Only when Mr Armstrong makes a full confession under oath - and tells the anti-doping authorities all he knows about doping activities - can any legal and proper process for him to seek any reopening or reconsideration of his lifetime ban commence."
The UCI, cycling's world governing body, also urged Armstrong to co-operate with official channels and join the independent review it set up in the aftermath of the USADA report.
An admission of guilt opens Armstrong up to all manner of legal actions but Winfrey believes he was "ready" to come clean, albeit his admission did not happen in the way she had expected.
Armstrong and Winfrey met in the disgraced cyclist's home city of Austin, Texas to record the interview on Monday.
On the day it was revealed the interview between the pair will be broadcast over two nights - leading to suggestions of profiteering - Winfrey commented on her experience interviewing the man labelled the single biggest cheat in sporting history.
"I feel that he answered the questions in a way that (suggested) he was ready," talk show host Winfrey told the CBS This Morning programme.
"I would say he did not come clean in the manner that I had expected. It was surprising to me."
The first part of the interview will be shown on the 'Oprah' show at 9pm local time on Thursday (2am GMT on Friday), with the second to follow 24 hours later.
Winfrey said she was "satisfied" with Armstrong's answers during her interview; indeed, she was "mesmerised and riveted" by some.
She described Armstrong as "emotional" during the interview, but added that he "certainly had prepared himself". As had she.
"I had prepared like it was a college exam and walked into the room with 112 questions," she said.
"In a two-and-a-half-hour interview I asked most of those questions, or at least as many as I could."
Winfrey revealed no lawyers had been allowed at the interview at her request, although Armstrong did have a team of people in the room.
She added that at one point Armstrong asked her: "Will there be a point where you lighten up?"
Asked if Armstrong was contrite during the interview, Winfrey said: "I would rather people make their own decisions about whether he was contrite or not.
"I felt that he was thoughtful, I thought that he was serious, I thought that he certainly had prepared himself for this moment. I would say that he met the moment."
It is the belief of Briton Nicole Cooke, the 2008 Olympic and world road race champion, that Armstrong will never be able to atone for his tainted past.
Cooke, who retired from the sport on Monday, said: "He will never give back the careers and the opportunities and the dreams that were stolen from so many people.
"It's outrageous, everything that he's done. The bullying, everything else."
Some allies of Armstrong might argue what he has given to the sport of cycling outweighs his many misdemeanours. Cooke vehemently disagrees.
"It's absolutely disgusting, that point of view," she added.
"You are putting dopers up on a pedestal. Think of the example you are giving to society: doping pays. Cheating pays."
Armstrong apologised to staff at the Livestrong cancer foundation on Monday. He stepped down as chairman last autumn.
Renee Nicholas from the charity said the cyclist's fall from grace had not affected its work.
She told ITV News: "People understand the difference between the sport and the work that this foundation has done. It has always been very separate.
"People who really do take the time to learn about the work we do are aware of the differences between the two and incredibly supportive of the work the foundation does."
It was reported on Tuesday night that International Olympic Committee member Dick Pound has raised the prospect of imposing punitive measures against cycling, proposing it could be dropped from the Olympics for a period to provide the UCI with impetus to clean up the sport.
Such a decision would be a dramatic step, and would require strong support from the IOC, which has over 100 members.
Pound, the former head of the World Anti-Doping Agency, could not be reached for comment.
The reigning Olympic time-trial champion Sir Bradley Wiggins is keen to see the Armstrong saga and the doping culture which involved other riders consigned to cycling's past.
Wiggins told Sky News: "It'll be a great day for a lot of people and quite a sad day for the sport in some ways but I think it has been a sad couple of months for the sport, in that sense, because the nineties are pretty much a write-off now."
He added of Armstrong: "You wouldn't have thought he could keep playing this denial game for too long.
"He'll be advised of what he can and can't say, which will help or hinder the lawsuits that are going to follow behind if he does admit."
---
Click here for completely free £10 bet with Sky Bet & £5 free every week
---