Wiggins top of the tree
Frank Malley selects Tour de France winner and Olympic hero Bradley Wiggins as his Sportsman of 2012.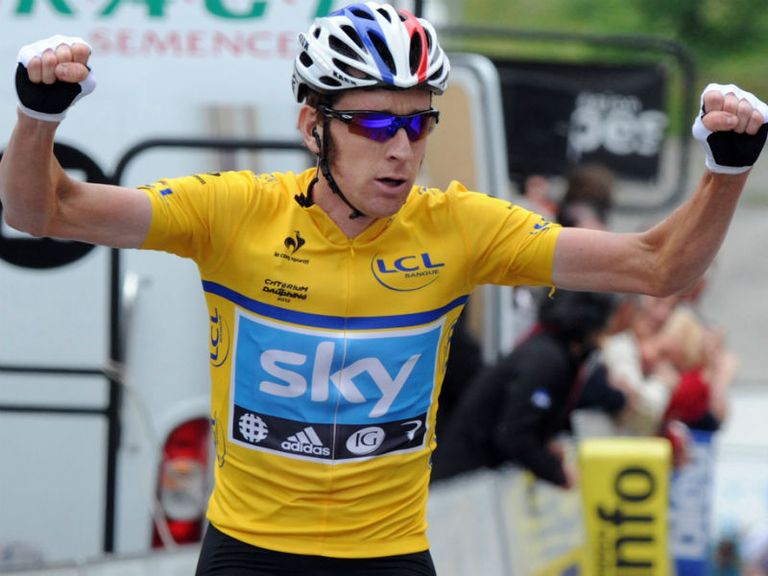 Sport is all about talent and a balance of timing and luck.
Tennis star Greg Rusedski was not overly endowed with the former but he had plenty of the latter which was the reason he won the BBC Sports personality of the Year prize in 1997 after losing the final of the US Open in a distinctly non-vintage year for British sport.
Which is not meant to dwell on the sporting shortcomings of 15 years ago, rather to illustrate how tough the competition for Sportsman of the Year in 2012 has become.
In any other year Andy Murray would walk off with the prize. He reached the Wimbledon final before losing to Roger Federer in five sets which saw him break down in tears and reveal a softer, more personable, side to his feisty personality.
He went on to avenge that defeat, beating Roger Federer to win the Olympic Gold medal on that same Wimbledon Centre Court to go with a silver in the mixed doubles, partnered by Laura Robson.
And then the piece de resistance, defeating Novak Djokovic in five gruelling and pulsating sets in New York to become the first British man in 76 years to win a tennis Grand Slam singles title.
All that and still Murray is swamped by a long list of contenders with equally compelling credentials to carry off accolades in the awards season.
How can you ignore the claims of Britain's greatest sailor Ben Ainslie, who demonstrated his ruthless talent in bringing home a fourth successive Olympic gold medal in Weymouth?
What about Rory McIlroy, the Irishman who won his second golfing major at the USPGA at the age of 23? Or the inspirational Ian Poulter whose spectacular shot-making did more than anyone to rescue a seemingly hopeless position for Europe as they wrested victory from the cusp of defeat against the USA at the Ryder Cup?
And what about Britain's Olympians, who rode a feelgood wave of tsunami proportions at London 2012?
Wherever you looked over 17 days of relentless achievement there were sporting heroes demanding to be rewarded.
No-one who was present in the Olympic stadium to witness Mo Farah become the first Briton to win the 10,000m and 5,000m golden double will ever forget the roars which propelled him around the track.
In any other year Farah would be a certainty for the ultimate accolade. Not this year.
Not with memories of cycling's Sir Chris Hoy surpassing Sir Steven Redgrave as the greatest British Olympian with six gold medals and double gold medallist Jason Kenny lighting up the Olympic velodrome with his sprinting prowess.
There are others deserving of mention. Triathlon gold champion Alistair Brownlee for one. Diver Tom Daley for another, even though the teenager could only take Olympic bronze as he came to terms with the death of his father and mentor. Greg Rutherford, too, who leaped to Olympic long jump glory almost unnoticed such was the tumult surrounding the feats of Farah and Jessica Ennis on an Olympic Saturday night of awesome wonder.
Then there were the Paralympians, two in particular deserving inclusion. Jonnie Peacock for his blade-running 100m triumph at the age of 19 which coupled with a confident and engaging personality marks him down as a mega-star of the future. The other was David Weir.
Some people simply exude the Olympic ideal naturally. Weir is one of them, his strength and stamina, coupled with an iron will in winning four gold medals as a wheelchair athlete, epitomising what sport and competition is all about. Weir made the adage that the Paralympics were about ability, not disability, come alive in all its uplifting glory. That is why he is up there with Britain's sporting greats.
But he is not top. Not in my book. That is a prize which must go to cyclist Bradley Wiggins for 10 days in summer which sets him apart even in such distinguished company.
First, Wiggins pulled on the yellow jersey on the Champs Elysees to win the Tour de France, the three-week race universally acknowledged as the most gruelling of all.
Then he took Olympic gold in the cycling time trial to bring his overall Olympic medal tally to seven, four gold, two silver and a a bronze.
Why Wiggins over Murray? Simple. They are both phenomenal achievements, although some will point to the fact that Wiggins could not have won the Tour de France without the aid of his Sky team while singles tennis is a truly individual sport. But the fact is that other Britons had won the US Open title, most notably Fred Perry in 1933, 1934 and 1936. As commendable as it was, it was not a unique achievement.
No other Briton had ever donned the yellow jersey on the Champs Elysees in almost a century of competition. That is what can never be taken away from Wiggins. The original and the best.
And the worthiest Sportsman of the Year in 12 months of British sport which might never be bettered.
---
Click here for completely free £10 bet with Sky Bet & £5 free every week
---