Sponsors desert Armstrong
Lance Armstrong has lost further backing as two sponsors distanced themselves from the cyclist, who stepped down as chairman of his cancer charity, Livestrong.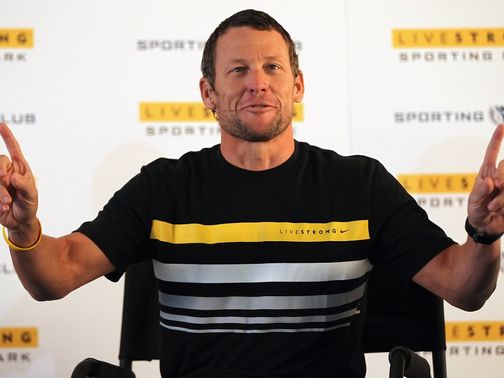 Nike and Anheuser-Busch, brewers of Budweiser, have brought an end to their relationships with Armstrong, while Oakley are reviewing their position in the wake of the doping scandal which has transcended sport.
The American was stripped of his seven Tour de France titles, won between 1999 and 2005, and banned from cycling for life by the United States Anti-Doping Agency in August after he chose not to contest charges, despite maintaining his innocence.
His reputation really hit rock bottom a week ago when USADA published their report, including evidence from 11 of his former team-mates.
The conclusion was that Armstrong engaged in "serial cheating" and his US Postal Service team ran "the most sophisticated, professionalised and successful doping programme that sport has ever seen".
Armstrong built a reputation around the world not just for his prowess on a bike but also as one of the giants of the charity sector for his work supporting cancer victims.
He set up Livestrong in 1997 following his own recovery from the disease, which made his subsequent sporting success such a compelling story, and the charity has raised nearly 500million US dollars to help people affected by cancer.
Explaining his decision to pass the chairmanship of the foundation to vice-chairman Jeff Garvey, Armstrong said in a statement: "In 1996, as my cancer treatment was drawing to an end, I created a foundation to serve people affected by cancer.
"It has been a great privilege to help grow it from a dream into an organisation that today has served 2.5million people and helped spur a cultural shift in how the world views cancer survivors. This organisation, its mission and its supporters are incredibly dear to my heart.
"I have had the great honour of serving as this foundation's chairman for the last five years and its mission and success are my top priorities.
"Today, therefore, to spare the foundation any negative effects as a result of controversy surrounding my cycling career, I will conclude my chairmanship.
"My family and I have devoted our lives to the work of the foundation and that will not change. We plan to continue our service to the foundation and the cancer community."
Armstrong's resignation comes only a few days before a weekend of activities to celebrate Livestrong's 15th birthday in Austin, Texas.
Nike had stood by Armstrong last despite criticism but the sportswear giant decided on Wednesday thay they could no longer do so, although they are not severing ties with Livestrong.
In a short statement, Nike said: "Due to the seemingly insurmountable evidence that Lance Armstrong participated in doping and misled Nike for more than a decade, it is with great sadness that we have terminated our contract with him.
"Nike does not condone the use of illegal performance-enhancing drugs in any manner. Nike plans to continue support of the Livestrong initiatives created to unite, inspire and empower people affected by cancer."
Anheuser-Busch followed Nike in distancing themselves from Armstrong.
Paul Chibe, vice-president of US marketing, Anheuser-Busch, said in a statement: "We have decided not to renew our relationship with Lance Armstrong when our current contract expires at the end of 2012. "We will continue to support the Livestrong Foundation and its cycling and running events."
Oakley, another of Armstrong's long-time commercial partners, are considering their position.
A statement from the sunglasses firm read: "We are reviewing the extensive report from the USADA, as well as our relationship with Lance, and will await final decision-making by the International Cycling Union."
It was reported RadioShack have severed ties with Armstrong, while bicycle manufacturers Trek did not initially respond to requests for a comment.
The shockwaves from the scandal are still reverberating through the sport. The five current riders who gave evidence against Armstrong and in the process implicated themselves all accepted six-month bans.
Cycling Australia have sacked men's professional co-ordinator and national coach Matt White following his admission of doping while Johan Bruyneel has stepped down from his post as general manager of RadioShack Nissan Trek.
Bruyneel was team director of US Postal during Armstrong's time with the team but, unlike his former colleague, the Belgian is contesting USADA's charges.
Honorary president Hein Verbruggen and president Pat McQuaid have both come under pressure to step down from their posts with world cycling's governing body the UCI, while Armstrong could yet find himself facing charges of perjury.
Former England footballer Geoff Thomas was inspired to set up his own foundation after reading Armstrong's autobiography days after being diagnosed with chronic myeloid leukaemia in 2003.
Thomas was awarded the 2005 BBC Sports Personality Helen Rollason Award in recognition of his charity work, in the same year he completed the Tour de France route for the first time.
It was the year of Armstrong's final Tour triumph.
Thomas contacted Armstrong on Twitter today, writing: "@lancearmstrong please for your sake, come clean. If not yours, for the millions you have inspired over the last 15+ years."
Meanwhile, Team Sky have reiterated their zero-tolerance stance to doping in the wake of the United States Anti-Doping Agency report which has rocked the world of cycling.
The British team, home of Tour de France winner Bradley Wiggins, will ask every rider and member of staff to sign a statement to confirm they have never been involved in doping.
A statement read: "There is no place in Team Sky for those with an involvement in doping, whether past or present. This applies to management, support staff and riders.
"Over the coming weeks, we will talk individually with each team member and ask everyone, at every level of the team, to sign up to a clear written policy, confirming that they have no past or present involvement in doping.
"Should anyone choose not to sign up to our clear policy they will have to leave the team, as will anyone who does sign but is subsequently found to be in breach."
---
Click here for a completely free £10 bet with Sky Bet
---