A year in the Sporting Life
Our team of writers look back at another memorable year of sport in 2013 and pick out some of their personal highlights.
2014 Specials. Click here to bet.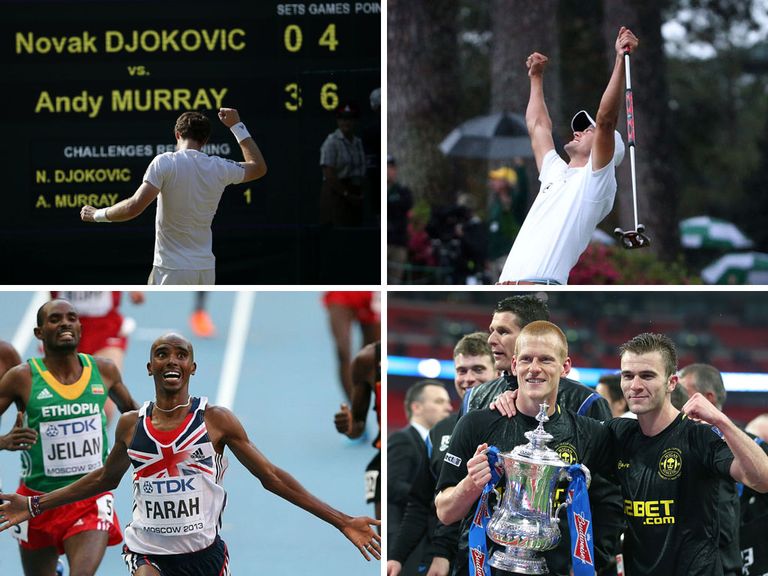 The never-to-be-forgotten London Olympic year was always going to be a tough one to follow - from a British perspective at least.
And although few will rank these past 12 months above 2012 in many years to come - there was still plenty of historic moments to savour and thrilling sporting battles which set our pulses racing.
Working here at Sporting Life, we've been fortunate to cover them all but unfortunately, yet inevitably, a number of incredible events have failed to make the cut for our annual festive feature.
There can be only one winner for each sport which we regularly cover but if you disagree feel free to email us at dl-365mediasportinglifeeditorial@bskyb.com and tell us why!
RACING
If Frankie Dettori is reading this, he might want to look away now.
Treve's fairytale victory in the Prix de l'Arc de Triomphe was as good as most such stories in a sport that specialises in rags-to-riches tales.
Derby winner Motivator's fortunes were in decline as a stallion, but the faith of the Head family - one of French racing's most famous dynasties - saw him move to the country to join their Haras de Quesnay operation. However his daughter Treve had, by then, already been bought in a separate deal for just €22,000.
Treve's price tag had risen to a reported €8million when bought by the Qatari sheikh Joann Al Thani after her French Oaks victory, but even that astronomical figure proved fully justified when she crushed her rivals to win the Arc three months later under Thierry Jarnet - a late replacement for the sheikh's first-choice jockey Dettori, who had fractured his ankle when thrown going to the start at Nottingham just days earlier.
It was crowning glory in a distinguished career for affable trainer Criquette Head-Maarek, the victory carrying the added financial benefits of meaning her family now owned a stallion whose stock was back soaring again.
Treve will return to training in 2014, unbeaten, and with serious prospects of remaining so for the remainder of her career.
By Will Hayler
---
Check out Sky Bet's 2014 horse racing odds
---
FOOTBALL
Think back to Wembley in May as we enter injury-time in the FA Cup final between Manchester City and Wigan.
Roberto Martinez's underdogs have been by far the better side against their more illustrious neighbours but the thoughts of fans inside the stadium and the millions watching on television around the world is of the extra-time to come.
That is until an unlikely hero takes his moment in the sun.
Callum McManaman, one of the stars of the Latics' run to the final including a scintillating display in the 3-0 quarter-final win at Everton, wins a corner as another burst forward is halted by Gael Clichy.
Shaun Maloney swings the ball in and Ben Watson makes a smart run to find himself unmarked at the near post and heads home with perfect power and precision to leave Joe Hart helpless.
"The one thing that won't leave the Wigan fans is the memories. On May 11th December 2013 they watched their club take a place in the pantheon of football folklore and time nor money will ever take that away."
Nick Hext
Watson is mobbed by his team-mates and that's it. Not just to one of the most remarkable shocks in FA Cup history but also to Roberto Mancini's reign as Manchester City boss and it was the final high in Martinez's tenure at the DW Stadium.
Only 72 hours later - thankfully the FA Cup final is back this season being played a week after the Premier League campaign has finished - Wigan dropped out of the top-flight with a 4-1 defeat at Arsenal.
Talk about not being able to enjoy the spoils of victory. A 2-2 draw at home to Aston Villa followed and then everything changed. Martinez left for Everton taking Joel, Antolin Alcaraz, James McCarthy and Arouna Kone from Wigan's Wembley wonders with him.
Owen Coyle arrived and football carried on as it always does. Coyle then departed at the start of December and Uwe Rosler arrived so football carried on as it always does. It's just that now the Latics are living in the middle of the Sky Bet Championship.
The one thing that won't leave the Wigan fans is the memories. On May 11th December 2013 they watched their club take a place in the pantheon of football folklore and time nor money will ever take that away.
By Nick Hext
---
Check out Sky Bet's 2014 football specials
---
TENNIS
A tennis moment of 2013? There can be only one.
It was the one, at 1724 on July 7, that a Novak Djokovic backhand thudded into the net.
Taken in isolation, the shot and the rally before it was mundane at best. But, given context, and it was truly a moment of history - one which saw 77 years of British hurt pushed away amid a sea of emotion.
Andy Murray was the man responsible, for it was he who had become the first British man since Fred Perry in 1936 to win the Wimbledon singles title.
The sun has shone on SW19 for much of the fortnight of the Championships and it has shone metaphorically on Murray too. At the start all the talk had been of a possible semi-final meeting with Roger Federer or Rafael Nadal. When those two fell in a first week of upsets, Murray's hopes rose and, after beating first-time Grand Slam semi-finalist Jerzy Janowicz, he faced Djokovic, an opponent worn down by his epic battle with Juan Martin Del Potro in his semi-final.
The final would be no pushover but Murray was clearly the better player and it was impossible to argue about the outcome.
Murray's fist-pumping reaction to the press benches - and his subsequent air-punching on the All England Club balcony - showed everyone how much it meant to the monotone-voiced Scot. As if that was really ever in any doubt.
At least a little bit of that delight can, deep down, be attributed to the 26-year-old knowing that whatever he does subsequently, his career will be deemed a success. How Tim Henman and the countless other Brits who had tried and failed to win Wimbledon over the previous 77 years must have looked on with envy.
By Andy Schooler
---
Check out Sky Bet's 2014 tennis specials
---
RUGBY LEAGUE
Sydney Roosters and Wigan Warriors took domestic honours in the NRL and Super League but it was the year-ending World Cup that showcased the sport to a wider audience in style.
Record crowds, including a sold-out Old Trafford for the final, helped make the tournament the most successful Rugby League World Cup of all time and the semi-final between hosts England and New Zealand will live long in the memory.
England were fantastic, led by heroic front-rowers James Graham and Sam Burgess, and they looked to have done enough to ensure a passage to the final when leading 18-14 with just seconds to go on the clock.
But defeat was snatched from the jaws of victory with the cruellest of blows that left 13 Englishman crestfallen, heads bowed towards the Wembley turf in disbelief.
George Burgess gave away a penalty for a high shot as the Kiwis applied the pressure late on, their demeanour ever-more desperate with the seconds ticking away.
And from that play, Stephen Kearney's men scored the match-winning try that sent the holders through to another World Cup Final.
England had defended their line well all afternoon, but this time Kevin Sinfield broke ranks a smidgen too early and Shaun Johnson made him pay, skipping by with a shimmy and a shake and that was that, a huge gap opened before him and the hooter sounded among the shrieks of celebration.
Johnson had the simplest of tasks to kick his own try and win the game, and, if we're talking sheer drama, rugby league didn't throw up a better moment all year.
By Ben Linfoot
---
Check out Sky Bet's 2014 rugby league specials
---
RUGBY UNION
The 2013 British and Irish Lions tour of Australia will live long in the memory due to a multitude of factors, not least the sheer quality shown in each of the three incredible Test matches against the Wallabies.
From the opening moments of the first match, this was a series destined to thrill and Warren Gatland's men ultimately sealed an historic 2-1 victory with a crushing 16-41 triumph in front of an 83,000-strong crowd in Sydney in early-July.
The disappointment of losing their final tour match against the Brumbies was swept aside as the Lions claimed a 23-21 success in the first Test in Brisbane, but the series was levelled as Australia prevailed by the narrowest of margins (16-15) in Melbourne.
The stage was set was a rip-roaring decider and it didn't let anyone down, except perhaps the home fans, many of whom could be spotted streaming out of the ANZ Stadium with as much as 15 minutes left on the clock, much to the enjoyment of the 35,000 travelling supporters.
Gatland hadn't had it easy in the run-up to the crucial last match, coming under intense scrutiny when opting to leave out Irish legend Brian O'Driscoll and even having the whole concept of the Lions' existence questioned in certain quarters.
But surely neither he nor his coaching staff could not have envisaged the reaction from the players, who raised their game to a man, taking the lead through an early try and a string of penalties, weathering an Australian storm before blitzing their rivals in a dazzling final half-hour.
From 19-3 up to 19-16, the Lions could have crumbled but instead they stepped into overdrive, combining extreme forward power and great work around the scrum with exhilarating play from the back line.
Leigh Halfpenny was outstanding the whole tour and predictably came into his own at crunch time. Jonathan Sexton, Adam Jones and Alex Corbisiero also shone when it mattered most, but this was a team performance from the top drawer, a memorable day when the Lions roared with all their might and tore up the Wallabies on their own patch.
By Matt Brocklebank
---
Check out Sky Bet's 2014 rugby union specials
---
CRICKET
There were many great cricket stories in the year. Two Ashes series replete with stories and shocks, the retirement of Sachin Tendulkar after 180 great Tests and 20 unedifying ones as he crawled to his Farewell Tour a shadow of the batsman he once was. Some astonishing ODIs in India.
But the best moment of all came right at year's end as South Africa and India played out a truly extraordinary Test match at the Wanderers.
Nothing better sums up Test cricket's endless, enduring appeal than the two-word net result of this 440 overs of toe-to-toe combat: match drawn.
India finished three wickets short of victory. South Africa an even more tantalising eight runs from a victory that would've put 40 runs on to the biggest ever successful chase in Test cricket.
All three results looked favourite at various stages on a captivating final day. The tie never left the frame either.
The key moment turned out to be the run out of Faf du Plessis for a staggeringly brilliant 134. It was an epic feat of ability, endurance and concentration, the last trait of which abandoned him at the last when he attempted a reckless single to the arm of Ajinkya Rahane.
At that point, South Africa needed 16 runs from 3.1 overs with Vernon Philander joined by Dale Steyn. They had only an injured Morne Morkel and Imran Tahir to come. They pulled up the drawbridge. India, who had set the pace for so much of the game, were relieved and happy at this stage to escape with a draw.
There was uproar. South Africa had managed to bat 136 overs in the fourth innings to save a Test match, yet walked off with people questioning their heart and desire for failing to continue chasing history.
What it showed, in essence is why a Test match run-chase is so much better than the manufactured one-day version. There is so much more to consider. There is so much more at stake. There is so much more to lose.
South Africa had 400 overs' effort to consider when deciding to abort their chase, not 90. Even the option of shutting down the chase and taking the draw is something not present in one-day games. Could the Proteas have gambled at least one more wicket on a one-off shot at history? Perhaps, but with the resources available it was not so straightforward a decision on the field and in the changing room as it may appear to observers. Should India have gone back on the attack at the fall of the seventh wicket? Maybe, but having looked sure to lose a match they had dominated for long periods, their reluctance to gamble was also understandable.
These are questions with no easy answers, despite Twitter's insistence to the contrary. Decisions like these and days like this one just show what an examination of body and mind Test cricket truly is.
By Dave Tickner
---
Check out Sky Bet's 2014 cricket specials
---
GOLF
It's been a truly memorable year for golf but, sadly, this feature requires one highlight and one highlight only. Fortunately, it's a simple decision.
Adam Scott winning the Masters at Augusta courtesy of a stunning birdie on the first play-off hole.
For many, the Masters is the iconic golf tournament. Butler Cabin, the Green Jacket, Amen Corner; Augusta has it all and we get to see it every year at the same time. It's identifiable and it's the dream destination for golfers the world over. The drive up Magnolia Lane is something players say they never forget.
As such, the Masters rarely disappoints, be it won in a play-off or a procession. But this year's had an extra edge which most others did not. It had Adam Scott, the darling of Australian golf, becoming the first player from Down Under to don a Green Jacket. It had Tiger Woods falling foul of a controversial penalty that could and perhaps should have seen him disqualified. It had Angel Cabrera producing one of the shots of the season - no, the shot of the season - to force a play-off just moments after Scott had surely won the tournament with an incredible birdie of his own. Then it had the play-off, which Scott won in virtual darkness as rain began to fall. It was a play-off he won not due to failings of his opponent, but thanks to sheer brilliance - a birdie on one of Augusta's notoriously difficult par-fours.
"Showing no signs of disappointment at having the title snatched from his grasp, Scott pounded his drive down the centre and then attacked a pin positioned close to the back of the table-top green. Scott knew what he had in front of him. Something like 15 feet separated him and a first major. The putt never left the cup."
Ben
What had happened the previous July helped shape a remarkable story. Leading the Open Championship by four shots with four holes to play, Scott somehow managed to make a series of tiny errors which had huge consequences. It could've been the end, if not of his career then of his path to a major which had once seemed inevitable.
But Scott showed on Sunday at Augusta that he's made of sterner stuff, that he would not allow his career to be defined by what happened that day.
Despite starting with a bogey on the first, quietly, he crept into contention. Scott made the turn level for the day, safely navigated 10 through 12, and arrived on the 13th tee knowing now was the time to launch his attack. Birdies there and at 15, the latter courtesy of a towering iron few in the field could've hit, saw him get close to the lead. Pars on 16 and 17 were enough to see him share it. Birdie on 18 and the roar of 'C'mon Aussie!' from a man who keeps his cards close to his chest looked to be enough to ensure he kept it.
Then came El Pato. Cabrera, a Masters champion past, is a player with no fear. With his son on the bag, he reached for the club he needed to attack the 18th pin, knowing full well that he had to hit it close to force a play-ff. And hit it close he did - the devil nearly holed it for the ultimate Australian heartbreak. It was an astonishing shot from an astonishing player who has never quite gained the credit his achievements in golf's biggest events merit.
And so to the 10th. The hole that one year earlier had seen Bubba Watson produce one of the game's greatest shots to defeat Louis Oosthuizen. Scott's birdie was probably more impressive. Showing no signs of disappointment at having the title snatched from his grasp, Scott pounded his drive down the centre and then attacked a pin positioned perilously close to the back of the table-top green. When Cabrera lagged to within tap-in range, Scott knew what he had in front of him. Something like 15 feet separated him and a first major. The putt never left the cup.
What followed was sheer joy, and not just for Scott, for Australia and for his friends and family, but even for Cabrera. He was wonderful in his reaction, praising Scott for a remarkable turnaround, one which would see him begin a move up the world rankings which may yet see him get to number one in 2014.
It was a Masters to remember.
By Ben Coley
---
Check out Sky Bet's 2014 golf specials
---
FORMULA ONE
"Multi-21, Seb," argued a plaintive, shellshocked Mark Webber. "Multi-21."
Webber had judged March's Malaysian Grand Prix to perfection. He had shadowed his Red Bull team-mate in the damp, early part of the race, made the switch to dry-weather tyres at the perfect time, then held the sister car and their Mercedes challengers behind him ahead of what should have been a straightforward final stint. Webber thought he'd earned the right not to be challenged. Sebastian Vettel thought differently.
Frustrated at the leader's tyre-saving pace in the middle of the race and having saved a newer and softer set of Pirellis for his final pit stop, Vettel knew he had the speed to challenge a man who had made life difficult for him in the past. For his part, Webber was concentrating on driving to a time 'delta' to maximise his stint length, while breaking the back of the Mercedes' challenge. He knew both drivers had been told to maintain positions. He didn't know that Vettel wasn't going to listen.
The resulting battle for the lead was watched through the fingers of the men on the Red Bull pit wall. "This is silly, Seb, come on," pleaded team principal Christian Horner, as the two drivers rubbed wheels at speeds approaching 200mph. Recognising Vettel's refusal to submit to his team's instructions, Webber eventually deferred, although not before giving Vettel the Australian version of his own one-fingered victory salute.
Post-race in F1's podium back room is normally a scene of smiles, back slaps and glinting sponsors' watches but at Sepang the atmosphere was toxic. Vettel's attempts to reconcile with Webber were met with a withering relaying of the team's code to maintain positions when a one-two is on the cards: in this case the leader's number two ahead of chaser's one. A sincere post-race apology was batted away by the injured party and, somewhat bizarrely, partially retracted at the following race in China.
Vettel's apparent betrayal was expected to set the scene for the rest of the season - would the petulant youngster come to regret disrespecting his team-mate and undermining his superiors? In how many races would Webber's inevitable refusal to play the team game cost Vettel and Red Bull crucial championship points? At what point would the aggrieved exact revenge upon the aggressor and would the fallout be nuclear?
In the end, the blue touchpaper was to remain unlit. Vettel undoubtedly lost the respect of a large number of fans but probably gained even more acclaim for the relentless superiority he demonstrated on the way to a fourth consecutive title. He was jeered by the tifosi on the Monza podium and a rare retirement was met with suitable schadenfreude by the Silverstone fans, but signing off the season with a nine-race winning streak means the German will rock up in Melbourne next March having not been beaten in nearly eight months.
As for Webber, Malaysia 2013 will remain the closest he ever got to a 10th F1 victory. After announcing a move to Porsche's sportscar team in mid-season, he was able to take advantage of the RB9's ever-increasing dominance to take two well-merited pole positions and a string of podium finishes. In fact three of his final five races for the team he served with distinction for seven years saw him back up Vettel as part of a clean sweep, albeit each time as the bridesmaid rather than the bride.
Or "Multi-12", as Red Bull might refer to it.
By Tom Millard
---
Check out Sky Bet's 2014 Formula 1 specials
---
ATHLETICS
Mo Farah probably isn't often compared to Gandalf the Grey but his performances at this year's World Championships were almost synonymous with the wizard's cries of "You shall not pass" at the Bridge of Khazad-dum.
But there is obviously one crucial difference.
Whereas Gandalf's courageous stay of resistance unfortunately ends with him being dragged into abyss by the falling Balrog he'd just defeated, Farah was just that bit quicker to get away as he twice held off his rivals to capture both the 10,000m and 5,000m gold medals.
In doing so, the London 2012 hero became only the second man in history to complete an Olympic and world 'double-double' in the distance events, emulating his unforgettable achievements of 12 months earlier in dramatic fashion.
First he saw off 2011 champion Ibrahim Jeilan in a thrilling sprint finish to clinch Great Britain's first ever world 10,000m title before once again using his killer finishing kick to overcome Kenya's Isiah Kiplangat Koech down the home straight of the shorter event.
All these thrillingly absorbing races tend to follow a similar pattern.
Initially the Ethiopian and Kenyan contingents seemingly work as a team to try and break down Farah, who only has American training partner Galen Rupp for company, but time and time again he refuses to be intimidated.
And no matter how hard his competitors then attempt to overhaul his lead during these epic final laps, he simply lets no man past.
These successful acts of defiance are fitting rewards for all those widely-known sacrifices he's made throughout his career and the fact he's now turned his attentions towards marathon glory in 2014 underlines his unrelenting desire to become one of the most complete long distance champions of all time.
By Chris Hammer
---
Back Mo Farah at 5/2 to win the London Marathon
---
BOXING
Will there ever be a more deserving world champion than Darren Barker?
The Barnet man had to travel across the pond to face reigning champion Daniel Geale in Atlantic City back in August and he was very much billed as the underdog.
It was his second tilt at winning a world strap, after having previously been stopped by the excellent Sergio Martinez two years earlier.
Things looked bleak again when the 31-year-old Barker was floored by a sickening body shot from Geale in the sixth round. But he bravely rallied and took a narrow split decision to finally win that coveted belt.
It was enough for Barker to sink to his knees in the ring and the subsequent tears were so very real.
He had lost his younger brother Gary in 2006, tragically killed in a car accident aged just 19, and he had vowed that one day he would win a world title for the sibling he was so close to.
"Not many people know the journey I've been through," said Barker after that emotional night in Atlantic City.
"It's been a real Rocky story. I dedicate this to my late brother. Everything I've done is for him. Gary, this is for you, mate."
It is an inspiring, emotional story that is tinged with so much sadness - but at last for Darren Barker there were long overdue tears of joy.
By Simon Crawford
---
Check out Sky Bet's 2014 boxing odds
---
SNOOKER
Sport is often accused of not having enough "characters" anymore, with the amount of money involved making it a win-at-all-costs industry with grimaces and frowns far more commonplace than smiles.
But every so often along comes a person who is a breath of fresh of air, perhaps not for entirely orthodox reasons but for a short time at least is sheer box office.
Dechawat Poomjaeng was a 500/1 shot to win the world title at The Crucible and you would have to say those odds were about right.
The 35-year-old from Thailand had won four qualifying matches to earn the right to play in Sheffield for the first time and he caused a huge shock in the opening round when he defeated sixth seed Stephen Maguire.
But regardless of that sensational win, the crowd had already warmed to him as when it was his turn to enter the famous arena he turned right instead of left, and strolled purposefully to the wrong table. Then came the antics as he applauded his own safety shots and slapped his head when he made a mistake but never stopped smiling and also showed, at times, what a good player he was. A star was born!
In the second round he faced Michael White and entered the arena with both arms raised in triumph, jumped from the second step on to the stage floor and punched the air as though he had won the world title.
But the joke was on him in the fourth frame, even though it did probably seal his legendary status at the championships.
He managed to lose the frame without a ball being potted when after being put in an awkward position he failed three times to hit a red, conceding three fouls. Under the game's rules, three misses when a red can be hit full ball means the frame is conceded.
More slapping of the head followed, as did the giggles. He lost the match 13-3 but his cheque for £16,000 was more than double his previous earnings since turning pro in 2011.
It was Poomjaeng's moment to be in the spotlight - and how he enjoyed it!
By Simon Crawford
---
Check out Sky Bet's 2014 snooker specials
---
NFL
Play-off football by its very nature is chock-full of drama but last season's AFC Divisional clash between Denver and Baltimore had enough to fill half a dozen games.
The Broncos and Peyton Manning looked on the verge of booking their ticket to the AFC Championship game as they held the upper hand 35-28 with under a minute left to play.
The Ravens had possession but their opportunities were running out rapidly as quarterback Joe Flacco took the snap on a third and three play at his own 30-yard line. There were 42 ticks left on the clock and only a visit to the end zone would keep their championship hopes alive.
Flacco deftly managed to avoid the rush then launch a pass down the right sideline which outfoxed the over-pursuing Tony Carter and Rahim Moore and dropped into the grateful arms of waiting wide receiver Jacoby Jones.
The latter trotted into the end zone untouched as the extra point that followed tied things up and sent the game into overtime which the Ravens eventually won 38-35.
While Flacco would later reflect that you need some luck in a situation like that, there is no doubting the theatre he and Jones created with their season on the line.
By David John
---
Check out Sky Bet's 2014 US Sports specials
---
GREYHOUNDS
Good news in greyhound racing has been as rare as hen's teeth over recent years but that all changed in 2013 as Charlie Lister, Mark Wallis, Paul Young and Chris Allsopp fought out one of the most exhilarating trainers championships in living memory.
For veteran Lister, it saw him register a seventh winner of the Greyhound Derby as Sidaz Jack landed the sport's premier Classic.
Raced once in Ireland before being purchased by Simon Wooder and Daren Johnson, the youngster was to come into the competition very much under the radar as niggling injury problems had prevented him appearing in anything other than trials for new connections.
Despite his handlers fantastic record in the race, all interest in the final was focussed upon the well touted Irish pair of Droopys Jet and Ballymac Vic, but the son of Westmead Hawk cracked out of the traps quickly and having ridden a bump at the first turn, he showed trackcraft beyond his years to put the £150,000 first prize in safe keeping.
Any trainer would be proud to unearth one good dog in a year but the emergence of Farloe Tango made it a truly sensational 12 months for the Newark maestro.
Despite making the quarter-finals of the Derby, his style of racing suggested that he could be a useful prospect once trying his hand over further and that confidence was to be repaid in the St Leger.
A poor draw may have put paid to his chances in the semi-final but there was to be no repeat in the Final.
Picking his way through a genuinely top class field, the Plough Lane crowd gasped as he hit the front by the fourth bend and all focus switched to what time he would register on the clock.
There was to be no surprise as the existing track record was smashed to pieces and the terraces buzzed at the joy of witnessing the undisputed performance of the year.
By Ian Brindle
---
Check out Sky Bet's 2014 greyhounds odds
---
---
New Sky Bet customers: Free £30 matched bet
---