Atlanta's time has arrived
David John makes Atlanta and Houston the teams to follow on the handicap in Sunday's NFL play-off games.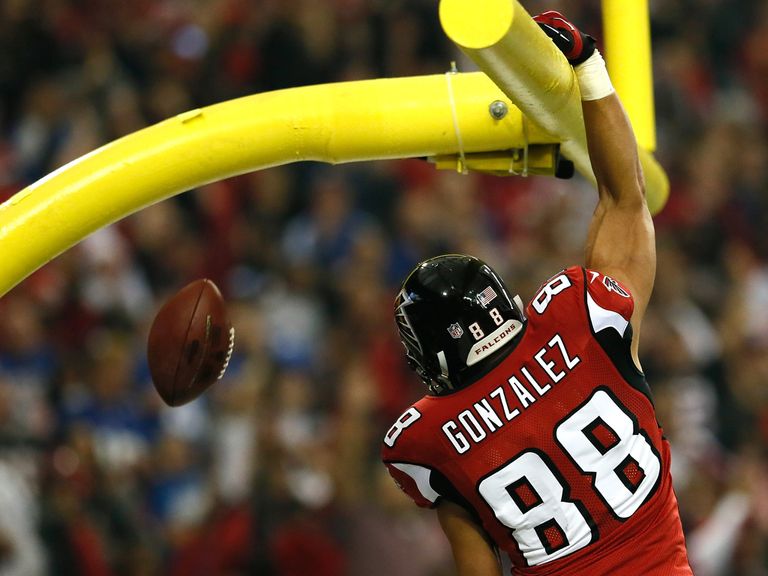 Seattle at Atlanta (1800GMT)
It looks like the time may have finally arrived for Atlanta to win a play-off game.
The NFC's top seeds have gone into the last two post-seasons in confident mood - once at home and once on the road - and twice suffered humiliating defeats to the eventual Super Bowl winner.
"We weren't mature enough," said free safety Thomas Decoud this week but with the Mike Smith/Matt Ryan era now five years in the building, the excuses surely have to stop.
For want of a better phrase, the Falcons do seem to fly under the radar despite posting a season's best record in their conference of 13-3.
But there are plenty of observers close to the organisation who believe this is the best roster talent-wise in franchise history and it's surely a matter of when rather then if they make a serious challenge for Super Bowl glory.
Quarterback Ryan does not grab many headlines as he tends to go about things in a coolly efficient manner but he has a dynamic passing game at his command where this game could well be won or lost.
Wide receivers Roddy White and Julio Jones are both big and physical and how they match up with the rangy corners Richard Sherman and Brandon Browner will be a key issue.
Throw in venerable veteran tight end Tony Gonzalez - who may well call it a day after this season after breaking every record for his position in the book - and it is easy to see where the Falcons will try and dominate.
The latter caught eight touchdown passes in the regular season and is well worth a bet at evens to add to that tally.
As for their opponents, they were one of three winning tips for us last week when they got the better of Washington.
Head coach Pete Carroll has his young side really believing in themselves and the run they are on currently makes them a dangerous rival behind the athleticism of star rookie quarterback Russell Wilson.
They were comfortable winners in the capital in the end but it must be remembered they still trailed by a point in the fourth quarter and their cause was aided no end by RGIII's well documented physical travails.
I can't see the rested hosts being so generous in front of their Georgia Dome fans and they can prolong their New Orleans dream for at least one more week.
Houston at New England (2130GMT)
These two last met in week 14 of the regular season on Monday Night Football and the match-up was over as a contest with 11.01 left in the second quarter as New England raced out to a 21-0 lead.
That was extended to 28-0 early in the third as the hosts in Foxboro posted a very easy 41-14 victory and laid down a marker ahead of a possible rematch in the post-season.
And so it has played out. So what chance of the Texans gaining revenge?
Houston are certainly enjoying their underdog status in the build-up and defensive phenom JJ Watt admitted this week: "I love it when someone tells me there is something I can't do."
The bookmakers give them a start of 9.5 points and I think there is enough evidence to take that bet on with them making things considerably closer than last month.
First up, I can't see them allowing the Patriots offense to get away with those early big drives and big plays.
Cornerback Johnathan Joseph is back to full fitness while linebacker Brooks Reed also returns after missing that first encounter and both should have the necessary impact to ensure a much tighter display.
Secondly, the offensive line looked far more like a play-off team last week against a physical front four of the Cincinnati Bengals. That means they have a good chance to atone after they were shoved around by Vince Wilfork and company.
Finally, those of you interested in a historic angle to the game, the team that has been beaten by 28 or more points in the regular season has gone on to post an 8-4 record when meeting again in the play-offs.
New England found that out a couple of years ago after they hammered the Jets 48-3 but then crashed out 28-21 when it really counted so Houston's task is difficult - but far from insurmountable.
The Patriots have shown themselves to be vulnerable to the big play as well and the Texans must have running back Arian Foster establish the ground game which will then give quarterback Matt Shaub a chance to open up the passing attack with some play action.
Heading into Foxboro in January is not easy for any team but I do think that Houston have got things right mentally.
They certainly have the calibre of player if performing to their potential - winning will be big ask as stated but making it close is well within their capabilities.
Preview posted at 1340 GMT on 12/01/2013.