Favourites to thrive on Sunday
David John previews Sunday's NFL Wild Card play-offs and predicts wins for Baltimore and Seattle.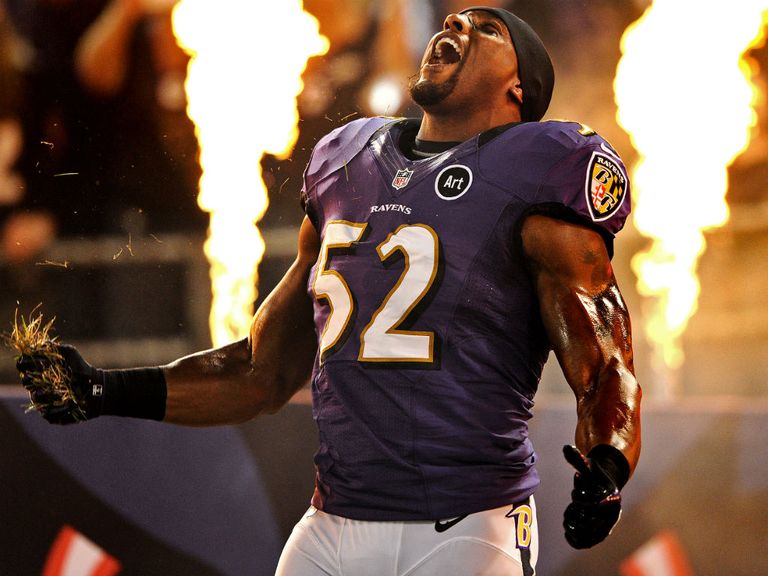 Indianapolis at Baltimore (1800GMT)
This will be the most emotional encounter of the weekend and the team that can keep those emotions in check - or feed off them the best - will progress.
Former Baltimore defensive co-ordinator Chuck Pagano is back on the sidelines as head coach for the Colts following chemotherapy treatment while legendary linebacker Ray Lewis returns to the Ravens line-up after a lengthy spell on the sidelines with a triceps injury.
The future Hall of Famer has also announced his retirement from the game this week following whatever play-off run they can produce at the age of 37 so expect the broadcasters and the fans to lap up a highly-charged atmosphere.
The turnaround in the Colts has been little short of amazing. They took Stanford quarterback Andrew Luck with the top pick in the draft after a feeble 2-14 season 12 months ago and they now find themselves on the road to New Orleans and the Super Bowl.
Luck's baptism in the league has shown his incredible will to win and an ability to produce clutch plays with the game on the line but he also ranks 31st in pass completion percentage and 26th in passer rating.
So his game is not without flaws and he has admitted he will be leaning greatly on Pagano's knowledge of the complexity of the Baltimore defense if he is going to have some success.
That will be vital with Lewis back on the field while stalwarts Terrell Suggs and Bernard Pollard will also give Luck headaches - it will be the first time this season that all three will play together at the same time.
Baltimore have lost four of their five games in the regular season but their quarterback Joe Flacco has made his own piece of history to be the first player at the position to make the post-season in the first five years of his career.
He tends to polarise opinion - he has looked phenomenal in phases as he can make every pass in the coaching manual but just as often he can be pressured into sloppy, costly errors.
He will need a big game from running back and the team's most effective player Ray Rice, who himself was under the spotlight earlier in the campaign when he seemed to disappear from the offensive scheming - his lack of touches led to the firing of co-ordinator Cam Cameron.
Both should be raring to go after being rested by John Harbaugh last week and as much as the story of the Colts warms the heart, I can't see Luck and a defense ranked 26th overall being able to thwart the hosts.
The Ravens have to cover a 6.5-point handicap and that is more than achievable for a team with their play-off pedigree.
Seattle at Washington (2130GMT)
A rookie quarterback with tremendous athleticism, poise, a great arm and can run like the wind - and there is RGIII too!
Russell Wilson won the Seattle job during training camp from Matt Flynn and the third-round draft pick has guided his team to the post season and a cross-country visit to the capital.
The Seahawks won five games in a row to book their play-off place, scoring points like they were going out of fashion against Arizona, Buffalo and most impressively San Francisco during that spell.
Their 8-0 record at home was the basis of their success so the doubters are questioning whether they will be able to deliver in such a high-profile fixture on the road, where they went 3-5.
But they have an excellent balance on both sides of the ball which should be enough to justify their favourite's quote for this game.
Running back Marshawn Lynch has enjoyed another fantastic season and his tremendously physical style on the ground compliments the elusive Wilson when he has ball in hand.
They have a defense that is ranked fourth overall and it is this consistency that can help them get the better of the hosts.
Robert Griffin III was drafted second overall by the Redskins and he has rightly garnered most of the headlines this season with new records for a rookie quarterback passer rating (102.4) and rushing yards (815).
He and fellow rookie running back Alfred Morris have been sensational and the pair thrived again last week as they saw of Dallas in a winner-take-all showdown.
But RGIII has been hampered by a knee ligament injury - he wore a brace on it against the Cowboys - and it certainly ensured that his movement was less fluid around the field.
Starting left guard Kory Liechtensteiger has also missed practice this week with an ankle problem and that could mean first-year player Cory LeRibeus having to step in which could have an effect on how Morris and RGIII perform behind the line.
Home advantage for Mike Shanhan's team will be helpful but I don't think that it is insurmountable for the Seahawks. They seem to be conquering the travel sickness as two of their three road victories came in the closing weeks - get on the 7/10 with BetVictor for them to progress.
Preview posted at 1150 GMT on 04/01/2013.