NFL: AFC Briefing
Team news and notes from the AFC ahead of week one in the NFL.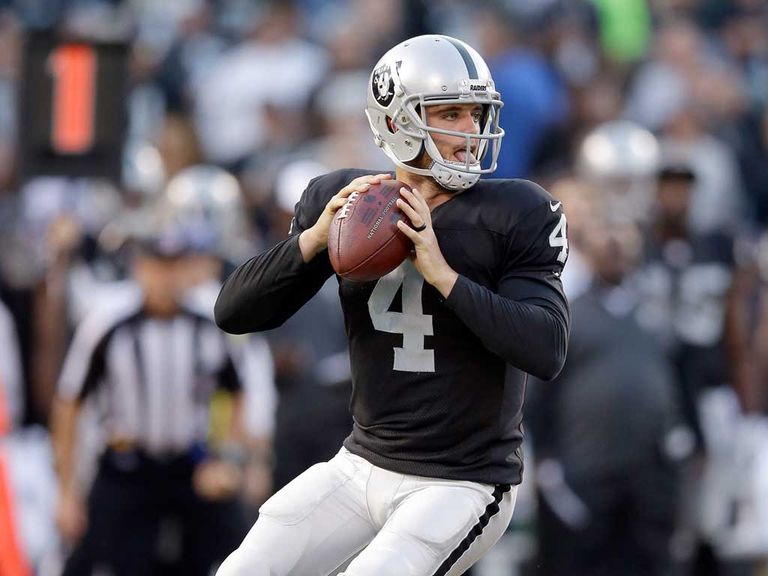 Rookie DEREK CARR of the Oakland Raiders, who was named the starter yesterday by head coach DENNIS ALLEN, will make his first NFL start this Sunday on the road against the New York Jets. Carr earned the starting nod with a strong performance during training camp and the preseason, completing 30 of 45 passes (66.7 percent) for 326 yards and four touchdowns with a 108.2 passer rating.
Meanwhile, Denver quarterback PEYTON MANNING is beginning his 17th NFL season and will start his 241st game, the most among active NFL quarterbacks, as the Broncos host the Indianapolis Colts in primetime on Sunday Night Football (8:30 PM ET on NBC). In 2013, Manning set the NFL's single-season record for passing yards (5,477) and touchdowns (55) en route to his record fifth Associated Press NFL Most Valuable Player award.
A team-by-team look at the quarterback position in the AFC in 2014:
BALTIMORE: JOE FLACCO enters his seventh year under center as the Ravens signal caller. Flacco is 62-34 (.646) as a regular-season starter and holds franchise career passing records for completions (1,869), yards (21,545) and touchdowns (121). Flacco's 62 regular-season wins are the most by a starting quarterback in the first six seasons of a career since 1970. Since entering the NFL in 2008, Flacco has more wins (71, including playoffs) than any other starting quarterback. He has started 96 consecutive regular-season games, the third-longest streak among active quarterbacks.
BUFFALO: EJ MANUEL enters his second season as the Bills starter. Manuel, who was selected No. 16 overall in the 2013 NFL Draft, started 10 games for Buffalo last season, passing for 1,972 yards and 11 touchdowns. He established franchise rookie records for passing touchdowns (11) and completions (180) and rushed for 186 yards with two touchdowns. In 2013, Manuel became the first rookie quarterback to defeat the defending Super Bowl champions in September (Week 4 against Baltimore).
CINCINNATI: ANDY DALTON, who enters his fourth year, has led the Bengals to the playoffs in three consecutive seasons for first time in club history. Dalton has a 30-18 (.625) career regular season record, the highest winning percentage of any Bengals quarterback (minimum 20 starts). In 2013, Dalton set franchise passing records for yards (4,293) and touchdowns (33) with an 88.8 passer rating. He also joined Peyton Manning and Cam Newton as the only players in NFL history to pass for at least 3,000 yards in each of their first three seasons to begin a career. Dalton is one of five quarterbacks to lead a team to the playoffs in each of his first NFL three seasons.
CLEVELAND: Six-year veteran BRIAN HOYER enters his first NFL season as a starting quarterback heading into Kickoff Weekend. Hoyer, who served as a backup to Tom Brady for three seasons in New England and spent time with Arizona in 2012, will be directed by Browns first-year head coach Mike Pettine and offensive coordinator Kyle Shanahan. In three starts in 2013, Hoyer passed for 615 yards and five touchdowns with an 82.6 passer rating. He is the only quarterback in club history to win each of his first three starts with the team.
DENVER: Entering his third season with the Broncos, PEYTON MANNING set the NFL's single-season record for passing yards (5,477) and touchdown passes (55) in 2013 en route to his record fifth Associated Press NFL Most Valuable Player award. Manning, who is entering his 17th NFL season, ranks second all-time in career passing yards (64,964), completions (5,532) and touchdown passes (491). In 2014, Manning needs 18 TD passes to surpass Brett Favre (508) for the most all-time and 5,036 passing yards to join Favre (71,838) as the only players with 70,000 career passing yards. Manning's 10 division titles are the second-most of any starting QB in NFL history (Tom Brady, 11).
HOUSTON: Ten-year veteran RYAN FITZPATRICK was signed via free agency this offseason and will start on Kickoff Weekend for the Texans. Originally a seventh-round draft choice by the St. Louis Rams in 2005 after a standout career at Harvard, Fitzpatrick has started 77 of his 85 career games for the Rams, Bengals, Bills and Titans, passing for 16,790 yards and 106 touchdowns. Last season, Fitzpatrick played in 11 games with Tennessee, including nine starts, and passed for 2,454 yards and 14 touchdowns. On December 15 last year against Arizona, Fitzpatrick passed for a career-high 402 yards and tied his career-best with four touchdown passes.
INDIANAPOLIS: A two-time Pro Bowl selection, ANDREW LUCK enter his third season with Indianapolis. In 2013, Luck led the Colts to the postseason for the second consecutive season, becoming the first quarterback selected No. 1 overall to start a playoff game in each of his first two seasons. Luck has passed for more yards (8,196) than any other player in his first two NFL seasons. He has led the Colts to 22 regular-season wins, tied with Ben Roethlisberger (22) for the second-most wins by a starting QB in the first two years of a career (Russell Wilson, 24). Luck has also been an effective runner, leading all AFC QBs in rushing yards (632) and rushing TDs (nine) since joining the league in 2012.
JACKSONVILLE: Seven-year veteran CHAD HENNE, who signed with Jacksonville in 2012, enters the season as the Jaguars' Kickoff Weekend starter for the first time. Henne has played in 25 games with 19 starts in his two seasons in Jacksonville, passing for 5,325 yards and 24 touchdowns during that span. Originally drafted in the second round by Miami in 2008, Henne has two 3,000-yard passing seasons in his career, including 3,241 yards in 2013. In eight career starts in September, Henne has passed for 1,976 and eight touchdowns while posting a 90+ passer rating in five of those games.
KANSAS CITY: Acquired via trade by the Chiefs prior to the 2013 season, ALEX SMITH led Kansas City to an 11-5 record and playoff berth last season. Smith, the No. 1 overall pick by San Francisco in the 2005 NFL Draft, became the first Chiefs quarterback ever to win his first nine starts in his first season with the team. In 2013, Smith also set a franchise record for the most rushing yards in a single season by a quarterback, with a career-high 431 yards on 76 carries (5.7 avg.). Since 2011 – which includes his final two seasons in San Francisco – Smith is 30-9-1 (.763) as a starting quarterback and has passed for 8,194 yards with 53 touchdowns versus 17 interceptions for a 92.5 passer rating during that span.
MIAMI: RYAN TANNEHILL, who was selected eighth overall in the 2012 NFL Draft, became the first Dolphins quarterback to pass for 3,000 yards in each of his first two seasons. Tannehill, who joined Pro Football Hall of Famer Dan Marino as the only players in Dolphins history to pass for 3,000 yards in consecutive seasons, posted career highs in passing yards (3,913) and touchdowns (24) in 2013. His 7,207 passing yards through his first two NFL seasons are the fifth-most of any player in NFL history.
NEW ENGLAND: TOM BRADY, a two-time NFL MVP, enters his 15th year with a 148-43 (.775) record – the best winning percentage of any NFL quarterback in the Super Bowl era with at least 100 starts. Brady's 148 career regular-season wins are tied with Pro Football Hall of Famer John Elway for the third-most among starting quarterbacks in NFL history. Last season, Brady guided the Patriots to an AFC East title and became the first starting quarterback in NFL history to win 11 division championships. Brady passed for 4,343 yards in 2013, joining Peyton Manning (13), Drew Brees (eight), Pro Football Hall of Famer Dan Marino (six) and Brett Favre (six) as the only players to reach 4,000 passing yards in six or more seasons.
NEW YORK JETS: Chosen in the second round of the 2013 NFL Draft (No. 39 overall), GENO SMITH enters his second season as the Jets' starter. In 2013, Smith established franchise rookie quarterback records in passing yards (3,046), rushing yards (366) and rushing touchdowns (six). Smith also became the first QB since at least 1970 with four game-winning drives in the fourth quarter or overtime in his first seven career games. The NFL's rookie passing yards leader in 2013, Smith led the Jets to victory in three of their final four games, accounting for seven touchdowns during that span (four passing, three rushing).
OAKLAND: Rookie QB DEREK CARR (Round 2, No. 36 overall) was named the starter by head coach Dennis Allen on Labor Day following a standout performance during training camp and the preseason. Carr passed for 326 yards and four touchdowns, tied for the second most in the AFC, this preseason. As a senior at Fresno State in 2013, he led the NCAA in total offense (5,199), passing yards (5,082) & passing touchdowns (50). His brother David was the No. 1 overall selection in the 2002 NFL Draft and played 11 seasons with the Texans, Panthers, Giants and 49ers.
PITTSBURGH: BEN ROETHLISBERGER owns a 95-47 regular-season record (.669) as a starter, the third-best winning percentage among active NFL quarterbacks (minimum 10 regular-season starts). Roethlisberger has led the Steelers to four division titles, three AFC Championships and two Super Bowl victories. Entering his 11th NFL season, the Steelers' offensive captain is the franchise all-time leader in passing yards (34,105), touchdown passes (219), completions (2,749) and passer rating (92.6). Roethlisberger is the only player in club history to pass for 4,000 yards in a season, a feat he's accomplished three times.
SAN DIEGO: PHILIP RIVERS enters his 11th season and his second under the direction of head coach Mike McCoy. Since becoming the Chargers' starting quarterback in 2006, Rivers has led the club to four AFC West titles and ranks second in the NFL with 32,221 passing yards during that span (Drew Brees, 38,733). Last season, Rivers (3,606) became the first Charger to pass for 4,000 yards in five different seasons. His 32,221 career passing yards trail only Pro Football Hall of Famer Dan Fouts (43,040) in team annals. The durable QB has started 128 consecutive games, the second-longest active streak of any NFL quarterback (Eli Manning, 151).
TENNESSEE: JAKE LOCKER enters his third season as the Titans' starter on Kickoff Weekend. Locker, who missed nine games due to injury in 2013, won four of his seven starts last year, passing for 1,256 yards and eight touchdowns in those contests with an 86.7 passer rating. The eighth overall pick in the 2011 NFL Draft has played in 23 games his first three seasons and passed for 3,974 yards with 22 touchdowns. Locker has also displayed his elusiveness outside of the pocket, rushing for 502 rushing yards (6.9 average) on 73 attempts.