Bowled over by bucking Broncos
David John previews Super Bowl XLIX and fancies Peyton Manning to confirm his Hall Of Fame status with Denver.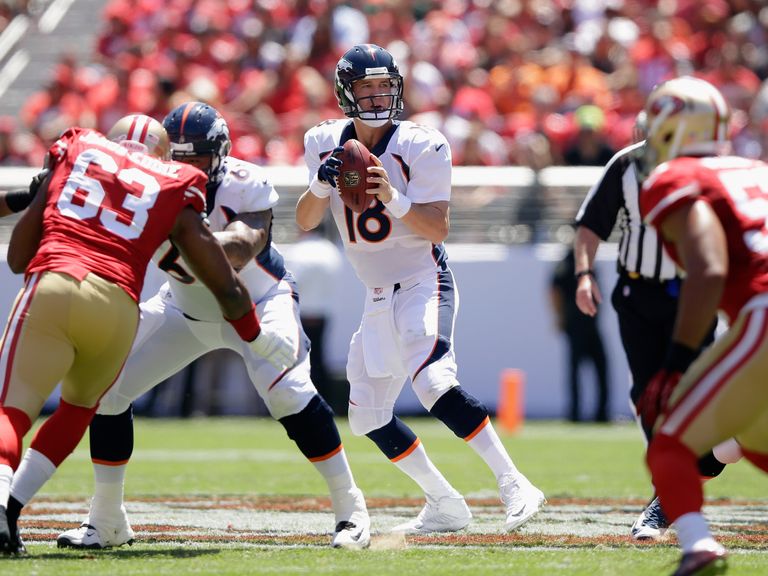 5pts Denver Broncos to win Super Bowl XLIX
The Denver Broncos were last year's selection to win the Super Bowl from these quarters and though the big game against Seattle in New Jersey could not have gone much worse for John Fox, Peyton Manning and co, the opportunity to put things right is theirs for the taking.
Make no mistake, it was painful night for the Broncos back in February.
The first play from scrimmage saw the snap sail over Manning's head, into the end zone for a safety and things spiralled out of control from that point as every Denver error was seemingly punished by a Seattle score - the battle for the world championship was over as a contest before Bruno Mars was wheeled out at half-time.
Head coach Fox was left bewildered and Manning got tetchy when interviewed as the media tried to get him to point the finger at who was to blame for the most dynamic offense in NFL history managing just eight points when it really mattered most.
So it was back to the drawing board in the off-season to a certain extent with efforts within the organisation redoubled in a bid to get over that final hurdle - and it all starts again with the remarkable Manning.
There is little reason to think his powers have diminished over the summer despite having turned 38 in the spring. He is another year removed from the various neck surgeries he underwent that could have ended his career and will have undergone the usual thorough physical he takes each year to ensure he is in the best shape for the rigours ahead.
So is arguably the finest offensive mind currently playing still sharp enough for one, perhaps two, more goes on the big dipper?
You don't have to be a genius to figure out that the window of opportunity is closing on Manning's Hall of Fame career and surely only a solitary Vince Lombardi trophy from his days in Indianapolis would be a travesty.
Manning has always claimed he would call it a day when he felt he was no longer competitive and capable of contributing in a winning cause. That edge certainly remains as well, highlighted by his one and only taunting penalty picked up in pre-season - the fire still burns for Manning then as we get down to the serious business.
Broncos legend John Elway is Vice President of Football Operations and he was the man who hitched his wagon to Manning back in 2012 despite those health concerns and heading into his third year in the Rocky Mountains, this surely must be the time for it all to pay off.
Manning's 55 touchdown passes and 5,477 passing yards were both single-season records and maybe one day in his dotage he will sit down and reflect on what he has achieved statistically during his time in the NFL.
But knowing Manning, it will all seem a little bit inconsequential if he were not to double his tally of Super Bowl wins at least, a feat that would certainly put him among the immortals historically in the game.
Manning will take responsibility for most of what Denver achieve - or don't - until he retires but he does need some help and Elway has gone out to try and stock this side with as much talent as possible while his quarterback remains at the peak of his powers.
Wide receiver Eric Decker has left for the New York Jets but he has been replaced by the talented Emmanuel Sanders from Pittsburgh, who brings greater speed and is probably an upgrade at the position.
He will line up opposite the excellent Demaryius Thomas, who has grown immensely under the guidance of Manning and was one of the few players to shine in the Super Bowl loss. He is definitely a man for the big stage.
While we all marvelled at Manning's execution with the offense, it rather masked the fact that Denver were an accident waiting to happen on defense - and that came to its inevitable and horrible climax against the Seahawks.
The unit had shown some improvement during their play-off run but Elway and the personnel staff realised that quality additions would be needed.
And have they got them.
A leaky secondary will be vastly less sieve-like after the arrival of Aqib Talib and TJ Ward to suit up alongside a healthy Chris Harris while a fearsome-looking pass rush now teams Vonn Miller with former Cowboy DeMarcus Ware.
It all leads me to conclude two things. Denver have made their moves to ensure they can win now and all go home happy - this is not some long-term project set up to pay off in five years.
Secondly, a vastly improved defense on paper will help Manning immensely as he won't be required to constantly march up and down the field and put 50 points on the board in the hope that is enough in weekly shootouts.
That's not to say he won't do it when conditions are favourable but he can concentrate on his surgical dissection of an opposing defense and prove he is still the greatest exponent of that fine art.
To me, it looks like this year will be less about Denver blowing teams out of the water in a stampede of yards and points but more about clinically getting the job done in the big games - including, at last, the Super Bowl.
This was a team that went off a 7/1 chance 12 months ago but the additions to the roster as well as the return of Ryan Clady from injury at left tackle to cover Manning's blind side suggests that going in at just half-a-point shorter represents some sort of value.
The Seahawks are 6/1 favourites to defend and the general consensus is that the team who won a Super Bowl by 35 points could be more explosive as a youthful group with further improvement on the agenda.
But it has been 11 years since New England went back-to-back and the previous eight champions prior to the Seahawks combined for precisely zero play-off victories the following season.
They start the season with a big target on their backs which other teams want to take down, headed by arch-rivals San Francisco in the NFC West. The 49ers have come so close to claiming glory themselves lately although reports of rift at managerial level between head coach Jim Harbaugh and the organisation's front office is a worry.
New England continue to be competitive thanks to the unwavering excellence of Bill Belichick and Tom Brady while an influx of talent on defense over the summer should give this unit a timely boost while New Orleans and Green Bay both have relatively recent Super Bowl pedigrees and top-class performers at the quarterback position in Drew Brees and Aaron Rodgers.
Outside those teams mentioned above, it is 25/1 bar and making that leap to legitimate contender is not easy as Indianapolis and Kansas showed last year with each making creditable runs to the post-season but coming up shy when the pressure really cranked up.
So from the half-dozen candidates who dominate the betting, I am going to put my faith in Manning and a strengthened Broncos defense at this stage of proceedings with the option of adding another team or two along the way as the race to reach Phoenix next February starts to take shape.
Preview posted at 1250 BST on 02/09/2014