Smith signs new Chiefs deal
Just days before the start of the new season, the Kansas City Chiefs secured the future of their starting quarterback Alex Smith by handing him a new four-year extension.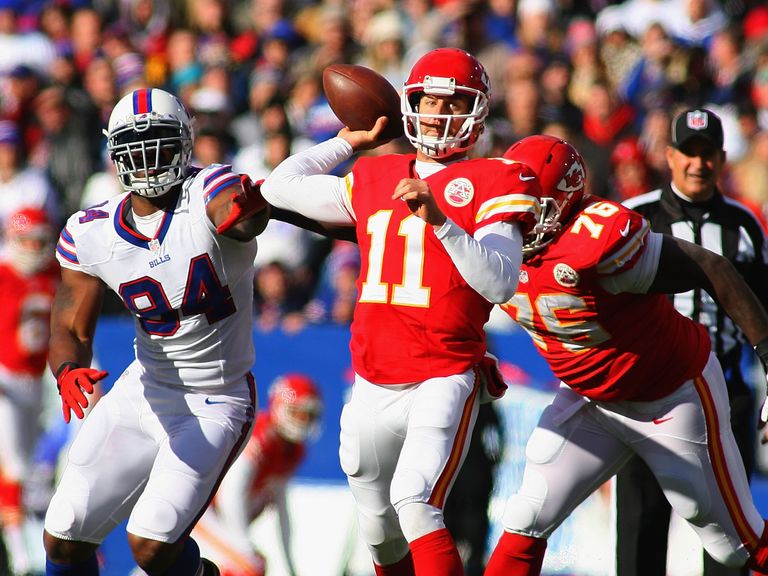 Smith had one year left on his contract and had wanted to be paid up with the best quarterbacks in the league, while the Chiefs wanted to go for more of a performance-related-pay deal similar to Colin Kaepernick or Andy Dalton's.
With the season closing in, though, the Chiefs have stumped up the cash up front, although not quite in the realms of the Joe Flacco's of this world, Smith has been handed a $68 million extension with $45 million in guaranteed cash.
Smith is entering the 10th year of a mixed NFL career since being the No 1 overall pick of the 2005 draft, but the Chiefs have now signalled that he is their main man for the immediate future.
"It was a priority of ours to get this deal done and keep Alex in a Chiefs uniform long-term," Chiefs GM John Dorsey said. "Alex is a proven leader on and off the field. He is a special individual with a lot of ability, and we are fortunate to have him here."
There were question marks over the summer about whether the Chiefs actually thought of Smith as their man for the future, but the up-front money suggests that they at least think he will be leading the team for the next few years.
Smith has been tagged with the dreaded 'game manager' label despite good success with his previous team the 49ers – who ditched him in favour of the more flashy Kaepernick, but the Chiefs are sticking with him for now.
The 30-year-old enjoyed a career season in his first year with new coach Andy Reid last season, throwing for 3,313 yards and 23 touchdowns – and he was impressive in their play-off loss in Indianapolis when his defence blew a huge lead.
That 378-yard, four-touchdown, no interception performance showed what Smith can do in the big games though, and that will have only helped secure Reid's faith in him and his new contract.
"John and his staff along with Tom and his group have worked hard to get this deal done. They've done a nice job," said coach Reid.
"Alex is a smart, talented football player that has adapted well to our offensive scheme. He also, obviously, has had a tremendous amount of success as a quarterback in this league. We as a team are very happy to have Alex as our quarterback moving forward."