No doubting Thomas or Denver
David John says that Demaryius Thomas can feature prominently in a Denver victory in Super Bowl XLVIII on Sunday.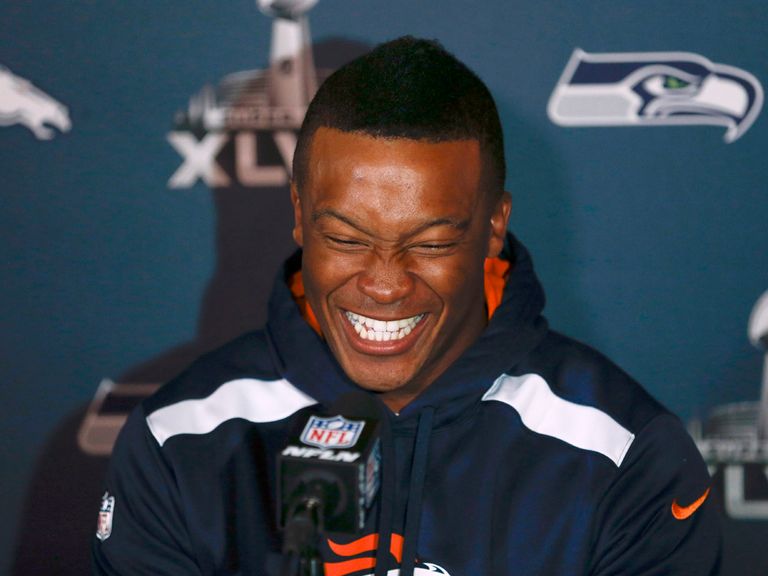 For the first time since Indianapolis took on New Orleans in 2010, the Super Bowl will be contested by the top seeds from the AFC and the NFC.
This game will also pit Denver's number one ranked offense against Seattle's number one defense so we have all the ingredients for the classic match-up with a world championship at stake.
The first point to touch on - and a subject that has been bubbling along before a pass was even thrown back in September - is this year's venue in the depths of a north east winter.
It is perhaps only right New York (New Jersey) gets to host a Super Bowl at some stage and with sub-zero temperatures and snow being cleared all week from MetLife Stadium, it seemed the harbingers of doom may have called it right with the weather set to have a big influence on proceedings.
But forecasters are predicting the cold snap to move on and the game to at least start at a relatively comfortable 40F - so not really an issue for two teams that play outside in the Pacific Northwest and Rocky Mountains.
Those of you who elected to follow the advice from my pre-season preview will already be in a position of some strength with Denver on side at 7/1 to lift the Vince Lombardi trophy.
They are now a best price of 5/6 on the money line and favourites by two points as the NFL's golden boy Peyton Manning looks to provide what could be his coup de grace as he tries to become the first player to win a Super Bowl with two different teams.
And at 37, he is coming off the best statistical performance of his career as he set regular-season records for passing yards (5477) and touchdowns (55) to completely vindicate Broncos legend and vice president of football operations John Elway's decision to put the franchise in Manning's hands back in 2012 following four much-documented neck surgeries.
Manning has been the catalyst without question but the cast assembled around him has developed to an elite level as a unit under his tutelage with Demaryius Thomas, Eric Decker, Julius Thomas and Wes Welker giving arguably the best quarterback ever, well, just too many options for defences to cope with.
Demaryius Thomas at 6-3 and 229lb with 4.40 speed is the jewel in the crown and his battle with the aggressive and physical secondary of the Seahawks will not only be one of the key facets in the game but also one that he can win.
He is likely to be covered by the outstanding Richard Sherman but it is a match-up that Thomas is relishing: "I doesn't bother me. I like to get hit, " he said.
---
Demaryius Thomas even money to score a touchdown anytime
---
Manning's strategy for getting the ball down the field is invariably to find the open receiver but in a game like this he will need his best weapon so I am keen to side with number 88 in terms of both the yards he achieves and the prospect of a scoring play in the end zone.
The engaging Russell Wilson is Manning's opposite number and provides a fascinating case study in terms of polarity at the position.
While Manning will stand tall and take command of the pocket, Wilson is mobile and elusive with the ability to make accurate throws on the run and keep a play alive as he avoids tacklers.
His pool of receivers are not quite as gifted but extremely good nonetheless and it will be Wilson's performance along with running back Marshawn Lynch that will be a big factor in terms of the outcome.
Lynch has provided enough of a distraction already with his show or no-show shenanigans at Media Day during the week, preferring to keep his thoughts and focus firmly on Sunday.
The player famously powered by Skittles (he has just signed a deal with them) is perhaps the most physically dominating and durable at his position and there is little he enjoys better than contact at the line of scrimmage.
That does not simply mean he is purely a wrecking ball used to soften up the opposition. He has a surprisingly good burst for a big guy as he showed with a 40-yard touchdown scamper a fortnight ago against San Francisco on the way to 109 yards rushing in total.
So Denver's defense has its hands full and six weeks ago I would have been pretty certain that both Wilson and Lynch would have their way with them but Jack Del Rio's unit has started to click when it really matters - the sign of any prospective championship team.
They may have lost key pieces like Derek Wolfe, Von Miller and lately Chris Harris but the table shows how much they have tightened things up in recent weeks. It not only gives them huge optimism of keeping a lid on Seattle's scoring power but eases the burden on Manning having to feel he must produce somewhere in the region of 40 points.
Terrance Knighton at tackle is the rising star of the show in this department. He enjoyed a magnificent game in the Conference Championship against New England as he all but shut down their rushing attack and then showed fantastic athleticism with a sack of Tom Brady on a vital fourth down play.
And it is this form that tempts me take a real flyer in the Most Valuable Player betting at 150/1. The award nearly always goes to a quarterback and if not, another flashy display on offense so putting up Knighton is a real roll of the dice.
In fact, no-one has ever won the award playing up front in the trenches but if Wilson and Lynch are shackled, it will start and end with Knighton - so take the ultimate speculative pot-shot on Pot Roast!
All-in-all, I do believe we will be heralding a win for Denver this season and I am more than happy to top up the prospective profits with a bet on them at 5/6 outright.
That said, I would not blame anyone in the slightest with a 7/1 ante-post voucher taking out an insurance policy on Seattle to ensure a winning night.
---
New Sky Bet customers: Free matched bet up to £30
---