Vinatieri joins 2,000 club
Adam Vinatieri became the seventh player in league history to join the 2,000-point club as the Indianapolis Colts rolled to a 30-10 victory over Jacksonville.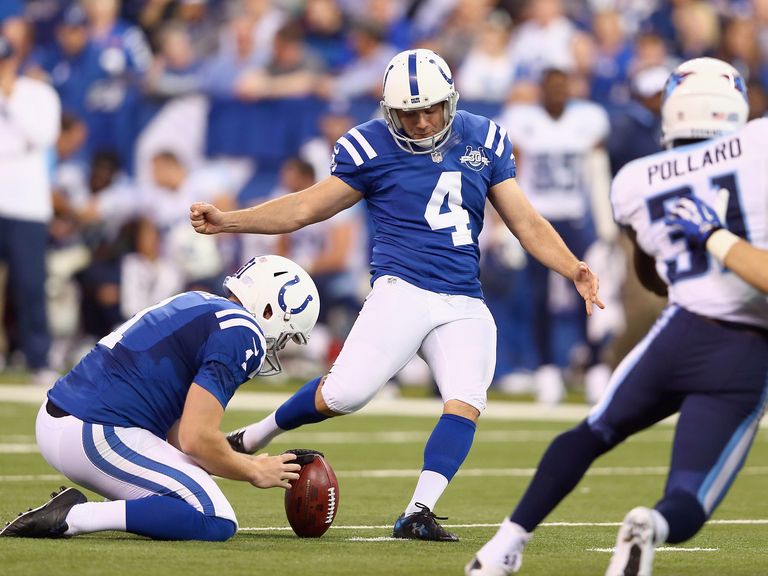 The AFC South champs won their third straight game, matching their longest winning streak of the season. Jacksonville (4-12) lost their third in a row.
Indy's latest victory certainly gives them momentum heading into the play-offs but probably not the coveted first-round bye and perhaps not even the number three seeding.
The Colts (11-5) needed Cincinnati and New England to lose Sunday to move from fourth to second and one of those two teams to lose to move to number three.
Still, it was a milestone day for Indy.
As well as Viantieri's feat, Andrew Luck threw for 282 yards and one touchdown and Robert Mathis reclaimed the NFL sacks lead.
Luck was 26 of 37 before leaving early in the fourth quarter, and he broke Cam Newton's record for yards passing in the first two seasons of a career. Luck now has 8,196 yards - the first player to top 8,000 yards in two seasons. TY Hilton had the biggest day of his career, catching 11 passes for 155 yards. And Vinatieri joined the 2,000-point club with a 26-yard field goal as time expired in the first half, then passed George Blanda (2,002) for sixth and Matt Stover (2,004) for fifth on the career scoring list in the second half. The 41-year-old kicker finished the day with 2,006 points.
Mathis took the sacks lead with 19 after taking Chad Henne to the ground once in each half, then had to wait to see if St. Louis' Robert Quinn - or anyone else - could move past him. Quinn also was playing a late afternoon game against Seattle.
But Indy's defense has surrendered just two touchdowns in the last 12 quarters, and Indy has outscored their last three opponents by a combined 78-20.
The Colts made this one look easy.
Donald Brown opened the game with a leaping one-yard TD run to make it 7-0, and Trent Richardson followed that with a two-yard run on Indy's second series. Vinatieri then booted a 23-yard field goal to give Indy a 17-0 lead with 1:22 left in the first quarter.
After Jacksonville got a 37-yard field goal from Josh Scobee, the Jags moved into scoring position late in the first half. But Henne was picked off by Antoine Bethea and his 46-yard return set up Vinatieri's milestone field goal.
Luck opened the second half with a seven-yard TD pass to former college team-mate Griff Whalen, but the Jags didn't score again until Henne threw a 14-yard TD pass to Kerry Taylor with 16 seconds left in the game.
Henne finished 30 of 51 for 331 yards with one TD and one interception. Jones-Drew, the former rushing champ who could become a free agent, ran 13 times for 39 yards and caught five passes for 51 yards.
---
New Sky Bet customers: Free £30 matched bet
---