Cardinals boost play-off bid
Arizona Cardinals needed overtime to defeat the Tennessee Titans 37-34 and boost their play-off push.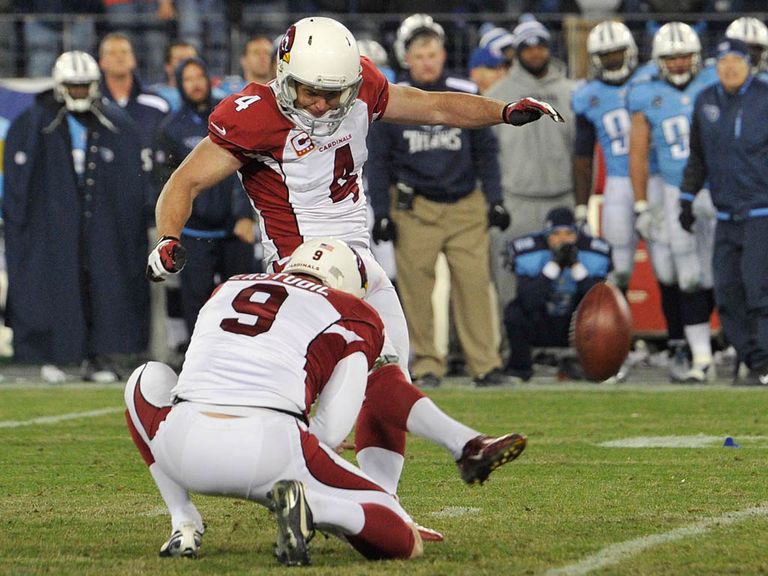 Jay Feely kicked a 41-yard field goal in overtime, and the Cardinals edged the Tennessee Titans 37-34 in overtime after blowing a 17-point lead late in the fourth quarter.
"It's not like the BCS," Feely said. "You don't get style points. You've just got to win a game and move onto the next one and, hopefully, keep winning."
The Cardinals (9-5) won their sixth in seven games. With San Francisco and Carolina winning, they remain a game back of both for a NFC wild-card berth. The Cardinals visit Seattle and then host the 49ers on Dec. 29 in the season finale.
The Titans scored 17 points in the final 3:12 of regulation with no timeouts left to force overtime with Ryan Fitzpatrick throwing two of his four TD passes to Michael Preston. They also recovered an onside kick to set up the tying TD with 10 seconds left in regulation.
They won the toss and drove to the Cardinals 43 before Antoine Cason intercepted his second pass of the game.
"They picked on the wrong guy twice too many times," Arizona coach Bruce Arians said. "Antoine's been waiting his turn. It's great to see him make those plays, especially the touchdown."
The Cardinals picked up three first downs before Arians sent out Feely on third-and-12 for the winning field goal.
Tennessee (5-9) lost its third straight and eighth in 10 games. The Titans also lost their fifth consecutive home game for the first time since moving to Tennessee in 1997.
"When you have a comeback like that you're not supposed to lose a game like that," Fitzpatrick said.
The Cardinals scored 21 straight points in the second half, the last when Cason returned his first interception for a TD and a 34-17 lead.
"We kind of laid down and relaxed, and they kept fighting," Cardinals defensive tackle Darnell Dockett said. "That is a good situation to learn from."
The Titans outgained Arizona 460-360 with Fitzpatrick throwing for 402 yards and Kendall Wright caught 12 passes for 150 yards hours after new president Tommy Smith said he felt they hadn't given up on Mike Munchak with the coach's job security at question.
---
New Sky Bet customers: Free £30 matched bet
---