Cowboys have Eastern promise
David John previews Sunday night's NFL action and likes Dallas to beat New York Giants with a start.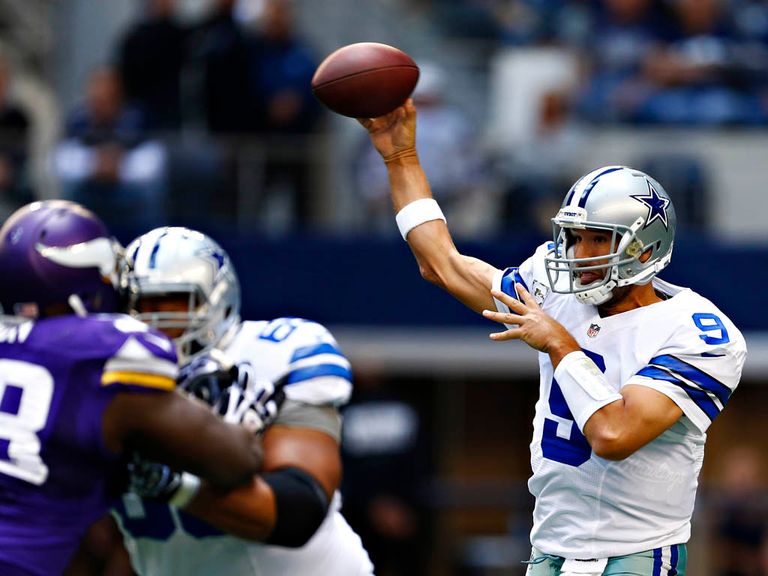 New York Jets at Baltimore (1800 GMT)
Sky's early televised game is a rather tricky one to deal with as it involves two teams that have been consistent in their inconsistency.
That statement particularly applies to the visiting Jets.
Things are never dull under charismatic head coach Rex Ryan and they have already set an NFL record by becoming the first team since the 1970 merger to alternate wins and losses through their first 10 games.
There have been impressive successes over quality teams like New England and New Orleans but there have been losses to the less polished Bills and Titans and it all adds up to a 5-5 record that still leaves them in the play-off picture.
If the pattern of results is to continue then the best price of 7/4 should be snapped up as it is the Jets turn for a victory. But they have managed just one of those five wins on the road and will need to step up considerably on last week's error-strewn effort in Buffalo.
That was rookie quarterback Geno Smith's worst game of his embryonic career and just one touchdown and eight picks in his last five games clearly tells a story but the chance to get leading wide receiver Santonio Holmes back on the field again will be a benefit.
Smith's head coach was certainly happy with the way he has thrown the ball in practice in the build-up to the trip to Maryland and the he former West Virginia standout has shown his character to possess resilience so it is not out of the question that he could bounce back and produce a more assured display.
And so to the hosts. It seems an awfully long time since they were crowned world champions and franchise quarterback Joe Flacco signed a contract to make him the highest-paid player in the league.
The latter has since endured his worst season to date in the NFL and his team at 4-6 are in danger of missing the post-season for the first time since Flacco arrived back in 2008.
He already has 13 picks with five in the last three games on an offense that has lost the ability to make the big plays that hallmarked their run to Super Bowl glory in February.
Anquan Boldin's departure for San Francisco and Dennis Pitta's hip injury has left Flacco with a decidedly underwhelming receiving corps outside of Torrey Smith while livewire running back Ray Rice has been stuck in a prolonged slump.
But still outcomes have come down to an odd play here and there. Four of the six defeats have been by three points or less and last week's loss in the weather-affected game in Chicago was the seventh straight by six points or fewer.
So that is where the betting angle could well lie. I can see neither getting a significant march on the other in what looks like being a very tight affair.
A small investment on both winning by 1-6 points should return a profit with perhaps the hosts doing just enough.
Verdict: New York Jets 19 Baltimore 23
Dallas at New York Giants (2125)
There is no love lost between these two at the best of times and I don't think relations in the NFC East are going to improve much on Sunday evening.
"It is Dallas and we just don't like each other," said Giants defensive end Justin Tuck this week in a run-up to a game that is likely to have a big influence on what the teams will or will not be doing in January.
Both remain very much in the hunt for the division, a statement only now relevant with the Giants on a four-game winning spurt having lost their first six in pretty horrible fashion.
Dual Super Bowl-winning quarterback Eli Manning turned throwing the ball to players in different colour jerseys into an art form and although he has been more efficient recently, he still has a way to go to redress the balance with 17 interceptions to just 12 touchdown passes.
Part of the problem had been Manning taking responsibility and trying to force the Giants out of their slump but the early woes on offense were not just down to him. Little or no running game (still ranked 30th overall in the NFL) and numerous miscommunications with receivers all led to a flustered and frustrated Tom Coughlin on the sidelines.
But things have gradually turned around and fact the NFC East remains so mediocre means the Big Blue are still in touch and still in with a shout. They have some momentum and home advantage here against a rival that once again this season has failed to reach its potential.
They are back from a bye week - one much needed by the looks as well after being humiliated by New Orleans 49-17 in what was a record-setting night for the Saints offense.
But the Cowboys have also shown they are extremely capable when they get it right. Their narrow defeat to Denver in week five was one of the greatest games in NFL history and if Tony Romo and his offense turn up, and that means Dez Bryant getting involved, in that form they will blow the Giants away regardless of how many recent games the latter have won.
The defense is going to have to step up and help. Injuries have been an issue - particularly at linebacker headed by the outstanding Sean Lee - but defensive tackle Jason Hatcher, defensive end DeMarcus Ware and cornerback Morris Claiborne will return to boost numbers and experience.
Statistically they have the league's worst defense this year and allow on average 439.8 yards of offense per game but they have forced 22 turnovers - the Giants' offense has committed 29 - so that could be an area where they might thrive with Manning yet to completely convince.
No question, these are two flawed sides and what exactly we are going to get his hard to gauge. One argument levelled against the Giants is that all four wins have come against back-up quarterbacks and Romo performing up to standard with be a much sterner test.
I don't see a lot between them and number nine might just be the difference so a small best on the visitors with the points is the suggestion.
Verdict: Dallas 24 New York Giants 22
Week 12 verdicts:
Carolina 27 Miami 16
Chicago 23 St Louis 19
Jacksonville 20 Houston 22
Minnesota 18 Green Bay 16
Pittsburgh 20 Clevaland 22
San Diego 23 Kansas City 14
Tampa Bay 23 Detroit 27
Indianapolis 24 Arizona 28
Tennessee 19 Oakland 24
Denver 31 New England 26
San Francisco 20 Washington 17
---
New Sky Bet customers: Claim free £5 bet every week
---