Seventh hell for Texans
The Arizona Cardinals sent the Houston Texans to a franchise-record seventh straight loss on Sunday.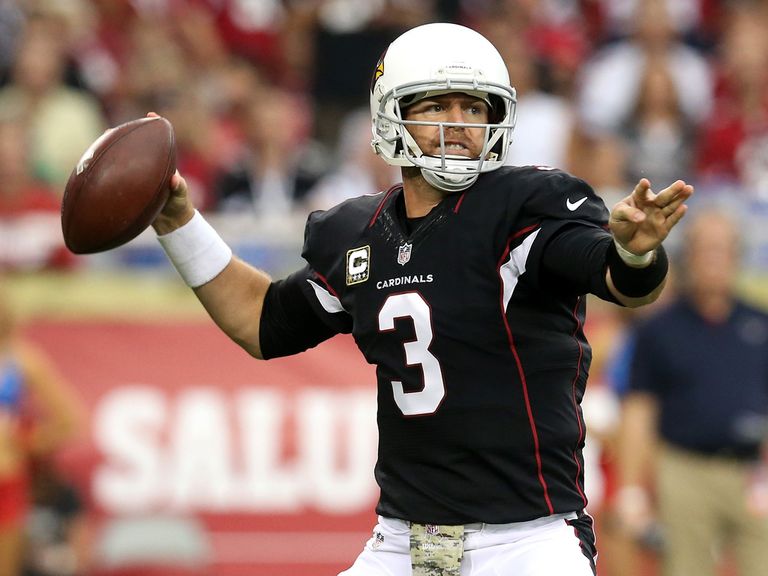 Carson Palmer threw two touchdown passes and Arizona held on to secure a 27-24 success despite a late fumble.
The Texans (2-7) were without coach Gary Kubiak, who collapsed on the sidelines against Indianapolis last Sunday night with what was diagnosed as a mini-stroke. Defensive co-ordinator Wade Phillips is filling in as interim coach.
Arizona (5-4) got off to a quick start when linebacker John Abraham knocked the ball out of quarterback Case Keenum's arm and Matt Shaughnessy returned it six yards for a touchdown only 14 seconds into the game.
The Texans led 17-14 at the break but managed just 41 yards in the final two quarters. Keenum threw three touchdown passes, two on remarkable catches by Andre Johnson.
JJ Watt forced two fumbles, recovering both of them for Houston. The second one set up Johnson's five-yard TD catch that cut the lead to three with 4:34 to play.
Palmer completed 20 of 32 for 241 yards. Keenum was 22 of 43 for 201 yards no interceptions, but was just seven for 17 for 42 yards in the second half.
Arizona reeled off 13 consecutive points and Palmer's 19-yard touchdown pass to Andre Roberts put Arizona up 27-17 with 6:42 to play.
The Cardinals, coming off a bye, had trouble holding on. Rashard Mendenhall was stripped of the ball by Watt in a crowd on a run up the middle and the standout Houston lineman recovered at the Arizona five.
On third down, Johnson gathered in Keenum's pass and was able to get both feet inbounds for the touchdown. He had scored on a similar catch in the first quarter.
Houston got the ball back with just over two minutes to play but, at third-and-three at the 35, Keenum threw two incompletions. Jerraud Powers knocked the ball away from receiver DeAndre Hopkins on fourth down to seal the win.
After his first-play miscue, Keenum completed four of four for 44 yards in an eight-play, 49-yard drive. Johnson got his left foot down then barely dragged his right foot inbounds on a seven-yard touchdown catch and it was 7-7.
Arizona regained the lead with their only touchdown drive of the first half. Recently signed tight end Jake Ballard had a 15-yard catch, his first reception since 2011, and Rob Housler got his first pro touchdown catch on a 12-yard screen pass to put the Cardinals up 14-7 with 13:57 left in the half. It was Palmer's 200th career touchdown pass.
But Keenum responded, going five for six for 55 yards in a nine-play, 80-yard TD drive. Keenum threw two yards to wide open tight end Ryan Griffin for the touchdown that tied it at 14-14 with 9:37 left in the half.
Arizona were pinned deep in their own territory after the subsequent kick-off and Palmer tried to throw long to Housler. But DJ Swearinger intercepted, setting up Randy Bullock's 48-yard field goal that gave Houston their first lead, 17-14, with 6:31 to go in the half.
Arizona committed another turnover late in the second quarter.
With less than a minute left in the half, Watt knocked the ball out of Palmer's hands and recovered at the Cardinals 22. Houston couldn't move it from there, and Justin Bethel blocked Bullock's 40-yard field goal attempts, leaving the score 17-14 at the interval. Bethel has two blocked field goals this season.
Arizona tied ithe game at 17 on Jay Feely's 35-yard field goal with 6:06 left in the third quarter. The drive stayed alive when the Cardinals, who have struggled on third downs all season, converted a third-and-14 with a 17-yard pass from Palmer to Roberts.
Palmer's 26-yard pass to Housler gave Arizona a first-and-goal at the Houston five in the final seconds of the third quarter. Feely's 21-yarder put Arizona back on top 20-17 entering the fourth quarter.
---
New Sky Bet customers: Claim free £5 bet every week
---