Cowboys edge out Vikings
Dallas Cowboys improved to 5-4 at the top of the NFC East with a 27-23 victory at Minnesota Vikings.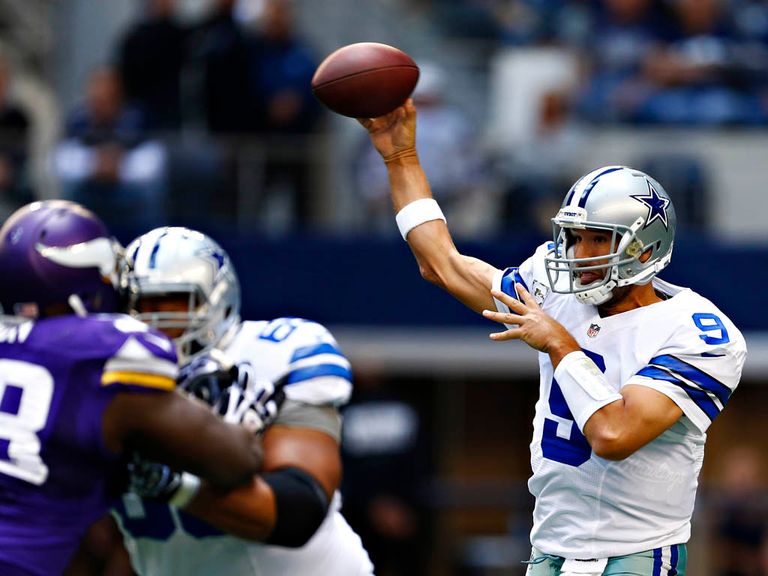 Dwayne Harris caught the game-winning touchdown on a seven-yard pass from Tony Romo with 42 second left on the clock after the Cowboys had contrived to surrender a 20-10 lead from midway through the third quarter.
Vikings running back Adrian Peterson had 140 yards and a touchdown on 25 carries but failed to prevent his team slipping to 1-7.
Christian Ponder threw for a touchdown and ran for another score against his hometown team, but it wasn't enough to avoid a fourth straight loss for the
Vikings (1-7).
Jason Witten had eight catches for 102 yards and a TD for Dallas.
After one touchdown between the teams in the first half, there were three in the first seven minutes of the third quarter.
Romo had consecutive 26-yard completions to Witten, the second for a touchdown and a 13-10 lead.
After Cordarrelle Patterson fumbled a short kick-off out of bounds at the Minnesota five, George Selvie knocked the ball out of Ponder's hand in the end zone. Nick Hayden recovered to give the Cowboys touchdowns just 10 seconds apart.
Ponder, who was 25 of 37 for 236 yards with a touchdown and interception, found Jennings for 27 yards on third-and-4, allowing Minnesota to answer quickly when Kyle Rudolph bounced off Cowboys safety Barry Church on the Dallas 6 and finished off a 31-yard scoring catch to get the Vikings to 20-17.
The Cowboys were in position to extend that lead when Bryant took his team out of field goal range with unsportsmanlike conduct for taking off his helmet and arguing with officials as a pass interference penalty against him was about to be announced.
Bryant, who made headlines last week with a pair of sideline outbursts in a loss at Detroit, later dropped an easy first-down catch on second-and-18 on a drive that ended with a punt.
Ponder led a pair of 11-play scoring drives in the first half, the second one ending on his six-yard scramble for a 10-6 lead late in the second quarter.
---
New Sky Bet customers: Claim free £5 bet every week
---