Ryan shines in Falcons win
Matt Ryan found new ways to get Atlanta's depleted offense back on track, throwing two touchdown passes to Jacquizz Rodgers and another to Harry Douglas to lead the Falcons to a 31-23 win over the Tampa Bay Buccaneers on Sunday.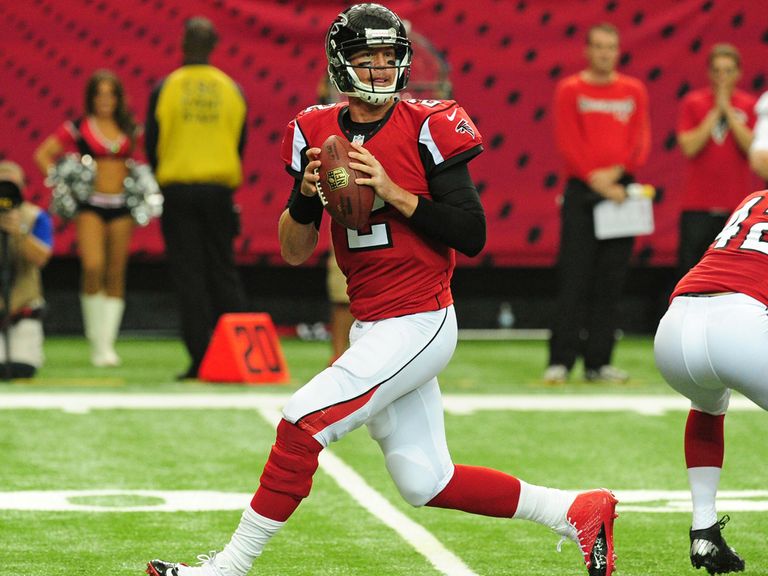 The Falcons (2-4) snapped a three-game losing streak and left the Buccaneers (0-6) still looking for their first win.
Trailing 31-17, the Buccaneers held the ball for 18 plays and over nine minutes in a marathon fourth-quarter drive. Four penalties on the possession helped force Tampa Bay to settle for Rian Lindell's 41-yard field goal with five minutes remaining.
Lindell added his third field goal of the game, from 36 yards, with two minutes remaining. The Falcons ran out the clock after recovering an onside kick.
Ryan completed 20 of 26 passes for 273 yards with three touchdowns and no interceptions. The Falcons needed Ryan's strong day as they managed only 18 yards rushing on 18 carries.
Douglas had seven receptions for a career-best 149 yards, including a 37-yard touchdown catch, for Atlanta. Douglas flourished as Ryan's number one receiver with Julio Jones out for the season and Roddy White inactive for the first time in his nine-year career due to hamstring and ankle injuries.
Running back Steven Jackson missed his fourth straight game with a hamstring injury.
Tampa Bay running back Doug Martin left the game early in the third quarter with a shoulder injury and did not return. Martin had 11 carries for 47 yards before he was injured while attempting to catch a 16-yard pass near the left sideline.
A side judge threw a penalty flag for an apparent unnecessary roughness on Falcons safety William Moore, but referee Walt Anderson withdrew the flag.
Martin lay on his back for several minutes before walking off the field under his own power.
Falcons safety William Moore sacked Mike Glennon to force a fumble on Tampa Bay's first possession. Safety Thomas DeCoud returned the fumble recovery 30 yards for a touchdown.
Glennon completed 26 of 44 passes for 256 yards and two touchdowns to Vincent Jackson. Jackson, targeted on 22 passes, had 10 catches for 138 yards, including touchdown receptions of 59 yards in the second quarter and one yard in the third quarter.
Jackson's second scoring catch was Tampa Bay's first touchdown in the third quarter this season. Entering the game, the Buccaneers had only 13 second-half points.
Tampa Bay were called for 11 penalties for 103 yards.
Following DeCoud's touchdown, the Falcons stretched their lead to 14-0 on Ryan's first touchdown pass to Rodgers, a 19-yarder early in the second quarter. Douglas added a 37-yard touchdown catch in the second quarter as the Falcons led 24-7 at half time.
After Tampa Bay cut the lead to 24-17 on Jackson's second touchdown catch, the Falcons answered with an 80-yard touchdown drive which ended with Rodgers' eight-yard catch over the middle.