Lions sent packing in Green Bay
James Jones caught a long touchdown pass from Aaron Rodgers and Green Bay contained the undermanned Detroit Lions for a 22-9 win Sunday.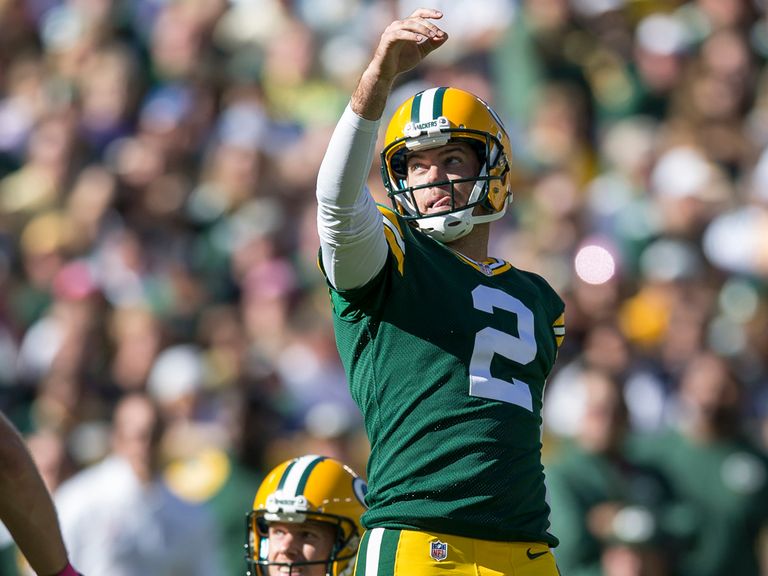 Mason Crosby kicked five field goals as the Packers offense struggled to get into the end zone until Rodgers found Jones on an 83-yard scoring pass down the left sideline for a 16-3 lead late in the third quarter.
It provided enough of a cushion for a defense that had the luxury of facing the Lions minus star receiver Calvin Johnson, out with a knee injury. Penalties also bogged down Detroit (3-2).
The Packers (2-2) extended their winning streak in Wisconsin over the Lions to 23.
Rodgers went 20 for 30 for 274 yards, and Eddie Lacy ran for 99 yards on 23 carries in his return from a concussion. Jones finished with four catches for 127 yards.
Randall Cobb set up Crosby's 31-yard field goal in the third quarter with a 67-yard dash into Lions territory after lining up in the backfield. Crosby also was good from 26 and 52 yards in the first half and added makes from 42 and 45 in the fourth quarter.
Otherwise, touchdowns were rare in a game featuring two of the top offensive teams in the league coming into Sunday. The Lions were sixth, while the Packers were third.
The Lions' only touchdown came late when Matthew Stafford found Kris Durham for a 13-yard score.
The defenses mostly held firm. The Packers recorded five sacks, including one from Clay Matthews before he left with a thumb injury.
And mistakes hurt both teams. They combined for 17 penalties, 10 for the Packers.
With Green Bay up 3-0 early in the second quarter, tight end Ryan Taylor, wide open down the seam, dropped what looked like a sure touchdown pass from Rodgers on a second-and-nine from the 34.
Rodgers took a few steps, placed his hands on his hips and looked down at the field in disappointment for a few moments.
No worries, Aaron. The Packers still extended the Lions' streak of misery in Wisconsin. Detroit haven't won on the road in this series since 1991.
More importantly for Green Bay, the win - however ugly at times - helped coach Mike McCarthy's team bounce back from a 34-30 loss two weeks ago to the Bengals.
Detroit's Reggie Bush was held to 13 carries on 44 yards and four catches for 25 yards. The Packers' improved run defense mostly contained the dangerous Bush on first-down runs, leaving the Lions with long second- and third-down situations.
Still, the Lions trailed by just 16 late because the Packers had to settle for field goals. They drove to the Packers 30 with 7:16 left before three straight incompletions left them headed back to the sideline.
Detroit especially felt Johnson's absence then. A pass attempt on fourth-and-three went awry after Durham slipped on the turf.
Stafford finished 25 for 40 for 262 yards.
---
Sky Bet Free Bet Club: £10 free bet - £5 free every week
---