Brady streak ended by Bengals
Tom Brady failed to throw a touchdown pass for the first time in 53 games as New England went down 13-6 in Cincinnati on Sunday.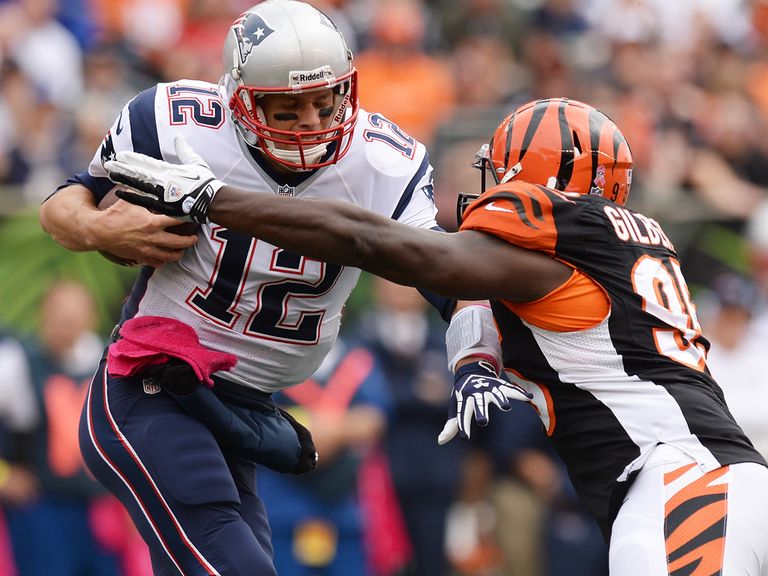 BenJarvus Green-Ellis ran one yard in the fourth quarter for the game's only touchdown as the Bengals ended Brady's long TD streak.
The Bengals (3-2) sacked Brady four times and kept New England (4-1) out of the end zone on a first-and-goal from the one-yard line in the fourth quarter.
Brady had one final chance when New England got the ball back with 1:48 left in a driving rain. His desperation pass was picked off by Adam 'Pacman' Jones inside the five-yard line with 16 seconds left to clinch it.
Brady had thrown a touchdown pass in 52 straight games, the second-longest streak in NFL history behind Drew Brees. The Patriots were held out of the end zone for the first time since a 16-9 loss to the Jets on in September 2009.
The Bengals came into the game looking to establish an identity. They got one: Masters of shutting down the league's best quarterbacks.
Two weeks earlier at Paul Brown Stadium, they stymied Aaron Rodgers in a 34-30 win over Green Bay, overcoming four turnovers by Cincinnati's offense.
Brady never got into a rhythm against Cincinnati's unrelenting pass rush. He finished 18 of 38 for 197 yards with one interception and a paltry passer rating of 52.2. It didn't help that a storm moved in just before the start of New England's final drive.
The Patriots also had to settle for a field goal after a first-and-goal from the one-yard line earlier in the fourth quarter. A run went nowhere, and Brady threw two incompletions.
Cincinnati's defense even had a hand - well, a shoulder - in the winning touchdown.
The Bengals had failed to score a touchdown during a 17-6 loss at Cleveland, one that left them looking to establish an identity on offense by running the ball. They did what they wanted in one grinding drive.
Cincinnati went 93 yards in 14 plays for its touchdown, holding the ball for seven minutes and 48 seconds. Green-Ellis, who spent his first four seasons in New England, got into the end zone - appropriately, with a little help from the defense.
Defensive tackle Domata Peko came in as a blocking full-back on third-and-goal from inside the one-yard line but took off too soon, a false start. Dalton scrambled to the one, and Peko came in and plowed the way for Green-Ellis to score.
Dalton was 20 of 27 for 212 yards with four sacks and one costly interception. He scrambled away from pressure and threw back across the field in the first quarter, getting intercepted by Brandon Spikes at the eight-yard line.
It was the first time during his three-year career that Dalton threw an interception on a play that started inside the opponent's 20-yard line.