Saints stay unbeaten
The Drew Brees-to-Jimmy Graham connection for New Orleans was just too much for the Chicago Bears.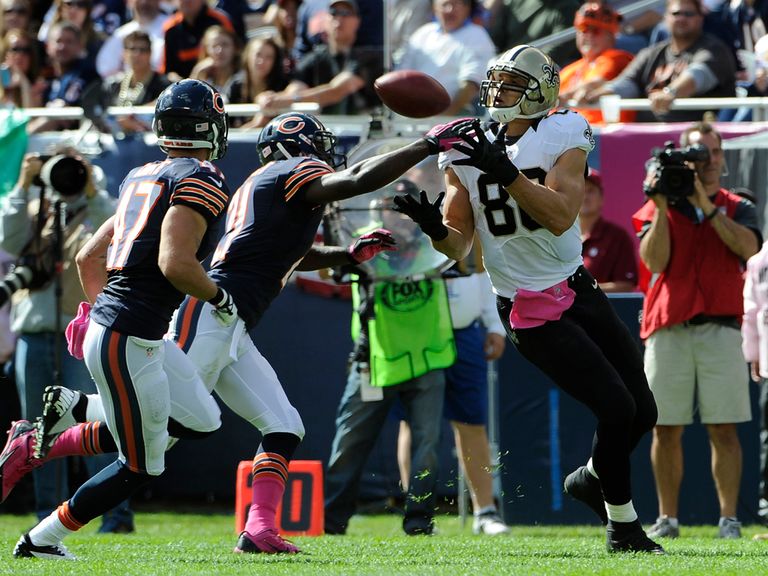 Brees threw two touchdown passes, Graham tied an NFL record with another 100-yard game and the Saints beat the Bears 26-18 on Sunday to remain unbeaten.
Brees was 29-of-35, passing for 288 yards in his first victory in four career games at Soldier Field. Garrett Hartley matched a career high with four field goals as New Orleans (5-0) picked up thier first win in Chicago since a 31-10 victory in October 2000.
Graham continued his torrid start for the Saints, catching 10 balls for 135 yards in his fourth consecutive 100-yard game - matching an NFL record for a tight end. Tony Gonzalez was the first to accomplish the streak in 2000, and Graham matched the surge in 2011.
Hartley's third field goal gave the Saints a 23-7 lead with 8:03 left in the third, but Robbie Gould responded with a 27-yarder for the Bears. Chicago was driving in the fourth quarter when Earl Bennett dropped a fourth-down pass deep in New Orleans territory to give the ball back to the Saints with 8:40 to go.
Trailing 26-10 with three minutes left, Jay Cutler led the Bears on one last scoring drive. He passed to Brandon Marshall for a two-yard touchdown, and Matt Forte ran it in for the two-point conversion.
The Bears got the ball back with 21 seconds left and no timeouts. Cutler then passed to Alshon Jeffery in the middle of the field for 21 yards, but time expired before they could run another play.
Cutler was 24 of 33 for 358 yards and two touchdowns for Chicago (3-2), which has lost two in a row after a perfect start. Jeffery had 10 receptions for a career-high 218 yards and a score.
It took a while for Brees to get started, but New Orleans' defense made sure he had plenty of time to get warmed up.
The Saints sacked Cutler twice while limiting the Bears to one first down in the first quarter. Chicago had just 51 yards when they got the ball back with 5:57 left in the first half.
After two field goals by Hartley - including a 19-yard chip shot after Cutler fumbled on a sack by Malcolm Jenkins deep in Chicago territory - Brees started to find his rhythm. He connected with Graham on pass plays of 29 and 38 yards to get New Orleans to the seven with 7:23 left in the half.
This time, the Saints got into the end zone.
Brees rolled out on second down and flipped the ball to Pierre Thomas, who fought through DJ Williams' tackle attempt and extended his right arm over the goal line for the two-yard touchdown that made it 13-0 with 6:02 remaining.
Brees' 11th touchdown pass of the season seemed to wake up the Bears, who responded with a seven-play, 80-yard drive. Cutler made a beautiful throw into double coverage for a 31-yard pass to Jeffery, and then found Jeffery again for a three-yard TD.
But the Bears gave the ball back to Brees with 2:41 left in the half, plenty of time for the star QB to direct another scoring drive. Thomas had a big two-yard run on fourth-and-1 from the Chicago 27, and then went 25 yards for the score on a screen play with 32 seconds remaining.
Thomas' second TD reception made it 20-7 and was the result of a perfect call by coach Sean Payton, who still has a deft touch when it comes to play-calling after missing last season as a result of the bounty scandal. Thomas caught the ball in the flat with a couple of blockers in front of him, and cut back around the 10-yard line to get into the end zone.
Brees was 17 for 20 for 195 yards at half time, including seven receptions for 106 yards for Graham. The Saints had just 34 yards rushing at the break, but it hardly mattered with Brees operating with his usual precision.
The Bears had only 24 yards on the ground at half time, a much bigger problem for an offense that relies on a balance of run and pass plays to be effective. They finished with 94 yards rushing.