Luck saves the day for Colts
Colts' quarterback Andrew Luck threw for 178 yards and two touchdown passes and again rallied the Colts in the fourth quarter Sunday, scoring on a 19-yard scramble to give Indianapolis a 21-17 season-opening victory over Oakland.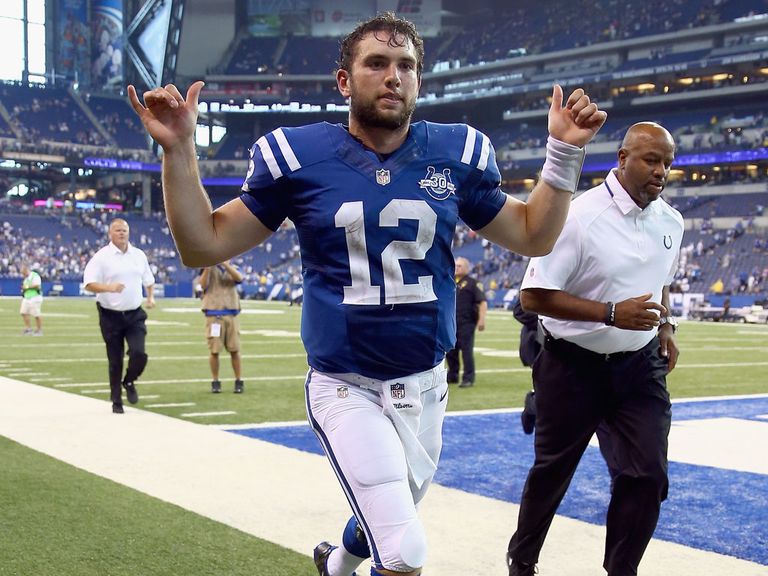 Luck was efficient.
He finished 18 of 23 after completing his first 11 passes. He led the Colts to touchdowns on their first two possessions and then took advantage of Oakland's mistake to scramble up the middle of the field, cut to his left and evade three tacklers on his way to the end zone.
And just like that, Luck had his eighth career fourth-quarter comeback.
Indy is 8-1 at home since coach Chuck Pagano took over last season. It was the Colts' first opening-day win since 2009.
Oakland started Terrelle Pryor at quarterback and the former Ohio State star made coach Dennis Allen's decision look good.
In his second career start, Pryor went 19 of 29 for 217 yards and one TD and broke the Raiders' rushing single-game record for a quarterback with 13 carries for 112 yards.
Former league MVP Rich Gannon set the previous mark of 85 yards Oct. 8, 2000.
But Pryor also threw two interceptions in the red zone, the second coming with 25 seconds left to seal Indy's win.
Luck was just better.
He started the game by leading the Colts on touchdown drives of 89 and 69 yards, hooking up with Reggie Wayne on a gorgeous, looping 12-yard TD pass on the first drive.
And he stood in against pressure to hook up with Dwayne Allen on a 20-yard score to give the Colts a 14-0 lead early in the second quarter.
Oakland finally got in sync on its third series.
Pryor broke free for runs of 29 and 13 yards, setting up Darren McFadden for a 1-yard TD run that cut the lead to 14-7. It was the first rushing TD by McFadden -- or any Oakland running back -- since Oct. 14, 2012.
Sebastian Janikowski made a 48-yard field goal in the third quarter, cutting Indy's lead to 14-10, and Pryor finally gave Oakland the lead when he hooked up with Denarius Moore on a 5-yard TD pass with 11:09 left in the game.
That's when Luck found his form.
He led the Colts down the field, and then on third-and-4 saw the middle of the field wide open and took off. The Raiders couldn't catch him - or the Colts.
Wayne finished with eight catches for 96 yards.
McFadden ran 17 times for 48 yards.
---
Sky Bet Free Bet Club: £10 free bet - £5 free every week
---