Smith ready to compete for Jets job
New York Jets rookie quarterback Geno Smith has been talking to the media in the Big Apple - here is what he had to say.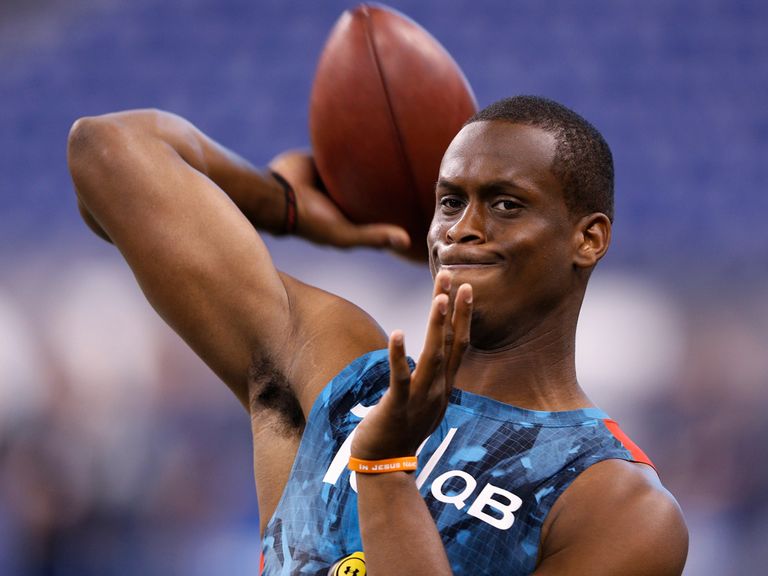 On how it felt to practice with the pads on for the first time
It felt good man. I had pads on. Guys were out there hitting. (we were just) getting back to football. It felt really good to see guys out there competing and the offense and the defense did a really good job of that.
On if anyone has told him who gets the final call on deciding the starting quarterback
Not at all.
On if he wonders who makes the final call on deciding the starting quarterback
I don't. I just come out here and do my job, which is to compete. Like I've always said, they're going to make the decision and that's in-house. The only thing I can do is to take care of what I can take control, which is manage every single rep I get on the field and make sure that I prepare myself for the classroom. That's what I try to do.
On whether it is a different feel when he works with the first unit
I think going against the first team defense is a lot different because (they) have a lot of veterans on that side and those guys know what they're doing and they know how to disguise things. It makes it a bit tougher. I think it all helps us out, especially me being a young guy. It helps me out seeing a defense that's so experienced with so many guys who've done so many great things. Just to get a chance to compete against those guys is awesome.
On whether the defense has slowed down for him
They're still running fast, those guys are fast. I mean that's what it is. The thing is I've got to catch up to them and that's what I've been trying to do. Just catch up to the speed of the game, as far as being out there on the practice field and how fast things move. I don't think I've really struggled with it, but not mastered it to the point where I know I can.
On whether getting the game to slow down has been the hardest part
I wouldn't say one part is harder than another. Being out here, competing for a starting job against a veteran quarterback in Mark Sanchez, against a really good defense, collectively, it's all a challenge. I accept that challenge. I'm out here doing my best to match it.
On if it was disappointing when it started to rain and the initial padded practice was cancelled
I kind of wanted to practice in the rain, a little bit. You kind of get that obstacle out there and see how good you really are when things are pretty much at its worst. With the downpour, it would've been good to get some practice in, but it was great out here. The sun was shining. We were still able to get some great work in.
On how comfortable he is running
I'm pretty comfortable with it. Like I said all along, I've got to prepare myself to do whatever it takes to help this team. If I have to run or pass, whatever it is, I want to be up for it and I'm going to be prepared.
On if there was a stage in his career where he was primarily a runner or has he always primarily been a passer
I've always been the same quarterback. I hate the label that people try to put on quarterbacks. I think I do what it takes to win games, whether it is run or pass.
On building relationships with the other offensive skill players
We all have established relationships. We've all been around each other long enough to know one another and that's something that's going to continue to build. At the same time we've got plenty of time to bond here in camp. Whether it is going to meetings, whether it's sitting down in the cafeteria, all that stuff (comes) into effect. We've got plenty of time to do that. I feel comfortable with those guys and they're comfortable with me. So, we're pretty good right now.
On building relationships with the veterans
That comes along. Right now it's still early in the process, so I just have to continue to do things that I'm used to, which is just take care of one day at a time.
On Marty Mornhinweg's comments about him grasping the playbook quickly
I can tell you one thing, Marty's telling the truth. You know, I study it, I work hard at it. This is my job, this is what I love to do and that's just it. I'm always going to be the same person, always going to be the same hard working quarterback I've always been and that's carried me so far and it's going to continue to carry me.
On how he can improve running the football
That's just it, you need reps. That's the only way to learn it, get out there against that defense and run it. And I've done it before, it's not foreign to me, so it's not like I'm trying to (re-invent) the wheel. I'm just going out there playing football. It comes naturally to me and it's something that I do well.
On if he is comfortable playing under centre
You know, it's something, like I said, that comes with reps and I'm going to continue to get better at that as well. I wouldn't say I'm perfect, but I wouldn't say I'm bad at it. It's just something I have to continue to progress at and get better at.
On his connection with (wide receiver) Stephen Hill
I mean, like I said, we all have a great connection. We work these routes. We do one-on-ones, I mean, we do routes on air. We work in, we work it in. Like I said, that's going to come. The more and more we get a chance to get out there and get reps with one another, the better we'll be.
On if there is stress as a high draft pick and competing for a starting position
It's what I love to do. This is my job. I accept competition, I welcome it and I embrace it. When I'm out here on the football field, I'm focused in on myself and at the same time, I'm focusing on helping this team get better, so, if I can do all that every single day, I think we'll take one step every day we come out here.
On his experience so far in Cortland
I mean, it's been great man. This is what I'm used to, you know, guys are coming back, vets, and they're like, the rooms are small and all that, but I'm used to it so it's good.
On reliving any college experiences
Oh, the brotherhood. Just being here with these guys, my great teammates, being surrounded by those guys, we build a unique bond. Especially during these times and to have that brotherhood is one that you really can't explain it and it lasts a lifetime.
On if Cortland is different than Morgantown
A little bit, a little bit.
---
Click here for completely free £10 bet with Sky Bet
---