Training Camp Report: Miami
All the latest news from Miami's training camp with head coach Joe Philbin.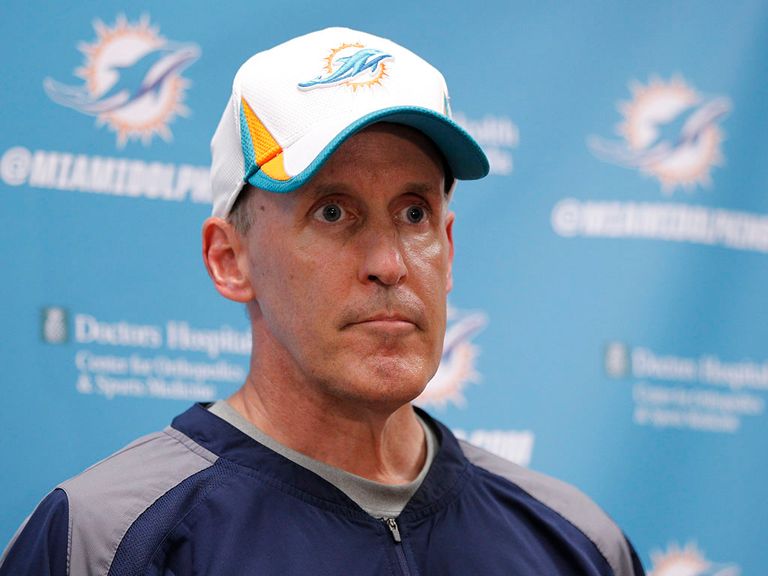 (Opening Statement) - "I don't know if you guys noticed, but we had about 35 of our alums here at practice, it's great to have them here. They are always welcomed. One of the reasons the Miami Dolphins are such a storied franchise, is because of some of the great coaches and players that have made this franchise what it is. So it was great to have them here today."
(On luxury of having Matt Moore behind Ryan Tannehill) - "As you guys know, we played one game last year, he went in early in the football game, played very well, I think his quarterback rating was 96 that day. He has the confidence and the trust of his teammates and he's excellent in the locker room. He's a fun guy to have on the team, excellent guy to coach. You feel good, I walked in the building with him this morning and he's one of those guys that makes you feel good."
(On how much he sees him helping Ryan) -"All the time. He's working at his trade. He wants to improve himself, he wants to get better. I think there's room for growth and development with him. We think he's had a very good camp, but he's a team guy all the way."
(On giving Dimitri Patterson a look during camp today) -"He's really doing a good job. He's playing fast and decisive. There was one play in particular, I was on the other field for the majority of the day today but there was a play yesterday in practice that really jumped out on us. He broke on a ball. He's really got that cat like quickness that you like to see out of a corner, and the ability to redirect, pretty good instincts, he can plant his foot and drive. He's been having a good camp."
(On how the running backs are meshing together) - "You know I thought our offensive line did a pretty good job today from what I could tell, in the drill I was at. I thought we had some pretty good holes, we were getting movement and the point of attack, and I thought Daniel Thomas ran the ball very well. I thought his pad level was good. I thought he was decisive running the football. It looked like (Mike) Gilleslee had a good day running the ball. Lamar (Miller) had a nice run, bounced one outside had a good run. I think in general this looked to me, to be the best practice we've had at running the ball."
(On if Daniel (Thomas) looks quicker) - "No, he's always had good quickness and good speed. I think he's moving well."
(On what he likes most about Gillislee so far) - "He hasn't been tentative, that's the one thing when you get a young back, you're a little concerned; new scheme, getting used to pro football, maybe a little dance and shuffle, and we haven't' seen a lot of that. We've seen some, get to the point of attack; make a decision and go."
(On the emphasis on creating turnovers) - "Well it's been a big emphasis with everybody. It starts really with pursuit, it starts with people around the football, putting your eyes on the ball, getting your hands on the ball. It's a focus in the meeting rooms, we've got footballs in there for guys to strip and club, we drill it every single day, and it's going to be a big emphasis all year round."
(On the purpose of the balls in the meeting room) - "As a mental reminder for the players, that that's going to be a key to our success on defense this year."
(On the renewed enthusiasm of crowd for Dolphins team) - "This is a great franchise. When I grew up in the 70s, this was as good as it got in pro football, I think we've got a loyal and devoted fan base, and they've had great support here during training camp."
(On Evan Rodriguez, maybe playing more H-back and role of traditional full back) - "As you know we got him very late in the offseason program, so really what we have been trying to do is get him acclimated to the offense, teach him the schemes and the systems. Now as we are in install 6, its time for him to branch out a little bit. Obviously your traditional fullback is, your lead blocker on a vast majority of plays, and a receiver that typically catches the ball maybe in the flat or as a check down. Now we're looking to expand that role."
(On if he'll be meeting with the visiting NFL officials and if his players will hear from them) - "Yeah, well we're going to have our meeting tomorrow night with the players and the officials, they're going to be in the meeting rooms all day, they'll be there to watch the practice film with the guys. They'll talk to them about this is close, this might be a foul, this might not be a foul, I think it's a great rule. I think they'll do a good job enforcing it, and once we teach our players, we've talked about it obviously in the offseason with the guys, we're going to have another formal presentation with the them tomorrow evening, so I think it'll work well and the officials will do a good job with it."
(On how he feels about the offensive line making progress) - "As I mentioned today, the drills that I was at, again we have 2 fields going at times, I thought it was our best run blocking day that we've had since camp started, I like those signs, those are good signs, obviously we've got a lot of work to do, but I thought today was a step forward."
(On the team practicing without full pads) - "Kind of a progression, the thing we put in front of the guys was, yesterday as you guys well know were in shells, today we progressed to uppers, tomorrow we're going to be in full pads. Then we'll have roughly 36 hours or 35 hours before we scrimmage on Monday night. We kind of laid that out before we practiced yesterday, maybe Thursday night I think is when we met as a team. We've been doing training camp in blocks, our focus here is what our focus is these four days and that's what we laid out."
---
Click here for completely free £10 bet with Sky Bet
---