Ravens receive their rings
The Baltimore Ravens completed their Super Bowl celebrations by picking up their championship rings on Friday, with Ray Lewis delighted to end his career with a second ring.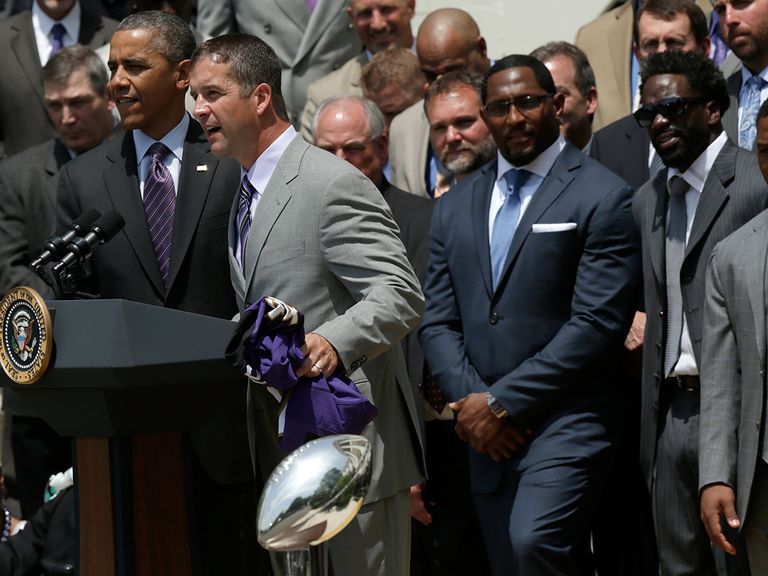 Players, coaches and officials received their flashy rings on Friday - with the Jostens Championship Design jewellery containing 243 round cut diamonds and weighing in at around 3.75 carats.
The rings have the Ravens emblem in the middle with two Super Bowl trophies in the background, with veteran Lewis the only member of both Super Bowl-winning teams.
"To have two of them on my hand right now is the ultimate," Lewis said. "To get one in my fifth year like Joe (Flacco) did, and now to get one in my 17th year and end like that. There's no better way to go out when you talk about going out when I can hold this the rest of my life and know I went out as champ.
"I always told the team I wanted them to feel what that confetti felt like. It took me 12 years to get back and get another ring so I want them to cherish what this moment feels like."
Quarterback Joe Flacco was typically understated about the rings, but did say he would be showing his off to family and friends even if he does not fancy wearing it permanently.
"This is kind of unwearable!" Flacco said of his new piece of jewellery. "But over the next couple of days when I go home and probably over the next month or so when I see people for the first time I'm sure they're going to have some interest in seeing it, or at least I'm going to have some interest in showing it off to them.
"I'm definitely going to bring it a couple of places, I wouldn't necessarily say I'm going to wear it but it's pretty special - you don't come across these things too often so I'm definitely going to want to show it off a little bit."
The ring ceremony was the end of the celebrations for February's Super Bowl win over San Francisco in New Orleans, and Flacco enjoyed celebrating with his team-mates.
"It was pretty cool,"Flacco added. "When we opened them up and put them on it definitely was a special feeling.
"I think all of us from when we were young had dreams to play at this level and at some point do this so to reach that goal and be here tonight and celebrate it is a lot of fun."
---
Click here for completely free £10 bet with Sky Bet
---