Burnett sparks Packers
Morgan Burnett's two big plays overcame a bunch of them by Adrian Peterson as Green Bay Packers beat Minnesota Vikings 23-14.
NFL. Click here to bet.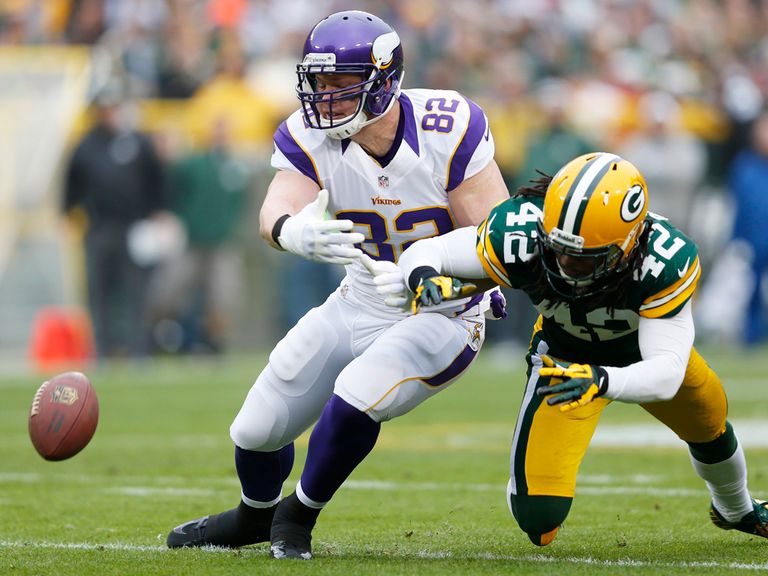 Burnett picked off Christian Ponder twice, James Starks had Green Bay's first rushing touchdown in almost two months and the Packers overcame a monster day by Peterson.
Peterson finished with 210 yards, the most he's had since blowing out his ACL and MCL last December.
But the Vikings (6-6) clearly felt the absence of Percy Harvin, who missed his third straight game with a sprained ankle, and Ponder didn't help matters with his interceptions, one in the end zone and the other around the Green Bay 10.
The Packers turned both miscues into field goals and Starks' 22-yard score gave Green Bay its 10th straight victory against an NFC North opponent.
The win keeps the Packers in contention for the division title, with three of their last four games against NFC North foes, including a December 16 game against Chicago and the December 30 season finale in Minnesota.
Starks finished with 66 yards rushing and James Jones had Green Bay's other touchdown, a 32-yard score on the very first drive. Aaron Rodgers was 27 of 35 for 286 yards. No 1 receiver Greg Jennings, back in the lineup for the first time since September 30 after tearing an abdominal muscle, had four catches for 46 yards.
Mason Crosby kicked field goals of 30, 47 and 31 yards, a sign he may finally be coming out of his slump. Ponder was 12 of 25 for 119 yards. He had only two completions to a wide receiver, both coming late in the fourth quarter.
With Jennings back in the lineup, the Packers were almost back to full strength on offense and they showed just how dangerous they can be. Spreading around the ball to more teammates on the first two drives than some offenses manage in an entire season - eight, with a pass also thrown Jennings' way - Rodgers and the Packers had a 10-0 lead after two drives.
But after Jordy Nelson, Rodgers' second-favorite target, was hurt during the second drive and right tackle TJ Lang injured his ankle in the second quarter, the Packers lost their rhythm.
Peterson, meanwhile, was keeping the Vikings going. His 82-yard scoring run in the second quarter, his longest of the year, gave the Vikings a 14-10 lead. He put the Vikings in great position to pad that lead, ripping off a 48-yarder on the first play of the second half to put Minnesota at the Green Bay 12.
But Ponder got flushed out of the pocket and his heave into the end zone went right to Burnett. The Packers couldn't get a touchdown, with Rodgers overthrowing in the end zone on third-and-7. But after looking as if they were going for it on fourth-and-7 from the 29, drawing a timeout from the Vikings, the Packers took a chance with Crosby again.
This time, it paid off as his kick wobbled through the uprights for a 47-yard field goal.
Rodgers was picked off on a trick play, but the Packers defense bailed him out, stuffing Peterson for no gain on third-and-1.
A bad Kluwe punt gave the Packers the ball at their own 49, and Starks bolted 22 yards for the score four plays later to give Green Bay a 20-14 lead. It was Green Bay's first rushing touchdown since October 7, a span of seven games and 22 touchdowns.
Burnett picked Ponder off again on the next drive, and Crosby kicked his third field goal of the day to seal the win.
---
Click here for completely free £10 bet with Sky Bet & £5 free every week
---