Emotional victory for the Chiefs
Against the backdrop of an unthinkable tragedy, the Kansas City Chiefs gave themselves a reason to be proud - and perhaps the impetus to let the healing process begin - as they beat Carolina Panthers 27-21.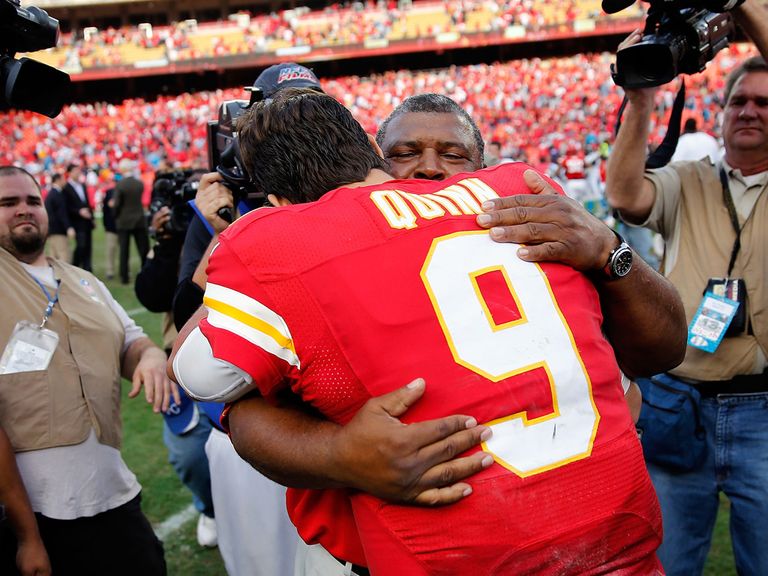 Brady Quinn threw for 201 yards and two touchdowns, and Jamaal Charles ran for 127 yards as the Chiefs snapped an eight-game losing streak during one of the most difficult seasons the franchise has ever experienced.
The win came just a day after Chiefs linebacker Jovan Belcher shot his girlfriend at a residence near Arrowhead Stadium, then drove to the team's practice facility and turned the gun on himself as general manager Scott Pioli and coach Romeo Crennel looked on.
Pioli walked through the press box before the game and said he was doing "OK" while Crennel was on the sideline coaching his team to an uplifting victory.
Cam Newton threw for 232 yards and three touchdowns for the Panthers (3-9), who were informed the game would be played as scheduled while they were heading to Kansas City on Saturday.
DeAngelo Williams added 67 yards rushing for the Panthers, carrying the load with Jonathan Stewart out with an injury. Steve Smith, Greg Olsen and Louis Murphy caught their TD passes.
Peyton Hillis had a touchdown run for Kansas City (2-10), while Tony Moeaki and Jon Baldwin had touchdown catches. Ryan Succop hit a pair of field goals, including a 52-yarder with 4:54 left that forced the Panthers to score a touchdown to steal the win.
Instead, the Panthers went three-and-out, and the Chiefs were able to run the clock down to 31 seconds before giving back the ball. Newton completed two quick passes to reach the Carolina 38, but his final heave as time expired was caught by Smith short of the end zone.
Panthers coach Ron Rivera greeted Crennel at midfield and gave him a hug.
The game was played in a half-empty stadium before a sparse crowd that could only muster some subdued cheering most of the afternoon given the tragedy that had occurred.
Chiefs players gathered in the tunnel leading to the field for a brief prayer before their pregame stretching. A few fans held up signs referencing the shootings, and there was a moment of silence prior to the national anthem to remember all victims of domestic violence.