Steam in with the mighty Quinn
Robert Quinn to rack up the most sacks is among David John's best bets among the NFL's player markets this season.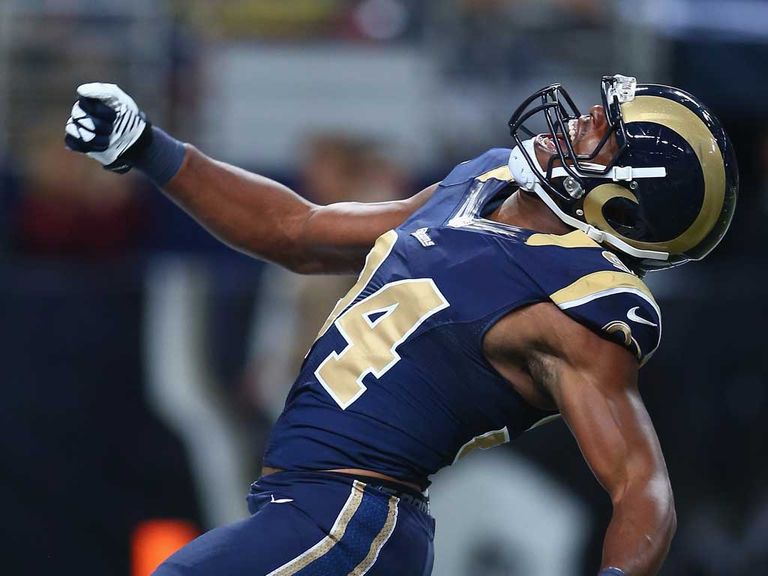 2pts Julio Jones for most receiving yards at 12/1
1pt e.w. Keenan Allen for most receiving yards at 40/1
1pt e.w. Michael Floyd for most receiving yards at 80/1
1pt e.w Andrew Luck for most passing yards at 28/1
1pt e.w. Eddie Lacy for most rushing yards at 16/1
1pt e.w. Mark Ingram for most rushing yards at 175/1
3pts Robert Quinn for most sacks at 8/1
2pts Brandin Cooks to be named Offensive Rookie of the Year at 17/2
Two seasons ago I suggested backing Julio Jones to get in the thick of the action at 18/1 for most receiving yards in the NFL and the Atlanta wideout finished just outside the top 10 with 1,198 yards.
The time looks right again to go back in on the Alabama standout at a reduced pricew of 12/1 but the omens are in place to suggest he could be the man to claim the crown this time around.
As I have said on numerous occasions in the past, injuries can scupper the most promising of this type of bet in a heartbeat and Jones has been no stranger to the treatment room.
He began last year with 41 catches for 480 yards through five games but a lingering foot problem resurfaced at the most inopportune moment - as usual - and season-ending surgery was the only solution.
Jones being sidelined was one of a number of issues to hit the Falcons as they limped to a dismal 4-12 record but he and opposite number Roddy White are both back to full fitness so there is reason for the fans in Georgia to feel far more optimistic.
Head coach Mike Smith has wisely been careful with Jones duing the off-season and heading into training camp and given him time to test the foot out thoroughly.
The results have been extremely good and that has meant Jones being able to get back in the groove during pre-season games, rounding off with two catches for 63 yards against the Titans which included a 52-yard catch and toucdown run that highlighted his rare combination of strength and speed at the position.
He admitted afterwards that he stil had a little rust to shake off but the bottom line is that Jones looks right on course for a huge season with the potential for his numbers to go through the roof.
The second season in the NFL can be tricky for a wide receiver, particularly one who has made a positive impact as a rookie, with defensive co-ordinators able to study a year's worth of film in a bid to nullify their play-making ability.
The element of surprise has gone so only the really gifted can make that leap to avoid the dreaded sophomore slump and I am prepared to take a chance on San Diego's Keenan Allen being able to make the necessary improvement.
Allen led all rookies in 2013 with 71 receptions on the way to amassing a creditable 1,046 yards as he helped the Chargers back into the play-offs.
His campaign ended with defeat in the divisional round at AFC West rivals Denver but he more than showed he was a player for the big occasion as he hauled in six catches for 142 yards and two touchdowns.
I just get the impression Allen is no flash in the pan and will be moving in an upward direction again this season.
He has an offensively-minded head coach in Mike McCoy and a strong-armed quarterback in Philip Rivers who has never been afraid to unleash the deep ball - something he did to better effect last year with McCoy at the helm.  
To compliment Allen, I suggest going into bat in the market with Arizona's Michael Floyd at 80/1.
Plenty of good judges expect this to be his breakout year and I am pretty much inclined to agree despite his big price.
Larry Fitzgerald has been the man in Phoenix for a decade now but Floyd surpassed his team-mate in receiving yards last year - 1,041 to 954 - from 22 less targets.
The Cards have a tough schedule and reside in the ultimate Grouo of Death - the NFC West - while some still see quarterback Carson Palmer as too flawed to get the most out of his receiving options.
But I was quietly impressed with the way he finished last season while his touchdown-to-interception ratio (24-22) is rather skewed by a rash of the latter early on in the campaign.
Floyd has the physicality to thrive in this league against any defense so look for Palmer to get him the ball to him as often as possible and takes over the mantle of the team's bona fide number one from Fitzgerald.
I have to admit that my favourite bet this year among all the player-based markets is St Louis defensive end Robert Quinn to register the most sacks at 8/1.
The product of North Carolina's college programme, Quinn enters his fourth season in the league and certainly supports the theory that the modern-day NFL player is getting bigger, stronger and faster.
At 6-4 and 264lbs, Quinn can match tremendous strength with a startling quickness off the ball which led to 19 sacks last season - just one-half behind leader Robert Mathis.
The latter has to serve a four-game NFL ban and more likely threats to the title will be JJ Watt, Greg Hardy and Justin Houston but Quinn is more than capable of holding off that trio if you consider a number of other important factors.
Rams head coach Jeff Fisher has spoken of Quinn's willingness to improve with work in the film room to help pick up the nuances of his position while co-ordinator Gregg Williams - responsible for the Saints ultra-aggressive defensive unit on their run to Super Bowl glory - should be able to cook up a whole host of plays to help Quinn get to the quarterback.
"One would probably think he (Quinn) would have better numbers than last year," observed Fisher and Michael Strahan's single season record of 22.5 sacks could potentially be toppled by the selection.
The market for most passing yards remains tough to crack with a host of elite names like Peyton Manning, Drew Brees and Tom Brady heading towards the latter stages of their career but still difficult to dislodge from the top end of the charts.
But I am going to take a punt at 28/1 on Andrew Luck at Indianapolis from the next generation at the position making the breakthrough and challenging those established veteran names.
Luck has perhaps as much as any player to live up to since entering the league as a former number one draft pick tasked with following in the footsteps of Manning as the face of the Colts franchise.
His current back-up Matt Hasselbeck on the one hand claims it is unfair for one player to experience such pressure but at the same time is in awe of how Luck relishes the challenge - and is prepared to take on more.
Luck's numbers may have dipped last year but the penny seems to have dropped with offensive co-ordinator Pep Hamilton - get the ball in the hands of his quarterback and move away from a stodgy run game.
Luck has Reggie Wayne and Dwayne Allen both healthy again, Hakeem Nicks added to the mix with something to prove while burner TY Hilton provides a dangerous deep threat downfield.
We have seen Luck's amazing leadership qualities and the ability to rally his team from various precarious positions but 2014 could well be the year when his passing stats flourish and he joins the upper echelon in his craft. 
My two for the rushing yards title are Eddie Lacy and Mark Ingram.
Minnesota's Adrian Peterson still looks the primary back in the league when healthy but Lacy can emerge as a legitimate challenger in his second season.
Coaches have been purring about his performances throughout summer and the robust performer out of Alabama seems to have little in the way of weaknesses with an ability to run, block and catch passes.
He has the potential for much more improvement and plays on a Green Bay team well known for its offensive prowess and used to scoring points behind quarterback Aaron Rodgers.
With the latter healthy again, the Packers will be hoping to stamp their authroity more readily on the NFC North and Lacy can play a significant role.
Ingram plays on a New Orleans team also well regarded on offense but has struggled over the first three season's of his career and looked at times like a first-round bust.
But he enters a contract year confident and motivated and has really turned some heads over the summer.
He started to show some signs of better to come towards the tail end of last season and into a short play-off run and with no Darren Sproles in the Big Easy anymore, he has the chance to lay claims to the lead back role ahead of Khiry Robinson.
Someone else seems to feel the same way as the 200/1 put up by Hills has been slashed in half so we will have to settle for 175/1, which remains more than generous. 
Last but not least, those angling for a punt on top offensive rookie should give Ingram's new team-mate Brandin Cooks a whirl at 17/2.
Cooks is fresh out of Oregon State University and has made a real impression on the Saints already with his attitude and ability to pick up the new system he will be working in.
You get the feeling he wants to be a great in the game and his electrifying speed should be seen to tremendous effect with Drew Brees pulling the strings under centre.
Cooks should be ready to contribute from game one and can justify Sean Payton's decision to move up April's draft and snare his services. 
Sammy Watkins also caught the eye in this market but he has been dinged up with a rib injury in pre-season while second-season Buffalo quarterback EJ Manuel does not look to have progressed - Watkins could struggle to get the ball in his hands on a regular basis.