Clowney is top draft pick
The Houston Texans opted for defensive end Jadeveon Clowney as the first overall pick of the 2014 NFL Draft.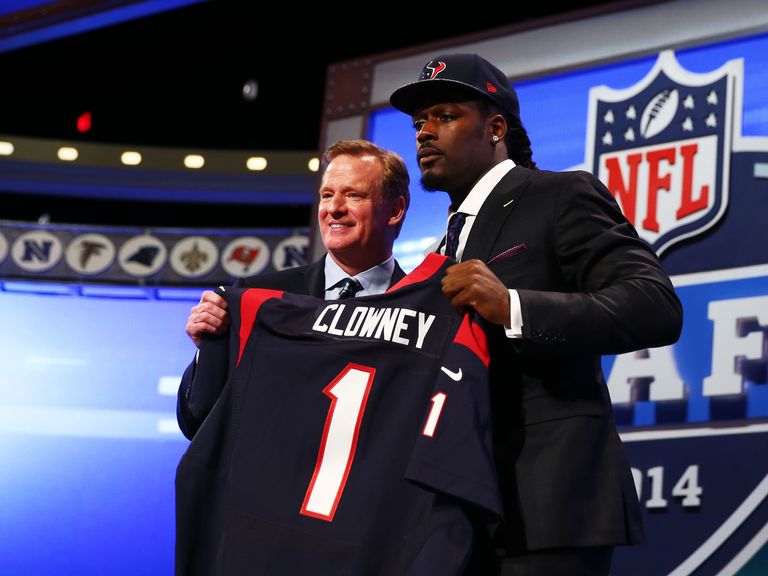 The Texans bucked the trend of snapping up a quarterback as the number one pick by signing the fearsome South Carolina pass rusher.
Clowney will now team up with 2012 Defensive Player of the Year JJ Watt as the Texans look to put last season's disappointments behind them.
At 6ft 5in and 266lbs, Clowney looks a man-mountain but he also boasts explosive pace and recorded 24 sacks and nine forced turnovers in his college career.
Clowney says he cannot wait to start learning from the fearsome Watt.

"I just got off the phone with him. He says he's going to stay on my butt whenI get there,'' Clowney told the official NFL website.

"He told me he's going to give me every piece of knowledge to help me improve my game. He's going to show me like a mentor or big brother and I told him I appreciate that and I'm looking forward to working with him.

"I've been watching him a long time. I can't wait to play alongside him.''

Clowney, who will wear the 90 shirt, will have a steep learning curve at the Texans, who owned the top draft pick by virtue of having the worst record in the regular season last term.

"It's been a great day. I'm enjoying every bit of it,'' he added. "No one can take this away from me, this moment. I'm just happy about it. It's just a blessing for me and my family, so I'm happy, man.''
The St Louis Rams also chose to bolster their defence as they made Greg Robinson, a 6ft 5in, 332lb offensive tackle from Auburn, the second overall pick.
And it was the Jacksonville Jaguars who secured the first quarterback of the draft as they announced Blake Bortles as the third pick - overlooking college star Johnny Manziel.
Manziel had been tipped by some to be the top pick, however he had to wait for the Cleveland Browns to come in for him at 22nd in the pecking order.
The other QB to be snapped up on the opening day of the draft was Teddy Bridgewater, with the Louisville prospect teaming up with the Minnesota Vikings as the final pick of the night.
The Buffalo Bills made the super-speedy Sammy Watkins the fourth pick, with Clemson WR having scored 24 touchdowns in his two years of college football.
Khalil Mack was the first of four linebackers to be drafted as he joined the Oakland Raiders as the fifth overall pick, with Anthony Barr (Vikings), CJ Mosley (Baltimore Ravens) and Ryan Shazier (Pittsburgh Steelers) also securing first-round deals.
The surprise of the first round came when the Philadelphia Eagles selected Louisville defensive end Marcus Smith - with the one-time quarterback likely to be utilised as an outside linebacker.