Super Bowl XLVIII: Five to follow
David John picks out five players to keep an eye on ahead of Super Bowl XLVIII in New York.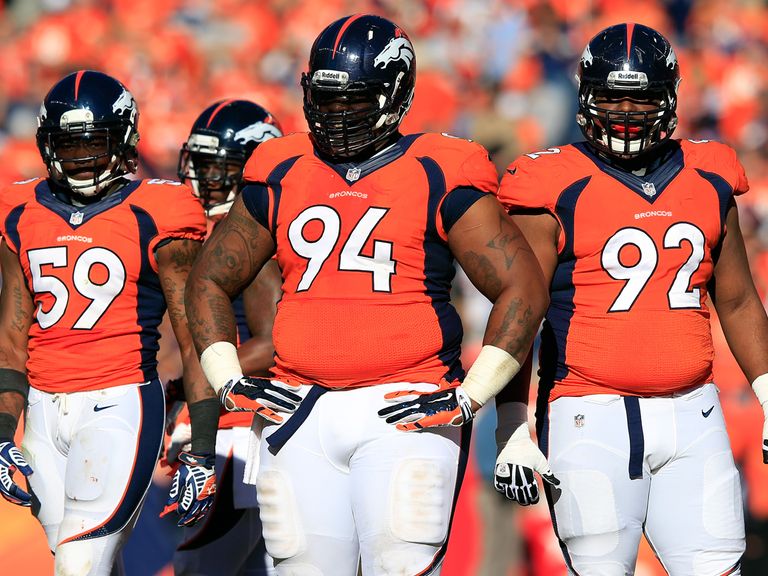 Steven Hauschka - kicker, Seattle
A kicker in the NFL has an awkward job at the best of times. He is stood around on the sidelines for the vast majority of the game and then potentially thrust into battle for the most decisive touch of the ball. Hauschka has had statistically the best campaign of his six-year career as he nailed 33 of 35 field goals during the regular season and has since added six more from six attempts in the play-offs. It was the field goal he didn't try in the NFC Championship game against the 49ers that is interesting though as he declined a 53-yarder into the wind in the fourth quarter that would have cut San Francisco's lead at the time. There was some momentary confusion on the sideline as he conveyed this to head coach Pete Carroll but eventually the offense went back out and took the lead with a touchdown on fourth down. We have seen Super Bowls decided by Adam Vinatieri (good) and Scott Norwood (no good, wide right!) and maybe that element of doubt could creep into Hauschka's mind if required when it matters most.
Terrance Knighton - defensive tackle, Denver
It is fair to say that it is offensive fireworks that attracts people to watching the NFL but Knighton is rapidly becoming one of my favourite players period. 'Pot Roast' plies his trade in the trenches where brute strength tends to gain the day over subtlety and finesse but the 335-pounder has rare athleticism allied to that natural power. He showed an amazing nimbleness to outwit his blockers and sack Tom Brady on a fourth down play during the AFC Championship game and that quickness off the ball will be vital to getting some heat on the ultra-mobile Russell Wilson. Knighton's showdown with running back Marshawn Lynch should be a treat as well.
---
Bet now on the total number of sacks in Super Bowl XLVIII!
---
Champ Bailey, cornerback Denver
A win here could be the final hoorah for one of the best cover cornerbacks in recent years as a career that has spanned 15 seasons at last sees Bailey playing in the big game. In fact, he has never even been to a Super Bowl as a spectator so the whole experience is going to be unique. Bailey was unplayable at times in the middle of the last decade and although age and injury have caught up with him, he still remains a fascinating part of Jack Del Rio's defense. Bailey simply doesn't have the speed anymore to lock down one side of the field but his experience and savvy will more than ensure that Russell Wilson and the Seattle receivers will have to pay 100 per cent attention if throwing the ball in his direction.
Montee Ball, running back Denver
Ball is second on the depth chart behind a rejuvenated Knowshon Moreno this season after being drafted from Wisconsin last April and has provided a nice compliment in his rookie season. This offense starts and ends with Peyton Manning but some sort of contribution on the ground will be required to keep this Seahawks defense on its toes and not be allowed to simply try and hunt down the quarterback all evening. Ball should be pretty active anyway but with Moreno having injured his ribs against the Patriots, his carries could increase significantly and he has the necessary physicality to serve it up to a rushing defense that has been challenged during the play-offs.
---
Montee Ball to be named Super Bowl MVP - 50/1!
---
Percy Harvin, wide receiver Seattle
Harvin may be an unusual name to include in this feature since his arrival to a huge fanfare in Seattle after signing a colossal $67m deal in the off-season. But we have seen so little of him in a Seahawks uniform that only his coaches will be sure of what exactly he is going to bring to the table. He is quite simply a difference maker on his own in either the passing or return game and even the fleeting glimpses we have seen of him so far, he has caused a headache for opposition defenses. A hip problem seems to have been resolved and he has now passed the necessary concussion test after being banged about by New Orleans in the divisional round of the play-offs. He says this game has nothing to do with saving a season for himself but you can be sure he will want to contribute as much as possible.
---
New Sky Bet customers: Free matched bet up to £30
---