Back Brown to Charge for TD
David John previews Sunday's divisional play-offs with Ronnie Brown fancied to score a touchdown for San Diego.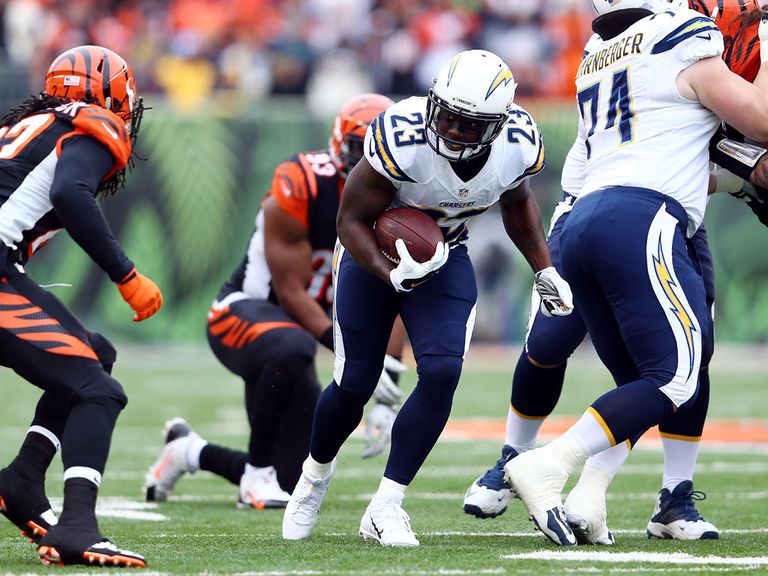 San Francisco at Carolina (1805GMT)
Three of the four games this weekend have seen the two teams involved play each other earlier in the campaign and it was the Panthers who got the better of the 49ers 10-9 at Candlestick Park in week 10.
Carolina running back DeAngelo Williams was the only player able to find the end zone in a game that saw their defense dominate and give 49ers quarterback Colin Kaepernick an extremely testing afternoon.
He was sacked six times, managed just 16 rushing yards and passed for only 98. The 49ers would lose the following week as well against New Orleans and perhaps there was a slight feeling in the air that last season's Super Bowl runners-up might struggle to muster a serious play-off challenge.
But an undefeated run followed and ensured the 49ers were one of the hottest teams heading into the post-season in terms of form and they impressively confirmed that fact by beating Green Bay at a frozen Lambeau Field last week.
There are certainly some important personnel factors to take into account for this renewal with the Panthers. Kaepernick was without his main receiving target Michael Crabtree first time around while tight end Vernon Davis was forced to leave the game at half-time with a concussion.
On the other side of the ball, destructive defensive end Aldon Smith was also a non-factor on the day on his return to the football field after five weeks in a treatment centre dealing with some personal isues.
All three will be very much involved now and Crabtree highlighted the chemistry he and Kaepernick have with a couple of stellar catches at the Packers on the way to 125 yards. Having missed half the season recovering from a ruptured Achilles, Crabtree is one player who will be absolutely at his peak as the play-offs continue.
It has finally all fallen into place for Carolina this season under head coach Ron Rivera with the foundation of their success a super-aggressive defense.
Greg Hardy, Thomas Davis, Charles Johnson and Luke Kuechly have been superb all year and are part of a unit that can simply shut down any offense on any day - just ask Drew Brees and the New Orleans Saints.
Offensively, quarterback Cam Newton has bounced back to the sort of form he showed a couple of years ago while Rivera - who has earned the nickname Riverboat Ron - has not been afraid to trust his players and take a chance or two to try to tip the balance of a game in his favour.
Veteran wide receiver Steve Smith has been playing games all week as to his readiness for Sunday after suffering a sprained knee just before Christmas. One of just two players remaining (along with offensive lineman Jordan Gross) from their Super Bowl appearance way back in 2003, he seems likely to start - but it does highlight a lack of experience among the Panthers at this level.
But they will be rested up and certainly won't lack for support from a large, hostile crowd in Charlotte.
A lot of focus will come down to the play of the respective quarterbacks but this surely shapes up as a defensive classic with the number two and number three units overall.
I hasten to add it will require more than 10 points to get across the line but it should still be extremely tight so I would suggest getting low of the layers' line total of 41.5 with the 49ers added savvy holding the edge.
Verdict: San Francisco 20 Carolina 16
San Diego at Denver (2140GMT)
The Chargers face a second straight week as fairly hefty underdogs but they really caught the eye with their performance in Cincinnati.
It is fair to say they were given some help by the hosts along the way but they took their chances when presented and ran out confident winners.
That confidence should not be diminished either despite facing the AFC's top seeds led by the record-breaking Peyton Manning bearing in mind they got the better of the Broncos 27-20 on their own patch as recently as week 15 in mid-December.
That evened up the score for these AFC West divisional rivals for the season after Denver won 28-20 in California.
One of the keys to the Chargers' success at Denver last month was the running game of a rejuvenated Ryan Mathews with a 127 yards and touchdown. But he failed to appear for much of the second half at the Bengals last week with an ankle injury and is rated as questionable.
That would leave the load to be carried by Ronnie Brown along with the versatile Danny Woodhead and although Mathews will try everything possible to get on to the field, I really worry how effective he will be.
That would switch the focus more on quarterback on Philip Rivers and that is no bad thing at the moment. His career has been a real mixed bag but he has really flourished again this season under new head coach Mike McCoy and you can rarely question Rivers when it comes to his competitive nature.
Rookie wide receiver Keenan Allen has been a real find while it would be a tremendous feather in the cap for former Denver offensive co-ordinator McCoy to return and do the double on his old paymasters.
The bottom line with Denver is they will go as far as Manning takes them. He has been able to cover up an injury-hit, leaky defense on numerous occasions with such a high volume of points.
Peyton has talked this week of there being "light at the end of the tunnel" in terms of when he will call time on his Hall Of Fame career and this may well be his best opportunity to claim a second Super Bowl ring considering 2014 will see a number of key Broncos enter free agency.
But at the moment he has all the main players in place on his offense - even wide receiver Wes Welker will be back after missing a number of games with a concussion - and that has to be ominous for the visitors coming up against a quarterback who rarely seems fewer than two moves ahead of opposing defences.
I don't think Denver will lose twice at home to the Chargers but it could pay to take advantage of the injury to Mathews in terms of suggesting a bet.
Brown looked sharp last week, got into the end zone and with every chance of increased carries ahead of the less physical Woodhead; no way is he a 5/1 chance to score at any stage.
Verdict: San Diego 22 Denver 31
Both matches are being televised live in the UK on Sky Sports.
Preview posted at 1310 GMT on 11/01/2014.
---
New Sky Bet customers: Free matched bet up to £30
---