No bungle from Jeffrey and Bears
David John fancies Alshon Jeffrey and Chicago to beat Green Bay and clinch a play-off spot in the NFL on Sunday.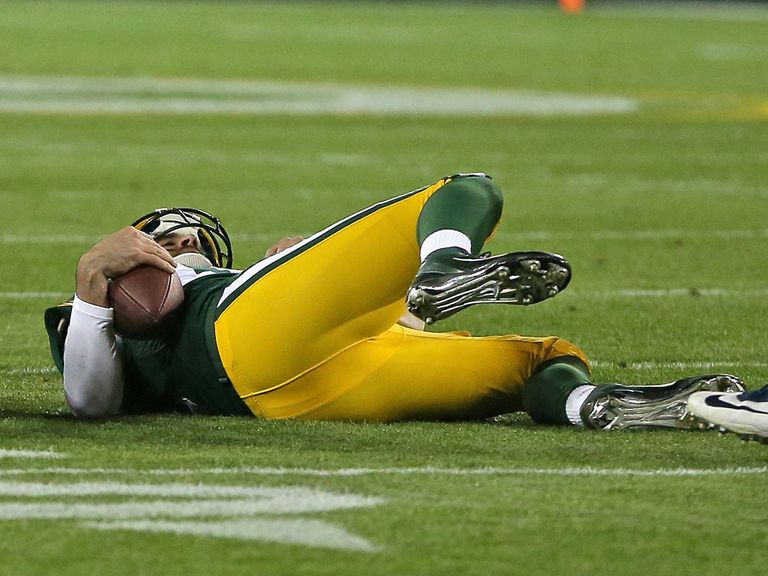 Baltimore at Cincinnati (1800 GMT)
This is a volatile time for punting on the NFL but both of these AFC North teams have plenty still to play for.
The Bengals already wrapped up the division so are in to the post-season. A win this week and a loss at home for New England against Buffalo will handily boost their seeding to number two.
The Ravens are in more of a pickle. They must take care of business here and then hope results elsewhere drop in their favour or else they will add to the odd statistic of reigning champions who fail to even make the play-offs the following year.
Their options became more limited after last week's capitulation at home to New England. It was hardly going to be a vintage display from the Ravens but they allowed three disastrous late Patriots touchdowns in the fourth quarter as they went down in flames 41-7.
Quarterback Joe Flacco (two interceptions) struggled in a knee brace that protected his sprained MCL, the running game was its usual anaemic self while a defense that had played so tough against Detroit struggled to contain the run.
But that does not mean the Ravens a totally forlorn hope here. They face a divisional rival that always adds an extra edge to a game - even at this time of year - while head coach John Harbaugh is 4-0 the following week when Baltimore have been beaten by 20 points or more.
Now for the less good news. They travel to a team that is 7-0 at home on the season and even if there was no incentive to improve their play-off ranking, they will not give up that perfect record without a fight.
They have averaged 43.5 points in their last four home games and arrive on the back of steamrolling Minnesota 42-14.
One of the keys to the game this week will be the performance of quarterback Andy Dalton. He is clearly capable of putting up some dynamic numbers but in equal measure, he can look pretty ordinary if he and offensive co-ordinator Jay Gruden become too cautious.
The Ravens came out on top in overtime 20-17 when they met back in week 10 and although they are pretty flawed, they remain an extremely proud organisation. This could also be the last time a number of their key players suit up together with free agency just around the corner.
Last week's performance will not sit comfortably and I can at least see them cashing in all their chips as they try and keep up their part of the bargain to get a victory. It will be close, so take the Ravens with the points.
Verdict: Baltimore 20 Cincinnati 22
At five minutes past eight local time on Boxing Day, Green Bay head coach Mike McCarthy told his team that quarterback Aaron Rodgers would start on Sunday.
And Rodgers will understandably be the focal point with a "win and you're in" scenario at Soldier Field as these two storied franchises clash head-on for the NFC North title and play-off berth.
Rodgers broke his collarbone on November 4 - ironically against the Bears - and speculation has been rife since around Thanksgiving as to when he will be back under centre.
He has been at practice throughout to some extent but finally participated in a full session on Thursday after he satisfied the Packers medical staff that all was well enough to get back on the field.
Green Bay have gone 2-4-1 in his absence with Seneca Wallace, Matt Flynn and Scott Tolzien experiencing varying levels of success in relief but somehow they still find themselves in with a fighting chance going down to the last week.
So what can we expect from Rodgers and more crucially his collarbone?
Having thumbed through a couple of my detailed medical texts, it seems the recovery time for the injury to become stable again is six to eight weeks. Rodgers is in the middle of that timescale but one awkward hit or descent to the turf could send him immediately back to the locker room and square one.
So it is a case of risk versus reward. Risk damaging your franchise quarterback in return for everything that comes from one of the top five players in the league.
Not that Rodgers has been the only Packer to be laid low this season as they once again have had more than their fair quota of injuries to key players. Clay Matthews, Randall Cobb and Jermichael Finley have all missed significant time while rookie running back Eddie Lacy has been nursing an ankle problem for a couple of weeks.
So some credit has to go for McCarthy and his coaching staff for at least keeping the team competitive enough to have one final shot. Another reason is the pretty erratic nature of the division which sees a winning tally of just eight games potentially being good enough.
Minnesota have not been at the races as Detroit imploded so that leaves Da Bears. And they go into this on the back of an absolute hammering 54-11 at the hands of Philadelphia.
But like the earlier situation for Baltimore after a big setback, Chicago do have cause for optimism.
Head coach Marc Trestman has told his players to forget last week and the fact that the objective ahead is crystal clear will also help.
Like him or loathe him, they have a quarterback in Jay Cutler who can score heavily and quickly with the best receiving tandem in the league of Alshon Jeffrey and Brandon Marshall to throw to. Who knows, this could even be Cutler's last game as a Bear if the trade gossip is to be believed.
Jeffrey has been magnificent this year and was unfortunate to miss out on a Pro Bowl selection but I think he will have an impact here and is well worth a look at odds-against for a touchdown anytime.
And although you can never be entirely sure what you will get from Chicago and the run defense has been appalling, I do think they will bring enough game to take advantage of the start at home, particularly with that question mark next to Rodgers.
I have no doubts over the toughness of Rodgers but he will get hit, he will go down and if he has to leave the game, I can see the air being sucked out of the Packers challenge completely.
Verdict: Green Bay 19 Chicago 28
More week 17 verdicts:
Buffalo 20 New England 30
Cleveland 17 Pittsburgh 24
Carolina 26 Atlanta 19
Detroit 31 Minnesota 14
Houston 14 Tennessee 16
Jacksonville 16 Indianapolis 26
NY Jets 17 Miami 23
Tampa Bay 19 New Orleans 38
Washington 24 NY Giants 21
Denver 36 Oakland 20
Kansas City 21 San Diego 30
San Francisco 20 Arizona 24
St Louis 6 Seattle 23
Philadelphia 34 Dallas 27
---
New Sky Bet customers: Free £30 matched bet
---