Muirhead: A dream come true
A review of Thursday's action at the Winter Olympic Games in Sochi involving British athletes.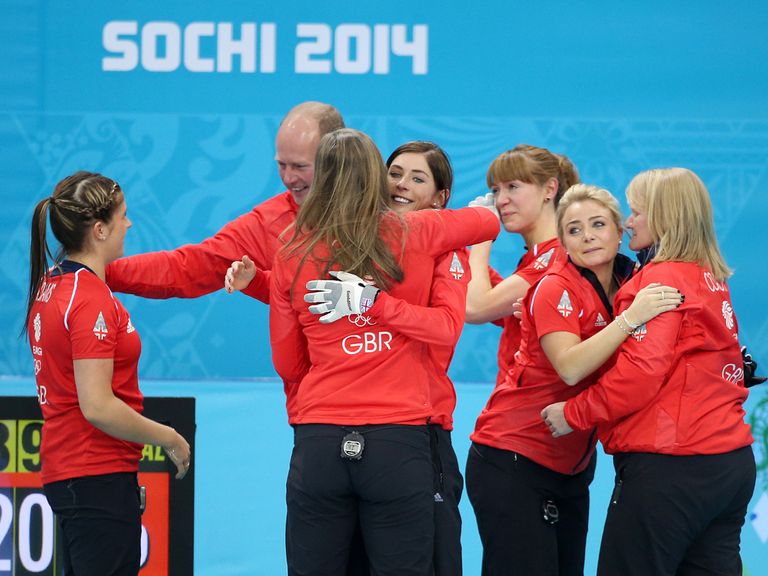 Eve Muirhead hailed a "dream come true" after Great Britain's women curlers ended a 12-year-wait for Winter Olympic success by beating Switzerland 6-5 in their bronze medal match in Sochi.
Muirhead's all-Scottish rink shrugged off the disappointment of their semi-final defeat to Canada on Wednesday to secure the medal that at least equals GB's best-ever Winter Olympic medal haul of 1924 - four - with a gold or silver to come from the men's curling final against Canada on Friday.
It was the first Olympic medal for British women curlers since their coach Rhona Howie - then Rhona Martin - skipped GB to gold at Salt Lake City in 2002 and they had to come from behind to do it, not forging ahead until the eighth end.
Muirhead's team took some time to get into their stride at the Ice Cube Curling Center.
After a blanked first end, Mirjam Ott's team took a two in the second to put GB on the back foot.
A double take-out in the third end by Switzerland ultimately led to Muirhead having to take just one point before passing the hammer - the last shot of each end which is normally decisive - over to Ott.
Another great double take-out, this time from Muirhead with her first shot in the fifth end, allowed GB to go into the interval level at 3-3.
Switzerland edged ahead again 4-3 and Muirhead blanked the seventh to get another chance with hammer to go for two points to get in front for the first time in the game - which they did, but only after a measurement was used to confirm one of the British stones was indeed closer to the centre than the nearest one from Switzerland
GB went into the 10th end level but importantly with hammer which, in the end, provided Muirhead the opportunity to roll up the final stone with some ease to claim the historic victory with team-mates Anna Sloan, Vicki Adams and Claire Hamilton.
"What a dream come true," said Muirhead. "The Olympic medal was the one medal we have been missing and for me to win it with four of my best friends seems so special.
"That shows what great athletes we are. Every athlete needs to learn how to lose before they can win.
"First, they need to learn how to get up from defeat. To lose the semi-final and know you have to come back and play for that bronze medal is extra tough and, for us, it showed how strong we are.
"We regrouped and came out fighting, and I knew we still had a chance to get a medal. I'm super-happy. I'm delighted."
British freestyle skier Emma Lonsdale missed out on a place in the women's halfpipe finals at the Rosa Khutor Extreme Park and then announced she was retiring.
The 29-year-old from Yorkshire put down two solid, if unspectacular, runs but scores of 53.80 and 53.20 saw her finish 18th, with only the top 12 qualifying for Thursday night's showpiece event.
She will be 33 before the next Games in Pyeongchang and admitted she contemplated retirement two years ago before ski halfpipe was added to the Olympics schedule, which persuaded her to carry on.
But now that her campaign is over, she wasted no time in ending her career.
"That's it now, I'm retiring," she said. "I was going to retire two years ago and then it became an Olympic discipline, and I thought I might as well give it one last push and leave on a high rather than fading away.
"I thought I might as well make the Olympics and then retire."
While Lonsdale, who was an alpine skier for 16 years before switching to moguls and then the halfpipe, is turning her back on competing, she does want to remain part of the Team GB set-up in some capacity.
"I'd like to stay involved with the team, I might do my coaching qualifications, I'm not sure yet," she added.
Lonsdale was cheered on at the top of her run by 18-year-old team-mate Rowan Cheshire, who was supposed to be taking part on Thursday but had to withdraw after suffering concussion in a training crash on Sunday.
Lonsdale paid tribute to Cheshire with a message written on her hand, and added: "She's chief in charge of making us brews and taking photos."
---
Bet on the Winter Olympics with Sky Bet
---