Bronze for men's eight
Great Britain's men's eight won rowing bronze after giving the powerful German crew a real scare.
Olympic Specials. Click here to bet.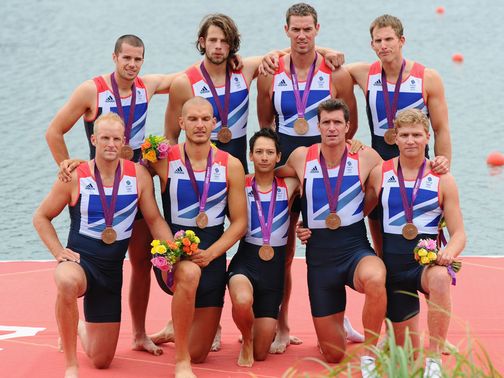 It was only their third race together in this line-up after 20-year-old stroke man Constantine Louloudis returned to the boat, having missed the World Cup series through injury.
Britain trailed by only half a canvas at the 1000metre mark and they gave triple world champions Germany one of their toughest tests of the last Olympiad.
But Germany began to pull clear in the final quarter of the race and, eventually, the British crew were pipped for silver by 2008 Olympic champions Canada.
Greg Searle, the 40-year-old who won a gold in Barcelona 20 years ago and came out of retirement three years ago to race in London, thought GB could take gold when they hit the front three-quarters of the way through the race.
"Yeah, I did," Searle told BBC1. "I had an amazing rush of adrenaline when Phelan [Hill, cox] said we were in the lead, that he was sitting level with the German strokeman, and I thought, 'This really could come true'.
"We raced hard from the start. The crowd was just amazing, they were so loud, but I could still focus on rowing.
"But we didn't have anything left and I guess they came back in the last bit."
Nevertheless, Searle said he had enjoyed his return to the sport.
"It's been fantastic," he said. "The whole three years has been absolutely brilliant.
"There's some good people here. It's an amazing event, the Olympic Games.
"I don't think we could have given it any more.
"We said before the race we wanted to be able to look ourselves in the mirror and say we'd given everything and I think we did."
James Foad said: "We stuck to our word and we took the race on from the word go and went out with the Germans and maybe even in front of them at one point.
"We thought we had found their breaking point but they are a phenomenal crew, so hats off to them.
"We came to this Games to win. There are three guys in the eight who won silver in Beijing and there's Greg Searle in the boat as well in his last ever race, so we wanted them so much to get them gold.
"So bronze is a bit disappointing, but a few years ago I would never have dreamed of getting an Olympic medal."
The British women's quadruple scull of Melanie Wilson, Debbie Flood, Frances Houghton and Beth Rodford finished a disappointing sixth in their final as Ukraine took the gold ahead of Germany and the USA.
But Britain also created a slice of history in the early semi-finals, with the men's quadruple scull finishing third to reach an Olympic final for the first time.
Matt Wells, Tom Solesbury, Charles Cousins and Stephen Rowbotham produced the fastest last 500 metres of any crew in the field to move up from fourth and into the qualification places.
The men's quad final is on Friday.
The British pair of George Nash and Will Satch won a commanding semi-final victory to qualify for their own Olympic final and announce themselves as medal contenders.
Alan Campbell, the world bronze medallist, qualified for the single sculls final in second place behind Ondrej Synek from the Czech Republic.
Mahe Drysdale, the five-time world champion, won the first semi-final comfortably and will be favourite to win his first Olympic gold medal.
But it promises to be a thrilling race for the podium, with Campbell, Synek and Sweden's Lassi Karonen all in medal contention.