Greyhounds preview - August 30
We run the rule over Saturday's greyhounds meetings and pick out our best bets for the action.
Wimbledon. Click here to bet.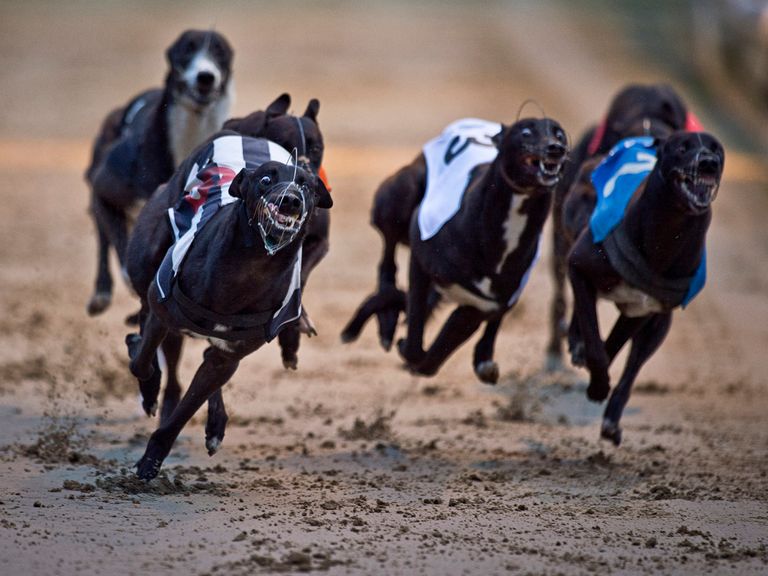 BAGS BEST BET: Gripping Stuff (T2, 9.15 Wimbledon)
TODAY'S NAP: Precious Lucy (T2, 8.50 Crayford)
TODAY'S TREBLE: Fridays Angel (T3, 9.00 Wimbledon)
The is one open race on the menu at Crayford tonight, the Crayford Bookmakers Bitches Stakes at 8.50, and Precious Lucy (T2) is taken to do the business.
The Flying Stanley bitch was deemed good enough to contest the Coral Brighton Belle at Hove recently and was unlucky to exit the Category Two in the heats.
That form reads well in the context of tonight's 540m contest and Gemma Davidson's charge is expected to bounce back.
There are six opens for Wimbledon-bound punters to solve and we fancy Fridays Angel (T3) to land the Wimbledon 480 Puppy final at 9.00.
Tony Taylor's charge has had just four competitive starts on these shores, so should be getting stronger with every run, and there was a lot to like about her performance in the Wimbledon 480 Ladies final two starts back.
She got within half a length of Brighton Belle finalist Roxholme Dream that night (Evanta Evita second) and should score if reproducing that form.
Gripping Stuff (T2) is the youngest of the six veterans in the Wimbledon 480 Seniors at 9.15 and could be the one to latch on to.
The August 2010 greyhound encountered all sorts of traffic problems when clad in white here seven days ago and he's more than capable of bettering that performance based on his determined A1 success in 28.68 here in April.
New Sky Bet customers: Free matched bet up to £30!
BELLE VUE
7.30 (3(Nap)-6-5)
7.47 (5-1-2)
8.04 (2(nb)-4-1)
8.21 (2-5-1)
8.38 (5-3-1)
8.54 (6-1-3)
9.11 (5-6-1)
9.27 (3-4-6)
9.43 (2-4-1)
9.59 (3-1-2)
10.15 (3-5-1)
10.30 (6-1-2)
CRAYFORD
10.38 (3-4-5)
10.53 (6(Nap)-1-2)
11.07 (1-6-5)
11.23 (2-4-5)
11.37 (2(nb)-4-6)
11.51 (6-5-4)
12.08 (6-4-2)
12.24 (6-2-5)
12.39 (3-2-6)
12.57 (3-4-5)
1.11 (3-2-5)
1.27 (5-1-4)
1.44 (1-3-4)
1.58 (2-6-4)
7.31 (3-5-2)
7.46 (3(nb)-2-1)
8.02 (4-1-2)
8.18 (6-4-5)
8.34 (3-5-1)
8.50 (2(Nap)-1-5)
9.06 (4-6-2)
9.24 (6-3-1)
9.40 (1-6-4)
9.56 (4-5-6)
10.11 (4-1-5)
10.26 (5-4-6)
DONCASTER
7.45 (3-6-2)
8.02 (6(nb)-1-2)
8.18 (2-1-3)
8.34 (3-1-4)
8.50 (1-3-4)
9.06 (6-5-4)
9.22 (4-3-2)
9.38 (1(Nap)-4-6)
9.54 (1-2-4)
10.10 (5-3-4)
HALL GREEN
7.35 (6-2-3)
7.50 (5-1-6)
8.05 (1-4-2)
8.20 (1-6-5)
8.35 (5(Nap)-6-2)
8.50 (3-1-5)
9.05 (5-6-4)
9.20 (6-1-5)
9.35 (5(nb)-1-6)
9.50 (3-4-5)
10.05 (4-3-6)
10.20 (6-3-1)
10.35 (2-3-1)
HARLOW
7.30 (2-5-6)
7.45 (4-3-5)
8.00 (1-3-4)
8.15 (3-1-2)
8.30 (4-3-1)
8.45 (2-4-3)
9.00 (1(nb)-3-6)
9.15 (5-4-2)
9.30 (1-5-3)
9.45 (1-6-4)
10.00 (2(Nap)-4-3)
10.15 (4-3-5)
10.30 (3-4-5)
HENLOW
7.45 (2-1-5)
8.02 (3-5-2)
8.19 (2-4-5)
8.36 (2-1-5)
8.53 (1-5-6)
9.10 (3-5-4)
9.27 (4-1-2)
9.44 (5(Nap)-3-2)
10.01 (6-2-1)
10.18 (2(nb)-4-1)
HOVE
7.31 (6-1-5)
7.46 (4-1-5)
8.02 (3-2-1)
8.18 (6-2-3)
8.34 (3(nb)-5-6)
8.51 (5-6-4)
9.07 (6(Nap)-1-5)
9.24 (1-3-4)
9.41 (4-5-3)
9.57 (2-4-6)
10.13 (3-6-1)
10.30 (2-1-3)
KINSLEY
7.20 (3-2-4)
7.35 (1(nb)-4-6)
7.50 (3-2-6)
8.05 (5-6-2)
8.20 (4(Nap)-5-2)
8.35 (5-4-1)
8.50 (3-2-1)
9.05 (6-4-2)
9.20 (4-3-2)
9.35 (1-4-5)
9.50 (2-3-4)
10.05 (5-2-4)
10.20 (1-6-5)
10.35 (4-2-3)
Place your bets on today's greyhounds with Sky Bet
MONMORE
6.38 (1-3-2)
6.56 (2-6-1)
7.11 (4-6-1)
7.26 (2(nb)-5-6)
7.42 (3-2-1)
7.58 (1-6-5)
8.13 (2(Nap)-6-4)
8.28 (5-6-1)
8.43 (1-5-6)
8.58 (6-2-4)
9.14 (6-5-1)
9.30 (1(Nap)-6-4)
9.45 (4(nb)-1-6)
10.00 (1-6-4)
NEWCASTLE
2.24 (1-5-2)
2.42 (3-4-2)
2.58 (6(nb)-1-2)
3.18 (3(Nap)-6-4)
3.37 (3-6-1)
3.53 (3-4-6)
4.14 (6-2-1)
4.28 (1-2-6)
4.47 (6-2-5)
5.07 (4-5-3)
5.27 (2-6-5)
5.44 (2-3-4)
5.58 (4-6-2)
6.16 (2-6-3)
NOTTINGHAM
7.22 (2-3-6)
7.37 (1(nb)-6-3)
7.52 (4-6-3)
8.07 (4-5-1)
8.22 (2-5-3)
8.37 (5-6-2)
8.52 (1-5-6)
9.07 (5(Nap)-1-3)
9.22 (2-3-1)
9.37 (2-6-5)
9.52 (6-4-1)
10.07 (2-6-1)
10.22 (5-6-2)
10.37 (2-4-3)
PERRY BARR
7.30 (5(Nap)-4-6)
7.47 (3-1-5)
8.04 (1-2-3)
8.21 (3-2-6)
8.39 (5(nb)-4-1)
8.56 (2-4-6)
9.13 (6-1-4)
9.30 (3-4-1)
9.46 (4-3-1)
10.02 (3-5-2)
PETERBOROUGH
7.30 (4-3-1)
7.44 (3(nb)-5-1)
7.58 (5-3-4)
8.12 (2-3-1)
8.26 (1-6-5)
8.40 (1-3-2)
8.53 (2-6-3)
9.07 (6-5-4)
9.20 (2(Nap)-1-5)
9.34 (3-2-5)
9.48 (5-4-1)
10.02 (1-3-4)
10.16 (3-1-6)
10.30 (1-2-5)
POOLE
7.37 (2(nb)-6-3)
7.52 (2-3-4)
8.07 (4-1-5)
8.22 (6-4-5)
8.37 (4-3-5)
8.52 (5-3-6)
9.07 (1-5-3)
9.22 (4-2-5)
9.37 (6-2-1)
9.52 (3(Nap)-4-1)
10.07 (5-6-1)
10.22 (4-1-2)
ROMFORD
10.31 (6-5-4)
10.46 (6-5-1)
11.00 (4-5-3)
11.16 (2-3-5)
11.31 (6-1-2)
11.44 (3-5-1)
11.58 (6-5-2)
12.17 (1(Nap)-3-5)
12.33 (3-6-1)
12.47 (1-2-3)
1.04 (3-5-4)
1.19 (2-5-4)
1.33 (1-5-6)
1.49 (6(nb)-1-3)
7.30 (2-5-1)
7.45 (4-5-3)
8.01 (6(nb)-5-1)
8.17 (2-6-3)
8.32 (2(Nap)-6-5)
8.48 (1-6-2)
9.04 (2-1-3)
9.20 (6-2-1)
9.36 (1-3-4)
9.52 (4-3-2)
10.08 (5-3-6)
10.24 (5-4-3)
10.40 (2-6-4)
SHAWFIELD
7.50 (1(Nap)-3-2)
8.05 (2-3-5)
8.20 (1-5-2)
8.35 (1(nb)-3-2)
8.50 (1-2-3)
9.05 (3-1-4)
9.20 (2-1-3)
9.35 (1-5-4)
9.50 (1-3-5)
10.00 (1-2-3)
SHEFFIELD
7.25 (1-5-4)
7.40 (4-2-3)
7.55 (2-6-4)
8.10 (1(Nap)-3-6)
8.25 (4(nb)-6-3)
8.40 (6-4-3)
8.55 (5-3-2)
9.10 (1-5-2)
9.25 (1-4-3)
9.40 (5-1-6)
9.55 (6-1-5)
10.10 (5-1-3)
10.25 (5-2-1)
10.40 (1-2-4)
SHELBOURNE PARK
7.40 (6-1-3)
7.55 (4-1-6)
8.10 (5-1-6)
8.25 (1-3-5)
8.40 (3-1-6)
8.55 (6-3-5)
9.10 (6-4-1)
9.25 (1(nb)-6-4)
9.40 (2-6-3)
9.55 (6-5-3)
10.10 (3(Nap)-6-4)
10.25 (1-2-6)
SITTINGBOURNE
6.28 (4(Nap)-6-3)
6.48 (2-3-6)
7.06 (3(nb)-1-6)
7.22 (1-3-4)
7.37 (4-5-2)
7.52 (1-4-5)
8.07 (1-2-3)
8.22 (1-3-4)
8.37 (1-4-5)
8.51 (3-5-4)
9.07 (6-4-2)
9.22 (3-4-6)
SUNDERLAND
7.30 (2-5-1)
7.47 (2-1-3)
8.04 (6-3-2)
8.20 (3(Nap)-1-5)
8.36 (3(nb)-2-1)
8.52 (1-5-4)
9.08 (2-1-3)
9.24 (6-5-1)
9.40 (5-4-1)
9.56 (6-4-3)
10.13 (1-6-2)
10.30 (4-2-6)
WIMBLEDON
7.30 (5-4-1)
7.45 (1-5-6)
8.00 (6-1-2)
8.15 (4-1-2)
8.30 (1-6-2)
8.45 (3-6-2)
9.00 (3(Nap)-5-2)
9.15 (2(nb)-6-1)
9.30 (6-2-1)
9.45 (2-5-4)
10.00 (6-1-2)
10.15 (3-4-5)
10.30 (2-1-6)
YARMOUTH
7.30 (6-1-3)
7.45 (4-1-6)
8.00 (5(nb)-1-3)
8.15 (6-1-5)
8.30 (5-2-1)
8.45 (3-6-1)
9.00 (5-4-1)
9.15 (3-2-5)
9.30 (6-2-5)
9.45 (4-5-1)
10.00 (6-3-4)
10.15 (3-1-6)
10.30 (1(Nap)-4-2)