Greyhounds preview - August 25
We run the rule over Monday's greyhounds meetings and pick out our best bets for the action.
Nottingham. Click here to bet.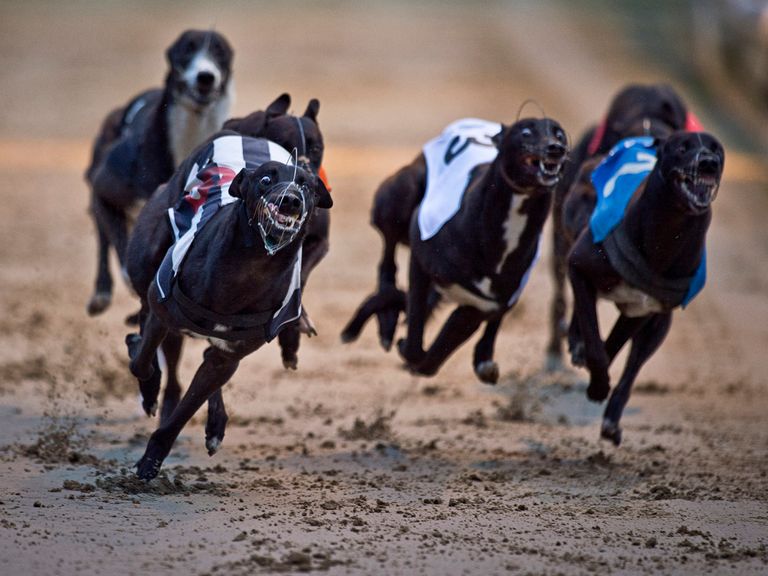 BAGS BEST BET: Slick Seawolf (T2, 8.36 Nottingham)
TODAY'S NAP: Swift Hoffman (T5, 9.22 Nottingham)
TODAY'S TREBLE: Coolavanny Lass (T1, 9.07 Nottingham)
£5 free bet every week plus exclusive offers with the Sky Bet Club
The Caffreys Puppy Classic final takes centre stage at Nottingham this evening and Swift Hoffman (T5) can show his kennel companion Newinn Yolo a clean pair of heels at 9.22.
The Pat Rosney-trained pair are very closely matched based on the Gymcrack form at Kinsley and although Newinn Yolo went quicker in last week's semi-finals, he could be inconvenienced by the early pace of Jimmy Nailed On and Greenhill Beauty when the lids go up and the son of Makeshift, the track record holder for the 480m trip at Colwick Park, may get a dream run on the outside.
Coolavanny Lass (T1) is well fancied in the Caffreys Standard Trophy final at 9.07.
Charlie Lister's inmate finished a neck second to last year's All England Cup champion Calzaghe Davy here a fortnight ago and made all in good fashion in the heats of this two-rounder last week.
The bitch by Ace Hi Rumble is open to stacks more improvement after just six career starts on these shores and she's taken to lead up on the rails.
Slick Seawolf (T2) went into notebooks aplenty when finishing second in a competitive sprint final here two weeks ago and he's since filled the runner-up berth behind the smart Shania at Sheffield.
The Westmead Hawk dog makes plenty of appeal in heat one of the Caffreys Sprint Trophy at 8.36 and is expected to make the most of a plum draw clad in blue.
New Sky Bingo customers get £20 free!
HALL GREEN
10.31 (5-3-1)
10.46 (5(Nap)-2-1)
11.00 (3(nb)-6-5)
11.16 (1-2-3)
11.31 (4-2-5)
11.44 (5-1-6)
11.58 (5-2-6)
12.17 (3-5-1)
12.33 (6-1-3)
12.47 (3-1-2)
1.04 (1-2-3)
1.19 (1-2-4)
1.33 (3-5-2)
1.49 (4-5-2)
MONMORE
10.38 (6-5-4)
10.53 (1-6-4)
11.07 (4-5-3)
11.23 (2(nb)-4-1)
11.37 (4-1-6)
11.51 (1-2-3)
12.08 (3-1-4)
12.24 (4-3-5)
12.39 (3-5-6)
12.57 (6-5-3)
1.11 (1(Nap)-5-2)
1.27 (1-2-5)
1.44 (5-6-3)
1.58 (3-6-4)
NOTTINGHAM
6.28 (6-1-3)
6.44 (1-2-4)
7.01 (2-4-5)
7.16 (4-3-1)
7.32 (6-2-1)
7.48 (6-3-5)
8.04 (6-2-3)
8.19 (2-4-5)
8.36 (2-6-5)
8.52 (1-4-6)
9.07 (1(nb)-6-5)
9.22 (5(Nap)-2-6)
9.41 (6-1-5)
10.00 (3-6-1)
PELAW GRANGE
12.00 (2(Nap)-3-5)
12.17 (1-4-6)
12.34 (1-2-5)
12.51 (2-5-6)
1.08 (4-1-5)
1.24 (4-5-1)
1.40 (6(nb)-3-1)
1.56 (1-2-4)
2.13 (3-5-2)
2.30 (5-4-2)
ROMFORD
6.39 (1(Nap)-2-5)
6.56 (2-3-6)
7.11 (6(nb)-5-4)
7.27 (1-5-4)
7.43 (6-4-2)
7.58 (6-5-1)
8.14 (5-2-1)
8.31 (1-6-3)
8.47 (6-4-5)
9.02 (2-5-6)
9.17 (2-4-3)
9.30 (3-4-5)
SWINDON
2.18 (1-5-3)
2.37 (3-1-5)
2.57 (4-6-5)
3.17 (2-5-1)
3.38 (2-5-3)
3.58 (2-4-6)
4.18 (6(Nap)-2-5)
4.37 (5-1-6)
4.57 (4-6-1)
5.17 (5-4-3)
5.33 (6-5-4)
5.47 (1(nb)-6-4)
6.04 (1-5-4)
6.18 (5-6-1)
YARMOUTH
6.33 (5-3-6)
6.49 (4(nb)-2-5)
7.06 (6-3-4)
7.22 (5-2-6)
7.37 (1-6-5)
7.53 (5-2-4)
8.09 (2-4-6)
8.24 (3-5-6)
8.41 (3-1-2)
8.57 (4-1-5)
9.12 (6-1-4)
9.28 (5-3-1)
9.44 (5(Nap)-1-6)