Greyhounds preview - August 17
We run the rule over Sunday's greyhounds meetings and pick out our best bets for the action.
Belle Vue. Click here to bet.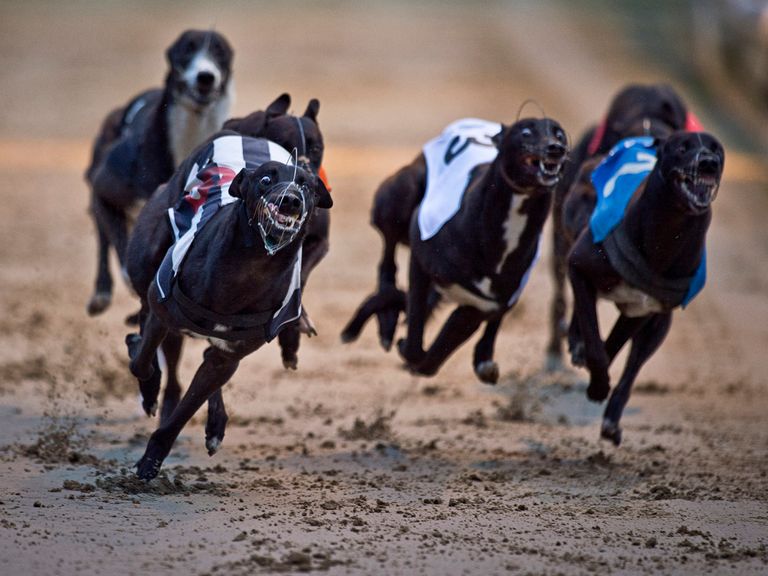 BAGS BEST BET: Fridays Philip (T4, 12.18 Belle Vue)
TODAY'S NAP: Roxholme Ted (T5, 12.27 Hove)
TODAY'S TREBLE: Bush Standard (T3, 12.33 Belle Vue)
The BVOF Northern Flat Championship gets underway with two heats at Belle Vue on the BAGS this morning.
Fridays Philip (T4) has impressed with two 480m victories at Sheffield recently, including in front of the Sky cameras last week when he appeared to have a word in Southern Mesut's as he picked up Charlie Lister's speedster on the run in.
He was marked awkward for that but is clearly a talented animal, as confirmed by a 27.65 workout over this C&D, and should be tough to beat at 12.18 if concentrating on the task at hand.
Pat Rosney's has a strong hand in the second instalment (12.33) courtesy of Bush Standard (T3) and Bower Stone.
The latter looked a future star as a puppy before injuries intervened and he has yet to sparkle since returning, so the Droopys Vieri veteran gets the vote.
He has enjoyed a good summer so far, reaching the final of the William Hill Classic at Sunderland last month, and can turn prominently before going through the gears today.
There are also opens on the menu at Hove this morning where Roxholme Ted (T5) is fancied to get back on the winning trail at 12.27.
A missed break put paid to his chances in a hot heat of the Ladbrokes Gold Cup at Monmore, but the long run to the bend over this 515m trip can allow him to use his smart early dash to get on the bunny and he is seeing out his races out better now.
New Sky Bet customers: Free matched bet up to £30!
BELLE VUE
11.03 (5-4-6)
11.19 (1-5-6)
11.34 (3-4-1)
11.48 (3-1-2)
12.04 (2-1-5)
12.18 (4(Nap)-2-5)
12.33 (3(nb)-4-2)
12.47 (4-2-1)
1.04 (6-1-4)
1.21 (4-2-3)
1.37 (4-6-1)
1.51 (3-4-2)
HENLOW
6.30 (1-6-2)
6.45 (6-3-5)
7.00 (3-4-5)
7.15 (1(nb)-4-6)
7.30 (2(Nap)-1-5)
7.45 (4-5-2)
8.00 (4-1-6)
8.15 (4-6-1)
8.30 (4-1-3)
8.45 (6-1-3)
9.00 (2-6-1)
9.15 (4-2-1)
Place your bets on today's greyhounds with Sky Bet
HOVE
11.11 (6-4-3)
11.28 (3-5-6)
11.42 (3-4-2)
11.57 (1-5-3)
12.12 (6-4-2)
12.27 (5(nb)-4-2)
12.41 (5-6-4)
12.58 (4-6-3)
1.12 (4-1-6)
1.28 (5-1-3)
1.44 (3-1-6)
1.58 (5(nb)-4-2)
KINSLEY
2.12 (1-2-3)
2.29 (3-5-1)
2.47 (3(Nap)-5-6)
3.04 (4-2-1)
3.22 (2-6-1)
3.37 (6-3-1)
3.53 (6-2-3)
4.09 (3-4-5)
4.27 (1-2-5)
4.41 (6-5-3)
4.58 (2-5-6)
5.17 (6(nb)-5-2)
5.37 (1-6-2)
5.55 (6-3-5)
PELAW GRANGE
12.00 (2(Nap)-1-4)
12.20 (4-6-1)
12.40 (4-1-5)
1.00 (4-5-2)
1.20 (3-2-1)
1.40 (1(nb)-4-6)
2.00 (2-3-1)
2.20 (4-3-5)
£5 free bet every week plus exclusive offers with the Sky Bet Club
PERRY BARR
2.06 (5-4-2)
2.21 (2-1-4)
2.38 (2-1-5)
2.57 (4-3-2)
3.13 (2(Nap)-3-4)
3.29 (6-3-1)
3.44 (5-6-3)
4.02 (3(nb)-6-4)
4.18 (4-5-6)
4.33 (1-3-5)
4.47 (6-1-3)
5.08 (5-4-6)
5.27 (2-6-1)
5.46 (1-5-6)
POOLE
6.04 (6(Nap)-3-5)
6.19 (4-5-6)
6.37 (5-6-3)
6.55 (1-2-5)
7.12 (4-5-2)
7.29 (5-4-1)
7.46 (2-6-5)
8.02 (3-2-4)
8.19 (1-2-4)
8.37 (3-4-6)
8.53 (1-5-2)
9.11 (5(nb)-4-3)
SITTINGBOURNE
6.11 (5(nb)-4-2)
6.28 (1-6-5)
6.46 (3-6-1)
7.04 (2-3-1)
7.21 (5-1-6)
7.37 (4-5-3)
7.54 (3(Nap)-1-4)
8.11 (4-6-3)
8.28 (4-2-6)
8.45 (5-6-3)
9.02 (2-3-5)
9.19 (2-6-3)