Greyhounds preview - August 7
We run the rule over Thursday's greyhounds meetings and pick out our best bets for the action.
Sheffield. Click here to bet.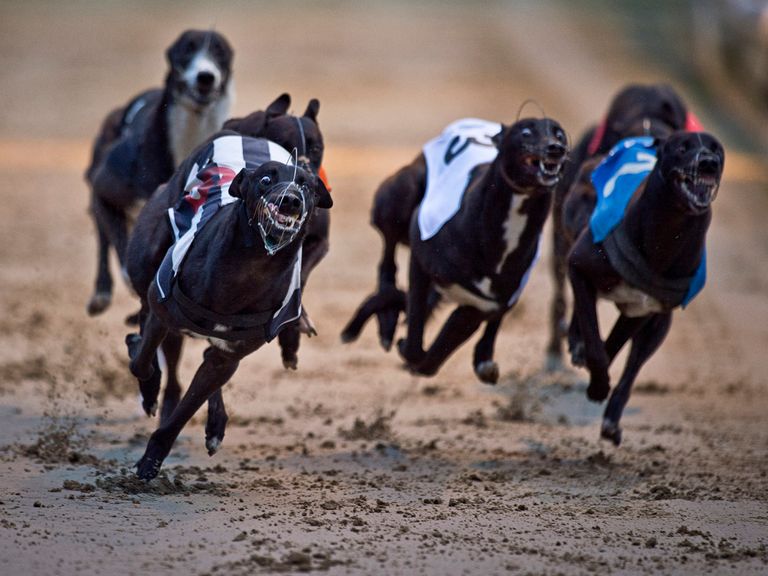 BAGS BEST BET: Iconic Serena (T6, 12.42 Sheffield)
TODAY'S NAP: Bank Of Jean (T1, 1.58 Sheffield)
TODAY'S TREBLE: On The Grapevine (T1, 1.12 Sheffield)
Following the excellent TV Trophy meeting in front of the Sky cameras at Sheffield last night, the action continues at Owlerton Stadium this morning with a 12-race morning BAGS programme.
Punters have to wait until the final race for what looks the best bet of the card, with Bank Of Jean (T1) given a massive chance by the grader in the A6 at 1.58.
A comfortable trap-to-line winner in this grade last month, Mona Wanwright's bitch has been running well in defeat in a better company since and a rails draw with a slow starter next door gives her an excellent chance to dominate on the downgrade today.
Iconic Serena (T6) is another with a nice make-up in the A5 at 12.42.
The progressive daughter of Timor Blue scored impressively in A6 company latest and could be away and gone in stripes again, with pace threats Reved Up and Stepaside Jag potentially getting in each other's way on the rails.
On The Grapevine (T1) caught the eye in defeat last week and can make the most of being eased into an A6 at 1.12.
The Martin Cutler-trained dog has good back straight pace and can make a winning move down the far side if negotiating the opening bends unscathed in the red jacket.
New customers: Free £30 matched bet!
RACE-BY-RACE PICKS:
CRAYFORD
2.18 (6-5-3)
2.37 (2-3-1)
2.57 (4-5-6)
3.17 (5(nb)-6-2)
3.38 (4-2-3)
3.58 (5-4-1)
4.18 (5-4-1)
4.37 (4(Nap)-3-2)
4.57 (2-4-3)
5.17 (5-2-3)
5.33 (4-3-5)
5.47 (4-5-1)
6.04 (1-5-2)
6.18 (2-3-1)
HOVE
7.31 (4(Nap)-3-6)
7.46 (6(nb)-5-4)
8.02 (2-1-6)
8.18 (6-4-1)
8.34 (4-5-3)
8.50 (2-4-6)
9.06 (1-3-5)
9.24 (6-4-5)
9.40 (1-3-2)
9.56 (6-3-1)
10.11 (6-2-3)
10.26 (5-3-1)
MONMORE
7.25 (2-6-1)
7.39 (4-3-5)
7.54 (4-6-5)
8.10 (5-4-6)
8.26 (3(Nap)-6-5)
8.42 (3(nb)-4-6)
8.58 (6-3-4)
9.15 (2-1-4)
9.32 (5-2-4)
9.48 (1-5-6)
10.03 (4-1-3)
10.18 (4-2-5)
NEWCASTLE
6.38 (5-3-1)
6.56 (3-4-6)
7.11 (1-2-3)
7.26 (6-3-4)
7.42 (6(Nap)-3-5)
7.58 (5(nb)-3-1)
8.13 (4-5-1)
8.28 (4-1-5)
8.43 (1-4-6)
8.58 (2-3-6)
9.14 (3-4-6)
ROMFORD
2.08 (5-2-4)
2.27 (2-4-1)
2.47 (2-4-1)
3.07 (2-1-6)
3.28 (2-5-4)
3.48 (1-3-4)
4.08 (1(Nap)-4-5)
4.27 (1-3-4)
4.47 (6(nb)-5-2)
5.07 (5-6-3)
5.22 (1-2-3)
5.38 (1-3-4)
5.56 (5-1-4)
6.11 (4-3-6)
SHEFFIELD
11.11 (1(nb)-5-4)
11.28 (1-6-3)
11.42 (5-1-6)
11.57 (1-4-2)
12.12 (4-5-6)
12.27 (6-2-1)
12.42 (6(nb)-1-2)
12.58 (6-1-5)
1.12 (1-3-2)
1.27 (4-5-6)
1.44 (1-2-5)
1.58 (1(Nap)-5-2)
SHELBOURNE PARK
8.00 (1(Nap)-4-3)
8.15 (2(nb)-1-6)
8.30 (5-3-1)
8.45 (1-5-2)
9.00 (3-1-5)
9.15 (5-4-1)
9.30 (3-4-1)
9.45 (4-1-6)
10.00 (5-3-4)
10.15 (3-2-1)
10.30 (4-6-5)
SITTINGBOURNE
6.28 (1-2-3)
6.48 (2(Nap)-5-1)
7.06 (2-5-1)
7.22 (2-4-5)
7.37 (2-1-4)
7.52 (6-3-4)
8.07 (3(nb)-5-6)
8.22 (1-3-6)
8.37 (2-3-4)
8.51 (1-5-2)
9.07 (6-5-1)
9.22 (1-3-4)
SUNDERLAND
11.03 (4-2-3)
11.19 (2(Nap)-1-5)
11.34 (1-4-3)
11.48 (4(nb)-6-5)
12.04 (3-4-1)
12.18 (6-1-5)
12.32 (2-5-4)
12.47 (1-2-4)
1.04 (2-5-6)
1.19 (5-6-4)
1.33 (3-4-1)
1.51 (2-4-1)
New Sky Bingo customers get £20 free