Greyhounds preview - July 31
We run the rule over Thursday's greyhounds meetings and pick out our best bets for the action.
Romford. Click here to bet.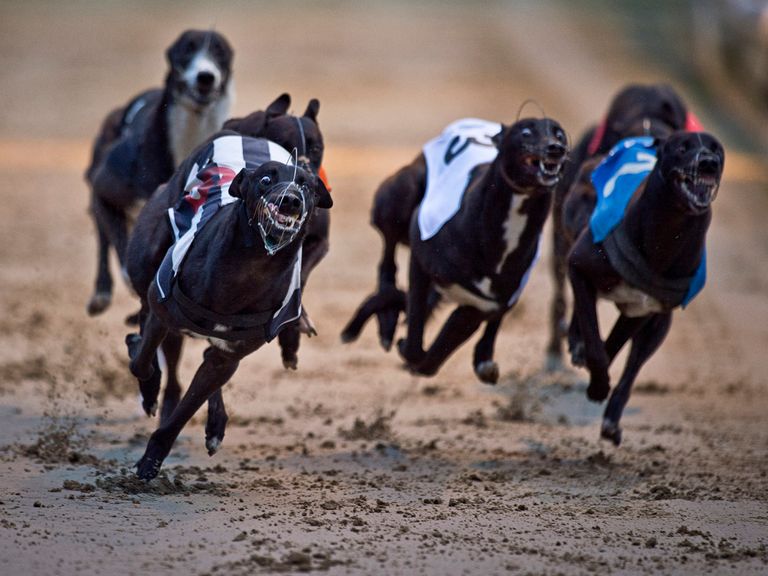 BAGS BEST BET: Mustang Blitz (T5, 7.39 Monmore)
TODAY'S NAP: Romantic Rambo (T4, 8.26 Monmore)
TODAY'S TREBLE: Global Way (T2, 10.03 Monmore)
Betfred Select Stayers Stakes champion Romantic Rambo (T4) is the star turn at Monmore this evening, where there are eight open races for punters to solve.
The Ladbrokes.com 630 at 8.26 is a perfect opportunity for Kevin Cobbold's inmate to continue the winning thread and given he smashed the track record in a spine-tingling Nottingham performance in front of the Sky Sports cameras last time, he should take all of the beating and can further enhance his St Leger credentials in the process.
Mustang Blitz (T5) runs the Wolverhampton circuit well and he's fancied to make a winning impression in the Ladbrokes.com 480 at 7.39.
Barrie Draper's charge hasn't been seen since beating subsequent Coral Sussex Cup hero Exocet on home soil at Sheffield last month, but with the benefit of a recent solo trial at the south Yorkshire venue under his belt, he should take some stopping.
We also fancy Global Way (T2) in the final open of the night at 10.03.
The son of Crash is relatively lightly raced for his age and really has the bit between his teeth at the moment, having recorded a hat-trick of wins at Sheffield last time out.
The May 2012 dog was too strong for a rejuvenated Glenpadden Bolt on that occasion and there was plenty to like about his performances at Perry Barr as well.
New customers: Free £30 matched bet!
RACE-BY-RACE PICKS:
CRAYFORD
2.18 (1(Nap)-2-6)
2.37 (3-2-5)
2.57 (6-3-4)
3.17 (2-1-6)
3.38 (2(nb)-5-3)
3.58 (6-3-2)
4.18 (2-1-3)
4.37 (6-4-5)
4.57 (2-3-5)
5.17 (4-5-2)
5.33 (2-1-3)
5.47 (2-6-1)
6.04 (5-6-3)
6.18 (4-5-2)
HOVE
7.31 (4-2-1)
7.46 (3(Nap)-5-2)
8.02 (1-2-6)
8.18 (1-3-2)
8.34 (6-1-3)
8.50 (3-1-2)
9.06 (3-6-4)
9.24 (1-3-4)
9.40 (6-1-4)
9.56 (6-5-3)
10.11 (1-3-4)
10.26 (5(nb)-6-3)
Place your greyhounds bets now!
MONMORE
7.25 (4-2-5)
7.39 (5(nb)-6-1)
7.54 (3-6-2)
8.10 (1-6-5)
8.26 (4(Nap)-1-6)
8.42 (2-5-3)
8.58 (6-2-4)
9.15 (4-1-3)
9.32 (6-1-3)
9.48 (5-2-1)
10.03 (2-6-1)
10.18 (4-5-1)
NEWCASTLE
6.38 (4-6-2)
6.56 (6(Nap)-3-2)
7.11 (2-6-3)
7.26 (5-3-4)
7.42 (6(nb)-2-1)
7.58 (2-4-1)
8.13 (1-5-3)
8.28 (5-3-6)
8.43 (6-3-5)
8.58 (4-1-5)
9.14 (1-5-4)
ROMFORD
2.08 (3-1-2)
2.27 (4(nb)-3-2)
2.47 (4-1-2)
3.07 (2-3-1)
3.28 (1-4-6)
3.48 (6-1-4)
4.08 (1-5-2)
4.27 (5-4-2)
4.47 (2-3-5)
5.07 (2-3-5)
5.22 (5-2-4)
5.38 (4-2-6)
5.56 (6-3-1)
6.11 (1(Nap)-3-4)
SHEFFIELD
11.11 (4-6-5)
11.28 (2-6-1)
11.42 (6(Nap)-4-3)
11.57 (5-4-3)
12.12 (3-4-5)
12.27 (2-5-1)
12.42 (5-6-3)
12.58 (1(nb)-2-6)
1.12 (2-3-4)
1.27 (2-3-6)
1.44 (4-2-1)
1.58 (2-6-5)
New Sky Bingo customers get £20 free
SHELBOURNE PARK
8.00 (1(Nap)-3-5)
8.15 (5-1-2)
8.30 (2-1-3)
8.45 (6(nb)-3-1)
9.00 (5-3-6)
9.15 (3-1-5)
9.30 (5-1-3)
9.45 (1-2-3)
10.00 (1-2-3)
10.15 (6-5-2)
SITTINGBOURNE
6.28 (1-3-4)
6.48 (6(Nap)-4-3)
7.06 (1-6-5)
7.22 (4-1-6)
7.37 (6-5-1)
7.52 (6-1-4)
8.07 (3-4-2)
8.22 (6-1-3)
8.37 (1-4-3)
8.51 (2(nb)-6-5)
9.07 (1-6-5)
9.22 (1-4-2)
SUNDERLAND
11.03 (4-5-2)
11.19 (2(nb)-5-1)
11.34 (1-6-3)
11.48 (6-5-2)
12.04 (1-3-6)
12.18 (2-1-4)
12.32 (4-6-5)
12.47 (6-1-3)
1.04 (5-2-1)
1.19 (6-5-2)
1.33 (2(Nap)-4-3)
1.51 (6-1-2)