Greyhounds preview - July 21
We run the rule over Monday's greyhounds meetings and pick out our best bets for the action.
Swindon. Click here to bet.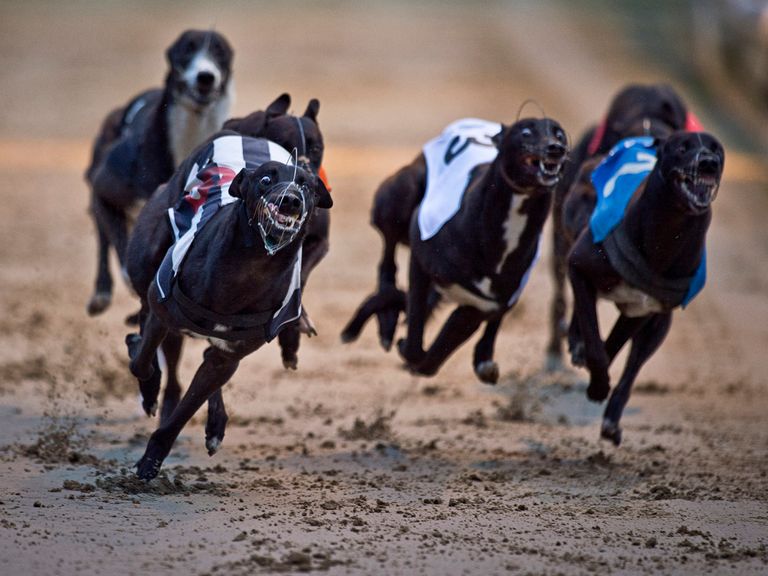 BAGS BEST BET: Westmead Alexis (T4, 3.58 Swindon)
TODAY'S NAP: Swift Perth (T5, 8.07 Nottingham)
TODAY'S TREBLE: Beatties Teddy (T1, 4.37 Swindon)
Three semi-finals of the British Bred Two Year Old Produce Stakes feature on Swindon's BAGS card this afternoon.
Take The Crown has been a revelation in the Category One event so far, winning both heats by wide margins, and should qualify for the £15,000 decider in similarly impressive fashion at 4.18.
He is priced accordingly, though, whereas Westmead Alexis (T4) is available at much more favourable odds for the first heat at 3.58.
Nick Savva's blue has also scored with ease on both outings in the event and has the pace to get first run on King Dec, the Arc winner who is odds-on to maintain his own unbeaten run in this competition.
Savva's Westmead Chris will be all the rage for the third instalment at 4.37, but he could be held up by the early pace of Romeo Player on his inside and there may be some value in taking him on with Beatties Teddy (T1).
Kim Billingham's puppy gets the red jacket for the first time at this venue and that can help get on the bunny, something he didn't do when only going down by a length behind Westmead Chris in the first round.
There are also opens on the menu this evening at Nottingham, where Swift Perth (T5) is fancied to land heat one of the Stadium Bookmakers Standard Trophy (8.07).
Peter Crosse's brindle hacked up over this C&D in a red-hot 29.32 (+30) on Betfred Select Stakes night last week and won't be for catching if getting first run again, although he is also capable of coming from off the pace in this company.
New Sky Bet customers: Get a free matched bet
HALL GREEN
11.03 (6(Nap)-2-1)
11.19 (2-1-3)
11.34 (2(nb)-1-3)
11.48 (6-1-5)
12.04 (5-6-1)
12.18 (2-1-4)
12.32 (3-1-6)
12.47 (6-2-1)
1.04 (4-6-5)
1.19 (6-1-4)
1.33 (3-4-6)
1.51 (3-2-4)
MONMORE
2.08 (5-6-3)
2.27 (3-5-4)
2.47 (4-2-6)
3.07 (1(nb)-2-6)
3.28 (4-1-3)
3.48 (5-3-1)
4.08 (6-5-3)
4.27 (6-2-3)
4.47 (5-1-2)
5.07 (3-5-1)
5.22 (2-1-3)
5.38 (2-6-4)
5.56 (2-3-5)
6.11 (1(Nap)-6-2)
Head to Sky Bet to place your greyhounds bets today
NOTTINGHAM
6.48 (6-4-1)
7.06 (2-1-4)
7.22 (1-3-6)
7.37 (5-3-6)
7.52 (2-1-6)
8.07 (5(Nap)-6-1)
8.22 (2(nb)-3-5)
8.37 (4-3-5)
8.51 (4-3-5)
9.07 (3-1-4)
9.22 (3-2-1)
9.41 (3-4-1)
10.00 (3-4-2)
ROMFORD
6.38 (2(nb)-5-3)
6.56 (6-4-1)
7.11 (6-1-5)
7.26 (6-1-2)
7.42 (2(Nap)-3-4)
7.58 (4-6-3)
8.13 (2-6-3)
8.28 (4-3-5)
8.43 (5-1-6)
8.58 (5-6-4)
9.14 (2-3-5)
9.30 (3-4-6)
SHEFFIELD
11.11 (2-3-6)
11.28 (5(Nap)-3-6)
11.42 (5(nb)-1-4)
11.57 (6-3-2)
12.12 (3-6-5)
12.27 (6-2-1)
12.42 (5-2-3)
12.58 (5-1-3)
1.12 (4-2-3)
1.27 (1-6-3)
1.44 (1-6-4)
1.58 (3-4-5)
SWINDON
2.18 (5-1-2)
2.37 (3-4-1)
2.57 (3-5-2)
3.17 (6-5-4)
3.38 (1-5-3)
3.58 (4(nb)-1-5)
4.18 (1(Nap)-5-4)
4.37 (1-6-3)
4.57 (4-1-2)
5.17 (6-2-5)
5.33 (3-2-6)
5.47 (3-1-4)
6.04 (3-1-6)
6.18 (3-2-4)
YARMOUTH
6.33 (3-2-6)
6.49 (6-5-1)
7.06 (4-6-2)
7.22 (3(Nap)-1-6)
7.37 (1-4-6)
7.53 (4-3-5)
8.09 (6-1-5)
8.24 (1-3-2)
8.41 (4-5-2)
8.57 (4-2-6)
9.12 (3(nb)-6-1)
9.28 (3-5-4)
9.44 (3-1-6)