Preview - May 31
We run the rule over Saturday's greyhounds meetings, including the Derby final, and pick out our best bets for the action.
Wimbledon. Click here to bet.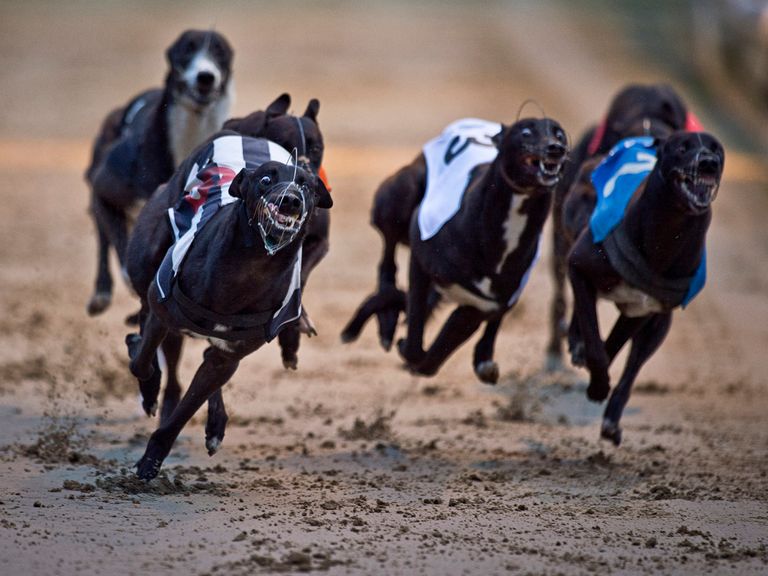 BAGS BEST BET: All About Ya (T3, 8.43 Wimbledon)
TODAY'S NAP: Crokers Champ (T1, 9.08 Wimbledon)
TODAY'S TREBLE: Holdem Hawk (T5, 7.38 Wimbledon)
A record £200,000 is up for grabs in the 2014 William Hill Greyhound Derby final (9.08) at Wimbledon, live on Sky Sports 1 and SIS.
Similar to 12 months ago, the Irish have the top two in the betting as they bid to win the famous event for the first time since 2008.
Mind The Net is a worthy favourite after winning his last three starts in scintillating fashion and will be hard to hold if avoiding trouble round the opening turns.
However, that is no guarantee given his running style and the Scottish Derby doesn't represent much value at evens.
Fellow Irish raider Crokers Champ (T1), on the other hand, can be backed at 3/1 and looks sure to establish a big lead early doors in a race full of strong runners.
The April '12 son of Kinloch Brae has dazzled the crowds at Plough Lane with his speed to the corner, including a record-breaking 4.62 sectional in the second round, and he can be forgiven being picked up by Droopys Ward in the fastest semi-final.
Paul Young's puppy is notoriously strong after halfway and got a clear run at the selection after turning second, while Peter Cronin inmate may just have been feeling the effects of a third run in eight days.
With a week off since, he may not come back to the field as easily when it matters most.
A fantastic support card is headed by an excellent renewal of the William Hill Derby Plate (8.43) and All About Ya (T3) can give Cronin the perfect fillip ahead of the big one.
The Arc finalist didn't come away that well in the heats but showed tremendous speed to lead round the opening bends and proved strong at the business end to hold off the challenge of Droopys Norris.
The one box can be tricky at Wimbledon so a better exit could be on the cards now he's switched to the white jacket and he is a tough dog to pass when getting on the bunny.
One that stands out earlier on the card is the improving Holdem Hawk (T5), who is a very juicy 6/1 at the early prices for the 687m event at 7.38.
Carol Weatherall's charge has no margin for error in a hot field, but has been in sparkling form of late and warmed up for this with a five-length demolition job of smart staying prospect Black Francis over 708m at Sittingbourne last weekend.
Having only gone down by half a length to speedy youngster Tynwald Bish in a 480m trial at Plough Lane previously, the April '12 whelp has the pace to get first run on these and would take some pegging back.
New customers: Free £30 matched bet on Greyhound Derby
BELLE VUE
7.20 (4-2-1)
7.38 (4(Nap)-1-2)
7.56 (2-3-6)
8.14 (4(nb)-5-6)
8.30 (3-2-6)
8.46 (2-5-6)
9.02 (3-1-6)
9.18 (2-6-4)
9.34 (4-3-1)
9.50 (6-4-3)
10.05 (3-4-6)
10.20 (4-1-2)
10.35 (3-5-6)
CRAYFORD
10.38 (6-1-5)
10.53 (5(nb)-1-6)
11.07 (6(Nap)-4-1)
11.23 (1-2-6)
11.37 (3-6-5)
11.51 (3-5-6)
12.08 (6-1-4)
12.24 (1-4-5)
12.39 (5-1-4)
12.57 (2-6-4)
1.11 (6-1-2)
1.27 (2-3-6)
1.44 (1-4-3)
1.58 (1-3-6)
7.31 (5-6-3)
7.46 (5-2-3)
8.02 (2-6-3)
8.18 (4-6-2)
8.34 (1-6-2)
8.50 (1-4-6)
9.06 (5-4-1)
9.24 (5(Nap)-3-2)
9.40 (4-1-5)
9.56 (2-3-6)
10.11 (3(nb)-6-2)
10.26 (6-5-1)
DONCASTER
7.45 (3-4-6)
8.00 (1-4-2)
8.15 (6-5-1)
8.30 (1-6-3)
8.45 (6-5-3)
9.00 (1-2-6)
9.15 (6-1-5)
9.30 (2(Nap)-6-4)
9.45 (2-6-3)
10.00 (5(nb)-4-1)
10.15 (6-4-1)
HALL GREEN
7.35 (1-5-2)
7.50 (5-2-6)
8.05 (4-3-2)
8.20 (6-3-5)
8.35 (3(Nap)-2-1)
8.50 (1(nb)-2-6)
9.05 (2-1-5)
9.20 (1-5-4)
9.35 (5-6-2)
9.50 (3-2-6)
10.05 (5-4-1)
10.20 (3-1-5)
10.35 (1-4-3)
HARLOW
7.30 (2-3-5)
7.45 (2-1-4)
8.00 (3-1-2)
8.15 (5-1-2)
8.30 (3-1-5)
8.45 (1(Nap)-2-3)
9.00 (4-1-5)
9.15 (5-1-4)
9.30 (3-2-6)
9.45 (5-3-1)
10.00 (4-5-2)
10.15 (6-3-5)
10.30 (3(nb)-2-6)
HENLOW
7.45 (1(Nap)-6-5)
8.00 (2-5-4)
8.15 (4-2-5)
8.30 (3-4-5)
8.45 (3(nb)-5-1)
9.00 (1-4-3)
9.15 (1-2-6)
9.30 (6-3-4)
9.45 (2-6-4)
10.00 (3-6-1)
HOVE
7.31 (6-2-4)
7.46 (3(Nap)-6-4)
8.02 (6(nb)-4-5)
8.18 (5-6-2)
8.34 (5-6-1)
8.51 (3-2-5)
9.05 (1-5-6)
9.24 (6-4-1)
9.41 (6-4-3)
9.57 (1-6-4)
10.13 (2-6-1)
10.30 (4-3-1)
KINSLEY
7.20 (1-6-5)
7.35 (6-5-3)
7.50 (1-3-2)
8.05 (6(Nap)-5-1)
8.20 (1-4-3)
8.35 (6-5-1)
8.50 (6-2-3)
9.05 (6-5-1)
9.20 (3-5-2)
9.35 (1-5-2)
9.50 (5-1-3)
10.05 (2(nb)-1-4)
10.20 (3-1-6)
10.35 (4-2-3)
MONMORE
6.38 (4-2-6)
6.57 (4-6-2)
7.14 (4-6-2)
7.28 (6-2-5)
7.43 (5-4-6)
8.01 (2-4-3)
8.16 (2-6-3)
8.32 (3-2-1)
8.47 (3-1-5)
9.01 (2-4-5)
9.19 (2-4-6)
9.30 (4(Nap)-2-5)
9.45 (1-2-4)
10.00 (1(nb)-2-4)
NEWCASTLE
2.24 (5-6-1)
2.42 (5-1-4)
2.58 (1-4-3)
3.18 (3-4-5)
3.37 (1(nb)-2-3)
3.53 (2-6-1)
4.14 (5-4-1)
4.28 (2(Nap)-6-4)
4.47 (3-1-6)
5.07 (4-1-6)
5.27 (5-1-6)
5.44 (3-5-4)
5.58 (6-1-4)
6.16 (3-6-2)
7.39 (5-4-1)
7.54 (6(Nap)-3-4)
8.10 (2-1-4)
8.26 (1-2-4)
8.42 (2-6-1)
8.58 (5-6-2)
9.15 (1-6-5)
9.32 (6-1-4)
9.48 (5-3-2)
10.03 (5-2-4)
10.18 (4-6-5)
10.35 (6(nb)-1-3)
NOTTINGHAM
7.22 (1-3-2)
7.37 (4-6-3)
7.52 (4-3-2)
8.07 (6-3-2)
8.22 (4-1-5)
8.37 (6(Nap)-5-1)
8.52 (1-3-5)
9.07 (4-3-1)
9.22 (6-4-5)
9.37 (2-3-5)
9.52 (3-2-1)
10.07 (1-4-2)
10.22 (1-5-4)
10.37 (5(nb)-6-2)
PELAW GRANGE
7.30 (6-1-5)
7.48 (4(Nap)-5-1)
8.06 (5-3-1)
8.24 (6-2-5)
8.42 (2-6-5)
9.00 (3(nb)-5-1)
9.18 (1-3-5)
9.36 (5-2-3)
9.54 (5-4-2)
10.12 (6-1-3)
10.30 (5-4-1)
PERRY BARR
7.30 (1-2-3)
7.47 (1-6-4)
8.04 (6(Nap)-1-4)
8.21 (4-5-6)
8.39 (2-5-3)
8.56 (1-6-3)
9.15 (5(nb)-4-1)
9.32 (2-1-6)
9.48 (5-4-1)
10.04 (2-1-6)
PETERBOROUGH
7.30 (4-5-6)
7.44 (3(Nap)-6-5)
7.58 (4-5-6)
8.12 (2-1-6)
8.26 (1(nb)-3-6)
8.40 (2-1-3)
8.53 (3-2-6)
9.07 (2-3-5)
9.20 (6-4-5)
9.34 (3-2-6)
9.48 (5-4-2)
10.02 (3-5-4)
10.16 (3-6-1)
10.30 (4-3-6)
POOLE
7.37 (4-5-3)
7.52 (2(nb)-4-6)
8.07 (6-4-2)
8.22 (6(Nap)-5-2)
8.37 (3-2-5)
8.52 (3-4-5)
9.07 (4-5-2)
9.22 (5-4-1)
9.37 (4-2-5)
9.52 (2-6-5)
10.07 (4-1-2)
10.22 (2-1-4)
ROMFORD
10.31 (5(Nap)-3-4)
10.46 (5-6-3)
11.00 (1-5-6)
11.16 (6-1-5)
11.31 (2(nb)-6-3)
11.44 (3-1-6)
11.58 (2-1-4)
12.17 (2-1-4)
12.33 (2-5-4)
12.47 (2-1-6)
1.04 (3-2-1)
1.19 (1-2-6)
1.33 (4-6-5)
1.49 (5-3-2)
7.30 (6(nb)-4-2)
7.45 (1-2-6)
8.01 (4(Nap)-1-3)
8.17 (1-6-5)
8.32 (5-6-4)
8.48 (4-2-5)
9.04 (3-2-6)
9.20 (5-1-2)
9.36 (3-5-4)
9.52 (3-5-4)
10.08 (4-6-5)
10.24 (4-3-6)
10.40 (1-5-4)
SHAWFIELD
7.50 (4-5-2)
8.05 (2-4-1)
8.20 (2(Nap)-3-5)
8.35 (4-1-2)
8.50 (4-3-2)
9.05 (5-2-1)
9.20 (3-4-2)
9.35 (1(nb)-4-3)
9.50 (1-4-5)
10.05 (1-5-4)
10.20 (1-4-2)
SHEFFIELD
7.25 (4-2-3)
7.40 (2-4-1)
7.55 (1-3-4)
8.10 (6(Nap)-1-5)
8.25 (4-2-3)
8.40 (1-5-3)
8.55 (3(nb)-5-6)
9.10 (1-3-5)
9.25 (1-2-5)
9.40 (2-1-5)
9.55 (6-1-5)
10.10 (3-4-1)
10.25 (2-1-3)
10.40 (2-4-3)
SITTINGBOURNE
6.28 (6-3-5)
6.48 (4-3-5)
7.03 (6-1-5)
7.18 (2(Nap)-6-5)
7.33 (6-5-4)
7.49 (3-4-2)
8.06 (5-2-3)
8.22 (1-5-6)
8.37 (1-2-5)
8.53 (6-2-1)
9.14 (6-2-1)
9.29 (4-2-3)
9.44 (6-2-1)
9.59 (6-2-3)
10.14 (2(nb)-6-5)
SUNDERLAND
7.30 (6-3-4)
7.47 (4-2-6)
8.04 (3(nb)-6-1)
8.20 (2-3-5)
8.36 (4-1-3)
8.52 (6-5-3)
9.08 (6-5-1)
9.24 (6-2-5)
9.40 (4(Nap)-3-1)
9.56 (1-2-4)
10.13 (2-6-5)
10.30 (5-1-4)
SWINDON
7.25 (5-6-1)
7.41 (2(nb)-1-4)
7.57 (1-6-4)
8.13 (5-3-1)
8.29 (2-5-3)
8.45 (1-5-4)
9.01 (6-4-3)
9.17 (2-4-1)
9.33 (3-6-5)
9.49 (3-5-1)
10.05 (5(Nap)-1-6)
10.20 (5-6-1)
WIMBLEDON
7.08 (3-4-5)
7.23 (5-6-4)
7.38 (5-6-2)
7.57 (6-1-3)
8.12 (6-1-5)
8.28 (6-4-5)
8.43 (3(nb)-2-5)
9.08 (1(Nap)-4-3)
9.35 (5-3-6)
9.50 (6-2-3)
10.05 (3-6-2)
10.20 (6-5-4)
10.35 (2-1-6)
YARMOUTH
7.30 (1-6-5)
7.45 (5-3-1)
8.00 (6-1-4)
8.15 (2-6-5)
8.30 (2(Nap)-4-3)
8.45 (1-4-3)
9.00 (1-3-4)
9.15 (1-4-3)
9.30 (5-4-6)
9.45 (6-4-5)
10.00 (4-1-3)
10.15 (3-5-2)
10.30 (6(nb)-5-1)
Place your bets on all today's greyhounds meetings