Preview - December 5
We run the rule over Thursday's greyhound racing meetings and pick out our best bets for the action.
Belle Vue. Click here to bet.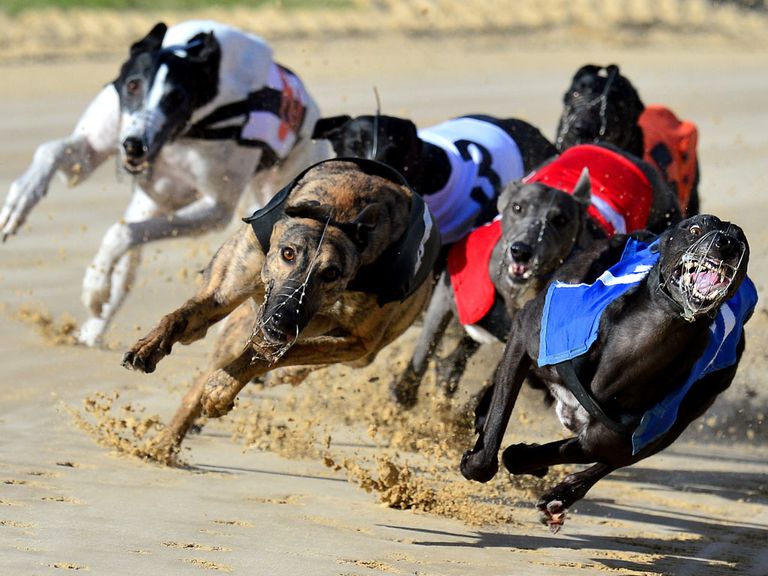 BAGS BEST BET: Bonamassa Rocks (T2, 7.54 Belle Vue)
TODAY'S NAP: Jaytee Jules (T5, 10.03 Belle Vue)
TODAY'S TREBLE: Airforce Diva (T3, 9.48 Belle Vue)
The quarter-finals of the E.C.C. Timber Oaks feature on a high-class Belle Vue card, live on RPGTV, this evening alongside the E.C.C. Timber Laurels, which gets underway with six competitive heats.
Jaytee Jules (T5), generally on offer at around 10/1 in the outright market before the heats last Saturday, is now as short as 9-2 for the year's final Category One following her fastest-of-the-session 27.47 (+10).
Paul Young's daughter of Ace Hi Rumble has proved one of the most consistent competition bitches of the year, finishing runner-up in the Brighton Belle, Olympic and Angel Of The North Stakes, and she could hardly have been more impressive in the heats when her blistering back-straight pace set up a dominant four-and-three-quarter-length win.
She'll be sporting the orange jacket in tonight's fourth quarter final at 10.03 and although the draw is far from ideal, she's no stranger to a ping break and it would come as no surprise to see her lead Akerview Gem and Skate On to the turn.
Airforce Diva (T3) was equally impressive from off the pace in her first-round heat on Saturday and Charlie Lister's St Leger finalist can put her rivals to the sword in hottest of the four quarter-finals at 9.48.
The Head Bound bitch looked in a spot of bother when turning in mid-division behind last year's runner-up Skate On and Forest Trick on Saturday, but her staying power most certainly came to the fore where it mattered most and she ran out a cosy winner.
In tonight's five-runner event, Lister's inmate is expected to turn second behind Droopys Loner before eating into her lead at the penultimate turn and getting on top close home.
In a competitive renewal of The E.C.C. Timber Laurels, won 12 months ago by Farloe Warhawk, Bonamassa Rocks (T2) can stamp his authority on the £6,000-to-the-winner competition in the third heat at 7.54.
Dave Mullins' son of Timor Blue warmed up for this tilt with an ultra-impressive 23.68 over the four bends at Romford last Friday, justifying 6/4 favouritism in the process, and he can go from strength to strength.
BELLE VUE
7.25 (3-2-1)
7.39 (1-6-5)
7.54 (2-5-4)
8.10 (4-6-5)
8.26 (6-3-1)
8.42 (1-4-6)
8.58 (6-2-3)
9.15 (4-6-2)
9.32 (2-1-6)
9.48 (3(nb)-1-2)
10.03 (5(Nap)-2-1)
10.18 (5-6-3)
CRAYFORD
2.18 (5-6-2)
2.37 (2-6-3)
2.57 (6-1-5)
3.17 (1-2-3)
3.38 (3-5-1)
3.58 (3-2-6)
4.18 (5-1-6)
4.37 (4-2-6)
4.57 (6(Nap)-2-1)
5.17 (5-6-4)
5.33 (6(nb)-1-4)
5.47 (6-3-2)
6.04 (2-5-6)
6.18 (2-4-3)
HOVE
7.31 (5(Nap)-1-6)
7.46 (3-6-2)
8.02 (2-4-5)
8.18 (2-6-1)
8.34 (3-1-5)
8.50 (6-1-5)
9.06 (6-2-3)
9.24 (5-1-3)
9.40 (4(nb)-1-3)
9.56 (3-6-1)
10.11 (6-1-5)
10.26 (1-2-4)
NEWCASTLE
6.39 (3-6-1)
6.56 (1-6-2)
7.11 (1-3-6)
7.27 (3-2-6)
7.43 (1(nb)-3-6)
7.58 (6(Nap)-5-3)
8.14 (5-6-2)
8.31 (3-2-4)
8.47 (3-6-2)
9.02 (2-1-3)
9.17 (1-5-3)
9.31 (2-1-4)
ROMFORD
2.08 (5(Nap)-2-1)
2.27 (6-3-1)
2.47 (2-5-1)
3.07 (3-4-1)
3.28 (6-2-3)
3.48 (4-5-3)
4.08 (5-6-3)
4.27 (2(nb)-3-4)
4.47 (5-2-6)
5.07 (6-5-1)
5.22 (6-4-2)
5.38 (1-6-3)
5.56 (4-1-2)
6.11 (1-5-4)
SHEFFIELD
11.11 (2-6-4)
11.28 (3-4-2)
11.42 (1-2-5)
11.57 (6-1-4)
12.12 (6(Nap)-2-3)
12.27 (3-2-6)
12.42 (4-6-2)
12.58 (4(nb)-6-3)
1.12 (2-6-1)
1.27 (2-3-6)
1.44 (2-6-3)
1.58 (5-2-6)
7.25 (2(Nap)-6-4)
7.40 (6-3-5)
7.55 (6(nb)-4-3)
8.15 (3-4-2)
8.30 (6-5-3)
8.50 (3-2-4)
9.05 (3-5-1)
9.25 (3-6-4)
9.40 (4-5-1)
10.00 (2-5-6)
10.20 (2-5-3)
10.40 (6-1-4)
SITTINGBOURNE
6.00 (6-5-1)
6.13 (4(Nap)-2-1)
6.28 (4-6-1)
6.44 (1-3-6)
7.01 (1-6-4)
7.16 (1-2-6)
7.32 (2-4-1)
7.48 (1-4-3)
8.04 (2-5-3)
8.19 (6(nb)-1-4)
8.36 (2-1-6)
8.52 (1-2-4)
9.07 (6-1-3)
9.22 (1-2-6)
SUNDERLAND
11.03 (2-5-6)
11.19 (6-3-1)
11.34 (1-4-5)
11.48 (3-5-1)
12.04 (1-5-4)
12.18 (1-6-3)
12.32 (5-2-6)
12.47 (6-3-5)
1.04 (3-4-2)
1.19 (2(Nap)-6-5)
1.33 (2-4-5)
1.51 (6(nb)-4-3)
WIMBLEDON
7.35 (6(Nap)-2-3)
7.51 (2(nb)-1-6)
8.07 (1-5-4)
8.23 (1-2-4)
8.39 (1-2-5)
8.55 (3-1-2)
9.11 (4-5-6)
9.27 (1-5-6)
9.43 (2-5-1)
9.59 (1-5-4)
10.15 (1-2-6)