Mind set to net big prize
Ian Brindle takes a closer look at the finalists for the William Hill Greyhound Derby Final.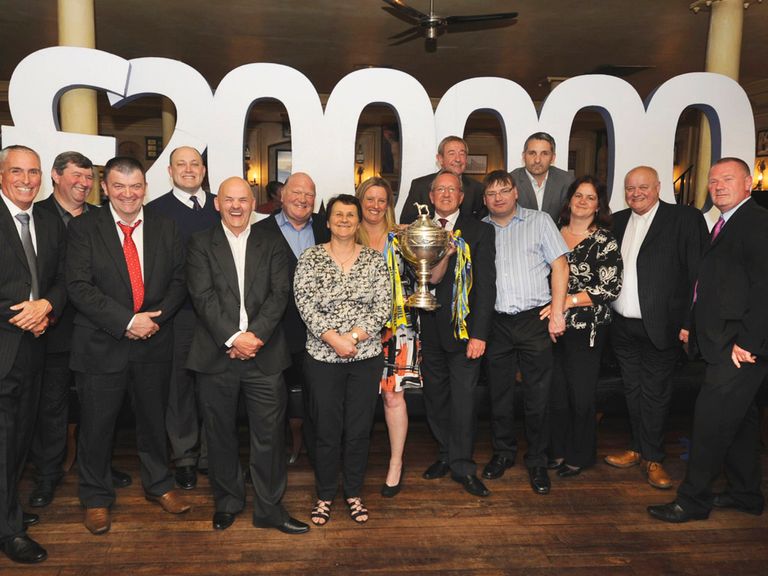 21.08 William Hill Greyhound Derby Final 480 metres (Live on Sky Sports 1)
Trap 1 Crokers Champ
Kinloch Brae – Honey Shine Apr'12
Trainer: Peter Cronin (Ireland)
Owner: Jim Treacy
Best Time: 28.36
Peter Cronin's dog certainly hasn't been in his kennel too often this year as he had made seven competitive appearances prior to his arrival at Plough Lane.
Second to Boylesports Champ in the Con And Annie Kirby Stakes at Limerick, the son of Kinloch Brae was largely overlooked in the ante-post market for Wimbledon as more established performers captured the imagination of the punters.
He certainly couldn't be ignored after he dashed out of the traps in the second round in a 4.62 sectional and saw off the highly regarded Swift Keith for the second time in as many weeks.
Fast trapping is very much his forte and with Trap 1 providing two of the last three winners, the old theory of the box being a poor draw is no longer the case.
Crokers Champ has been a highly credible performer throughout the competition and while it was disappointing to see him picked up close home in the semi-finals, his record is of three victories and two seconds (the largest margin of defeat being just half-a-length).
Some have questioned whether a rails draw is ideal but that isn't as relevant as it seems. A smart exit would give him his best chance of winning the race, though he certainly didn't shirk the issue when led up in a messy quarter-final.
Peter Cronin (trainer): "He's in great form. He hits the ground running rather than traps. The English Derby is something we always aim for and this year I've got a better class of dog."
Trap 2 Salad Dodger
Crash – Airforce Stacey Jun '12
Trainer: Bruno Berwick (Coventry)
Owner: Bruno Berwick & Ron Mills
Best Time: 28.44
If any Hollywood producers are tuning in to Saturday night's broadcast, they could do worse than secure the film rights to the Salad Dodger story.
Trained by a bricklayer and attached to a track that has now gone out of business, the son of Crash joined current connections having failed to progress beyond the third tier of the grading ladder at Romford.
Berwick, who owns just four racers and a handful of pups, had been on the verge of ending his involvement in the sport until a long conversation with former Mark Wallis-stalwart, Patrick Janssens, led to him re-evaluating the way in which he prepared his dogs. 
Rejected by a number of racing managers as not good enough to be taking his chance in minor open races, Salad Dodger was sent for a trial at Wimbledon as something of an afterthought, and the rest is history.
Legendary physiotherapist, Ron Mills is a part-owner of the greyhounds so he's been quite literally in the best hands during the Derby, and Mills worked his magic with the successful treatment of a minor muscle complaint after the quarter-finals.
The statistics appear very much against Salad Dodger as it's 25 years since a puppy won the Derby and he is yet to win a heat in the competition so far.
He does, however, appear to possess a particularly resilient temperament and having ran on well to qualify in the quarter-finals, he showed decent track craft last weekend to post his fastest time of the campaign.    
Bruno Berwick (trainer): "It's one of those stories you dream about but for it to happen to us is hard to take in!"
Trap 3 Droopys Ward
Westmead Hawk – Droopys Orleans Jun'12
Trainer: Paul Young
Owner: Anrey, Bowmer, Heard and Ryan
Best Time: 28.35
Burton Lodge Kennels always set themselves a target of winning a Category One competition and a Trainers Championship during the year, and the team may well have done so last year had Airlie Impact got past Sidaz Jack in last year's Final.
Paul Young has never been afraid of hard work, as his hundreds of graded winners and open race victories suggest, and from one of the largest entries for the Derby for many a year, it is the son of Westmead Hawk that has made his way through to the Final.
Commencing his career in March, it has been a fast rise to the heights of the sport's top table for the greyhound but he showed a glimmer of what to anticipate when successful over 515 metres at Hove, and his campaign at Wimbledon has been characterised by consistent improvement.
The bookmakers have largely fielded against him thought there has been little fluke about his victories.
The second round seeing him pick up Ecclestone from a hopeless position, while the combination of his fastest sectional in the competition and his trademark late rattle, proved enough to see off Crokers Champ in the semi-finals.
The hope is that he can do the same from the white jacket again and that he can clear Salad Dodger on his immediate inside.
There is no better finisher in the race than Droopys Ward but Finals night is as much as how you get to the start as how you finish.  Despite his inexperience, the dog has already given his enthusiastic owners a Derby to remember.
Paul Young (trainer): "He's been running unbelievably throughout the competition so I wouldn't put anything past him and I wouldn't swap him from any other dog."
Trap 4 Mind The Net (m)
Westmead Hawk-Black Biscuit Oct '11
Trainer: Pat Buckley (Ireland)
Owner: Mike Davis & Javier Jarne
Best Time: 28.19
On the week when Westmead Hawk passed away, there would be few more appropriate tributes than one of his sons lifting the Derby and Mind The Net will don the same jacket his father did in his two successes.
Connections have been unflinching in their confidence in the dog, and trainer, Pat Buckley has been adamant that there has been more to come throughout the competition.
To that extent, the punters have proved entirely complicit in the hype by sending him off as favourite or joint-favourite in each of the rounds, but there has been nothing empty about the talk and it was no surprise to see the bookmakers being knocked over once the draw was announced.
Like his father, Mind The Net, wasn't able to win a Scottish Derby though finishing second to Holdem Spy was no failure and that line of form has proved to be just about the best around.
Lodging down the road in Mitchum, it is Buckley's preparation that has been a completely textbook way of how to "do Wimbledon". The emphasis being on qualification in the first two rounds before lowering the times as the Derby progressed into its third round.
A 4.77 sectional in the quarter-finals seemed to catch everyone by surprise but leading isn't a necessity as it is down the back stretch where the dog begins to unwind.
Finding himself shuffled back at the first turn last Saturday was not ideal, but his middle pace and an ability to find gaps saw him through and it was hard not to like the performance.
For many, the race will be about watching where he turns after they've reached the second bend and it will be in these vital seconds where his Derby will be won or lost. 
Pat Buckley (trainer): "I think the draw is perfect for him. We're delighted to be there. He's a real good dog…he's clever and can sit back and he ran a real good race in the semi-final." 
Trap 5 Kincraig Rory (m)
Hondo Black – Kincraig Brindle Nov '10
Trainer: Tony Collett (Sittingbourne)
Owner: Len Ponder
Best Time: 28.55
The son of Hondo Black will go into Saturday's final as the eldest participant by some way though age isn't necessarily a barrier to success as Blonde Snapper (2012) was of a similar vintage as he went to the boxes on Finals night.
Acquired by Lenny Ponder (having negotiated a deal with Irish owner, Allen Agnew ahead of the competition), the dog bids to realise a long-held dream for his new owner as he is a patron of over 50 years standing at Plough Lane.
Ponder had a previous finalist under his "Lenson" prefix in 2008 with Lenson Express and few would begrudge him the greatest prize in greyhound racing.
Still a maiden on these shores, Kincraig Rory was a regular winner over two and four bends at Drumbo Park in Ireland, but his arrival at Collett's caused barely a splash in the ante-post markets.
The draws have invariably seen him pitched in against the top greyhounds in the competition, and what he may lack in ability, he certainly does not lack in desire. His strength being in his determination to hold onto track position whenever it has come under threat from other dogs.
A 25/1 chance ahead of his semi-final, he ran a stormer to qualify for this weekend's contest, tracking middle before switching to the rails for a daring run and briefly leading up Mind The Net on the run in. 
The figures suggest that his trapping could potentially be his Achilles heel but in a Final where anything could happen, he only has to manage to do it once.
Tony Collett (trainer): "He's took us all by surprise even though he had some cracking sprints at Drumbo Park. He looks lovely and fresh and he has pace between the second and third turns."
Trap 6 Farloe Trent (w)
Hondo Black – Final Pearl Aug  '11
Trainer: Liz McNair (Unattached) 
Owner: K.S.S. Syndicate
Best Time: 28.62
The McNairs will never be regarded as the "Posh and Becks" of the sport but if Farloe Trent prevails on Saturday, we can expect Rab's passable impersonation of Usain Bolt.
While Rab is the undoubted mouthpiece of the team, it is Liz that quietly goes about the business of preparing the dogs, and having honed their skills through the rough-and-tumble world of the "flapping" circuit, the McNairs have a reputation of producing their dogs inch perfect at the time when it matters. 
The K.S.S. Syndicate have already tasted Arc success with King Dec and some may have believed that this dog was been lined up to steal a first round prize when he was backed off the boards ahead of his opening round heat. Shooting clear of his rivals out of the boxes, it was only a late run from Metro Jack that consented to spoil the party.
As the winner of the Race Of Champions at Tralee and runner-up in the Dundalk International last year, there is little doubting the calibre of Farloe Trent though talk has invariably made reference to the likelihood of him spoiling the chances of others.
Such observations were soon put to bed in the semi-final, as having missed the kick, he was forced to make his own luck and not rely upon early pace alone.
Nevertheless, it could be significant that the McNairs went to the trouble of giving him sprint, rather than four bend trials as the trials sessions commenced at Wimbledon.
As things stand, a 4.75 sectional in the third round is his best figure from the boxes though the presence of a noted slow starter alongside, offers him every chance of getting a clear run.  A time of 28.62 suggests he has a bit to do on the clock but as the last remaining wide seed, he has the luxury of a prime slot to work from.
Brendan Keogh (owner) "We are delighted with the draw – we actually think he's got a chance from six. If he goes to the bend like he did on Saturday and cuts in…he has a serious chance. 
Somewhat unusually for a gala final, three of this year's field are yet to win a heat but it isn't impossible to win from that position as Westmead Lord did so in 2007.
Short-priced favourites don't have a particularly great record in the Final with just one of the last six jollies obliging, and outsiders such as Kinda Ready (25/1), Allen Gift (16/1) Blonde Snapper (8/1) and Droopys Hewitt (subsequently disqualified post-race but sent off at 16/1) all making their way onto the roll of honour since the turn of the millennium. 
Farloe Trent has got the best draw of the lot and he is placed to prosper on the outside if there is trouble, while a week's rest could see a very different Crokers Champ and he seems sure to get the early sweep to the inside rail. 
However, it is hard to side against MIND THE NET despite any value in his price long since disappearing. The first half of the race is going to be uncomfortable viewing for his supporters but his task could have been much more difficult. 
Droopys Ward is a pup of tremendous promise and if he can avoid potential hazards, the youngster has every right to make the frame. 4-1-3