Jack set to lift his game
Ian Brindle takes a closer look at the semi-finals of the William Hill Greyhound Derby.
Greyhound Derby. Click here to bet.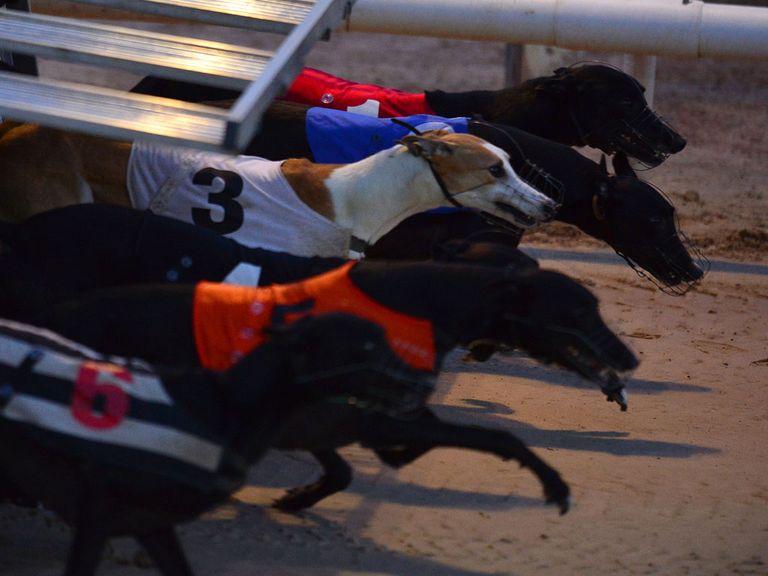 20.45 Greyhound Derby First semi-final
1 Metro Jack (Peter Cronin, Ireland)
Unable to get a run on the rail on Tuesday but has won two of his previous rounds from this berth. Has proven form in big competitions (runner-up in Scottish Derby) and that experience will count for plenty infront of a boisterous Wimbledon crowd.  
2 Farley Chicken (Liz McNair)
Quietly progressive in this competition and goes about his work in a likeable fashion. Probably lacks speed to take rail position in this race and though he's proved he stays well; he cannot afford to be behind trap three at any stage.
3 Droopys Ward (Paul Young)
Only Paul Young runner left and contender for strongest finisher remaining in the Derby. Invariably has been available at big odds in every round and will need plenty of luck before he makes his run.  
4 Salad Dodger (Bruno Berwick)
Still without a victory in the competition though ran on stoically to qualify from an unpromising position in the quarter-finals. His price is a fair representation of his relative chance. 
5 Crokers Champ (Peter Cronin, Ireland)
Set the standards with a lightning 4.62 sectional earlier in the competition and proved himself on Tuesday to be more than just a pace merchant as he battled back to win having been led up. Sectionals suggest he'll clear some but will he clear all as he darts inward towards his favoured rail position?  
6 Ecclestone (Paul Hennessy, Ireland)
Least fancied of the remaining four Irish participants and hasn't added to his opening round victory. While he was unable to cope with the brilliance of Mind The Net on Tuesday, he's the sole wide seed in the race and he's ideally located in the event of scrimmaging. 
Verdict:
Crokers Champ coped admirably when finding himself led up, and while his sectionals suggest he'd be a certainty from the red jacket, a particularly modest run from this box in Ireland is just enough to put us off. METRO JACK hasn't set the world alight as yet but he never got a clear run during his quarter-final and he can gain compensation from a plot draw on this occasion. Farley Chicken and Droopys Ward will be staying on late and Ecclestone may take a hand if he traps out brightly. 1-5-2
Bet on the Greyhound Derby and get a free £30 matched bet!
21.05 Greyhound Derby Second semi-final
1. Brother John (Seamus Cahill)
One of the heaviest dogs remaining in the competition at 36kg and may need to use that bulk in order to muscle his way around the first couple of bends. Hasn't recaptured the sort of form he showed in trial stakes though seemed much happier for switch to red jacket on Tuesday.
2. Blackrose Vic (Eric Cantillon)
Posting his fastest sectional of his Derby campaign undoubtedly assisted his progress into this round and a similar exit can make him competitive. Not as strong over second half of the race and that vulnerability could be exposed in this better company. 
3. Kincraig Rory (Tony Collett)
Still without a win in this year's Derby and modest trapping has played its part. Little doubting his appetite to battle for track position and he needs to step up a gear at this level.
4. Mind The Net (Pat Buckley, Ireland)
No surprise him so highly touted after putting up what was just about the ideal Wimbledon run in the quarter-finals. It could be asking a lot for him to bounce out with a similar sectional just 72 hours later, though his back-straight pace means that isn't altogether necessary.
5. Farloe Trent (Liz McNair)
Somewhat unfairly derided as a potential spoiler in some camps (myself included) and made his own luck in the quarter-finals. A combination of early pace and wide are always desirable traits in this competition but he'll need to be busy early, as he isn't totally convincing over the distance.
6. Aero Nemesis (Mark Wallis)
No hiding his trainer's high opinion of the dog and while workmanlike, rather than dazzling, in his quarter-final victory, he can be forgiven from a draw that was less than ideal. A return to stripes is a big positive and if clearing trap five without incident, he can lay down a serious marker.
Verdict: There's always a worry of peaking too early but MIND THE NET has been campaigned in textbook fashion and appears the most progressive in the competition at present. Aero Nemesis faces a solid test of his Derby credentials with the luxury of a favourable draw if he can trap out without incident. Brother John is something of an enigma and connections can have no complaints about this pitch. 4-6-1
New greyhounds customers - free £30 matched bet!