The Open: Final round quotes
We've got reaction from the likes of Adam Scott and Jim Furyk following the final round of the Open Championship.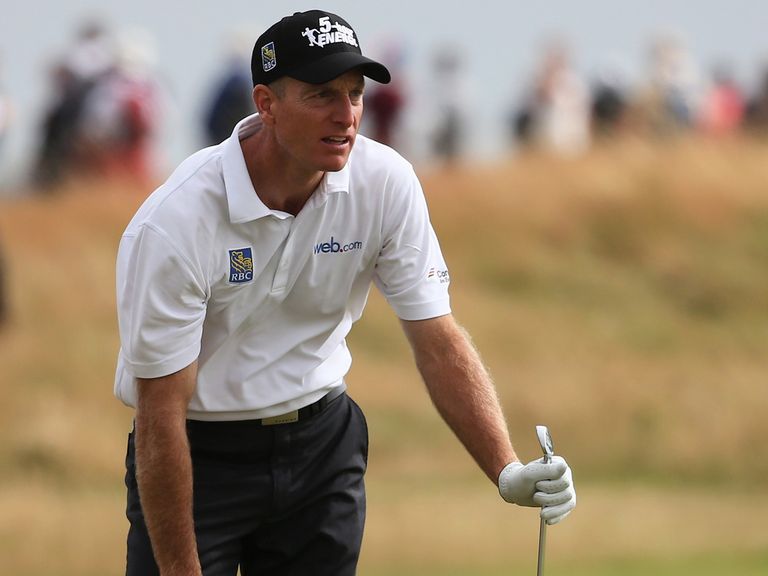 Adam Scott (66)
"I'm disappointed. But you can get on the wrong side of the draw every now and then. But I still feel like I probably could have done a better job of limiting the damage on Friday when it was pretty tough out there. And I did by shooting 1-over. But I could have shot a few better than that. And then I could have done better yesterday on the front nine, as well. It was a slow start when everyone was really going gangbusters. That's the way it is. Momentum is such a big thing. And I had a very stagnant 27 holes in the middle of a tournament. It's tough to recover from."
"I'm motivated now. I'm a little annoyed that I'm leaving here playing well and not winning, but down to one major at the year it's the last shot at it. I'm highly motivated to spend the next two weeks getting in the best possible shape I can to kind of do a Rory or a Martin or Bubba Watson and run away with a major."
Jim Furyk (65)
"(Rory) played great. He was tested a few times. Rickie made a run on him yesterday and he answered the call late on the back nine. And Sergio has made a pretty good run at him today. I guess this is for birdie here. But he stayed patient, it seems like. He's made a ton of pars, not very many mistakes. And that's what it takes to win major championships.
"I think that next year, St. Andrews is power oriented, power dominant. I've struggled there, I'll be honest. The last two times I missed the cut. I made the cut my first year there, but it's a golf course I have to have a good attitude going in there. There's a lot of great venues on this rotation. This and Birkdale are my two favorites, but I've finished top five every time I've played there in four events. I like Carnoustie. Turnberry is wonderful. Troon is not power dominated. I don't think Lytham is power dominated. They're not my favorites like the others. There's a lot of places where it's more about getting the ball in play and working some shots. And links golf really isn't always as power dominating. St. Andrews you can have times where it's a huge advantage to be able to bomb it."
Graeme McDowell (67)
" Friday, Saturday I hit it beautiful. I went to the range yesterday afternoon and sort of to consolidate and get it sort of bedded in. Came out this morning, didn't warm up very well, and just didn't hit it great. My rhythm was a bit off today. Nice to hang in there and I kind of asked myself what happened on Thursday with my back nine performance, because Friday, Saturday, Sunday, the back nine has been really kind to me. And what I'd not give to go back to the 10th tee and start again on Thursday. But that's golf.
"They just asked me in there what my emotions are for Rory, as I watched him walk to the 16th tee box. I used the word "jealousy," which I think what I really meant was "envious." Envious, because I'd love to walk down the 18th fairway with an opportunity to win the Claret Jug. And huge amount of appreciation for what he's doing, respect for what he is in the game of golf, and how good he is for the game of golf. So great stuff.
"It's been an interesting day, because enough wind to make it tough, but enough wind to keep it scorable, as well. I see, Shane was 7-under, very happy for him. He did cross my mind as I stocked my 20-footer in the last of time. I knocked it for him, that one. Nice way to finish for me, obviously. But like I say envious and respectful and appreciative of the curly haired kid."
Marc Leishman (65)
"Yeah, I'm really happy. It's a tournament I haven't done well at in the past. I love this style of golf. I love links golf. But for some reason just hadn't played any good. So to get something down here, especially today, it was a solid week before today, but today made it a really good week. Wherever it finishes, whether it's 3rd or 5th or 8th, who knows, it's a good week for me.
" I love the tougher golf courses and the majors are generally played on tough golf courses. I came close to the Masters a couple of years ago. Played with Scotty, who won. And it was great to see exactly what you have to do. And then today to - well, I was too far back at the start of the day, but to at least have a run at it, and if I did something stupid I could have maybe given him a run for his money. But it does give me confidence going forward in the majors."