The Open quotes: Round two
We bring you the latest reaction from the Open Championship at Hoylake as players complete their second rounds.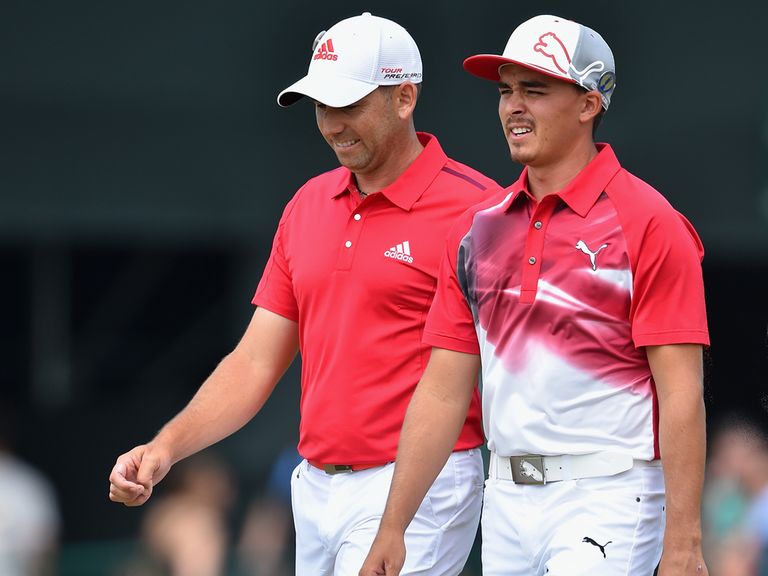 Rory McIlroy (66)
"Going out today I'm watching some of the coverage earlier this morning. I saw that it was a little trickier today with the wind being up. It seemed like the guys out earlier were struggling to make many birdies and try to push their way up the leaderboard. Starting off I was just trying to keep it steady and solid, and knew that I would have some chances on the par 5s and some of the holes that were playing downwind. So even though I started a little shaky with that bogey on the first, I was still pretty confident. I had some chances coming up. It was nice to be able to take them.
"I don't know if I can describe it. It's just I feel quite, just like I have an inner peace on the golf course. I just have - I don't know, just feel very comfortable. I'm very comfortable in this position. I'm very comfortable doing what I'm doing right now. It's hard to describe. I wish I could get into it more often. If I'm able to do it a few times a year, that's nice. I think it's a combination of confidence. It's just being mentally strong, mentally aware of everything. But I think it all comes down to if you're confident with your game and you're in control of your ball out there, it makes things a lot easier.
"I think it's fantastic to be able to be in this position in front of the home fans, if you will. I felt a lot of great support out there today. Hopefully get the same for the next couple of days, as well. And, again, I'm just really trying to stick to my game plan and stick to - keep telling myself these couple of words that I keep reciting in my head. And that's really it. Whether I'm one shot in the lead or ten shots in the lead or whatever it is, I'll just keep trying to do the same thing. But there's still a lot of golf to play. But it's a huge tournament. It's The Open Championship and one that I'd dearly love to win. I'm trying not to let myself think about that. It's only two rounds. There's still two rounds left. But I'm in a great position and we'll just see how the next couple of days unfold."
Rickie Fowler (68)
"Yeah, all in all, a great start for the first two days. I definitely feel like I can improve on the first two days. I left a little bit out there. Today I didn't feel great with the putter. My eyes were a bit off, so I kind of scraped it around. Was able to make a few and get in with a good, solid round. So I'm excited for the weekend see if we can get a few things ironed out and keep moving forward.
"The U.S. Open was definitely the most comfortable I had felt in a major. And then I feel like this week is the most definitely very comfortable and comfortable with the expectations of knowing I want to be in contention and want to be here to have a chance to win the golf tournament. So it's fun going through the process and kind of moving forward and putting myself in positions to be around for the weekends at majors.
"When (Rory McIlroy's) driver is on, he's almost unstoppable. He's a very good driver of the ball when he is on. I know he gets a little off here and there. But there's not -- I don't think he has a whole lot of weakness. I know there's been a couple of Fridays where he's struggled a little bit and kind of fallen back. But it seems like he just gets a little off with the driver, misses a few putts and the momentum goes the other way. He's not scared. He's not scared to go and keep going. So if he's playing the way he is right now and keeps playing through the weekend, he's definitely going to be tough to catch. But I know the weather could throw in a little mix there tomorrow. We'll see what happens. But it's fun to get to go out and battle against him."
Sergio Garcia (70)
"At this championship, fortunately, they (the fans) want me to do well every time I play. I feel that. I am going to do my best, not only to win it for myself but for them. They are very happy with some of the things I have been able to do for Europe on the Ryder Cup. It would be nice to win an Open Championship.
"To have another hole-out on two was great. There are a lot of good things, a lot of good memories from this championship in Hoylake - another one at the same hole. It is great to be there. We need to shoot a good round tomorrow and make sure we keep ourselves in contention and then see what we can do on Sunday.
"We will see how he (McIlroy) finishes. Obviously he is playing well. He is a wonderful player, we all know that, and he is going to be difficult to beat. But we will see. When it plays tough like this, anything can happen."
Tiger Woods (77)
"I didn't hit the driver very good today. I was trying to be bolder, more aggressive. With the wind the way it was I could take some of the bunkers out of play, get it down there where I could hit sand wedge into the greens even from the rough. Angel (Cabrera, one of his playing partners) was doing that yesterday and did it quite effectively with a different wind but this was a more difficult wind. I figured today was a chance where I could go out and be aggressive but I just didn't drive the ball.
"It was not a very good round. I got off to a terrible start again. I had some opportunities to get back to even par for the day but I just never did, I never made anything. I had myself in good positions to make birdies and I didn't do it."
"Luckily I have two rounds to go and maybe I can do something like Paul (Lawrie) did in 1999 and make up 10 in one day. Hopefully I can play well and give myself a shot going into the back nine on Sunday.
"It is not a surprise what Rory is doing, he's won both of his majors by eight so when he gets going he can make a lot of birdies. He plays pretty aggressively to begin with and when he is going he can get it going pretty good."
Adam Scott (73)
"There were some ups and downs but it was really, really important to finish with a couple of birdies and put me in good shape for the weekend. They (birdies) all count the same, but it was a good time. Lunch will taste a lot better. If the wind stays up I shouldn't be too far back.
"I could have been better today. I played really well, but didn't take advantage of my good shots and compounded that with some errors from the middle of the fairway. It's one thing if you're in trouble to make a bogey but when you're in the middle of the fairway you don't want to make a bogey, and I had a couple of them on the back nine. I hit the skids and had to scramble coming in. But today was much tougher out there, just the slight direction change and the gusts."
Phil Mickelson (70)
"If the wind stays up, absolutely I am (still in the tournament), but I have a feeling that the conditions are supposed to get softer this afternoon. And if that's the case I'll be quite a ways back. But tomorrow when the conditions come in (rain is forecast), there's going to be a lot of scores that go five, six, seven over par. If I can shoot something under par, I'll be right in it for Sunday.
"It takes pressure off. You don't feel the pressure of trying to force a win. Also I'm more accepting of the fact that I'm on the poor end of the tee times. I've also been on the good end of the tee times and you accept that as part of the tournament.
"The tendency is I see the scores and seven, eight under par is probably going to be leading or so and I have to force birdies. But the conditions I had didn't allow for it. I have to play as well as I can with the conditions that I'm in. If even par is the best I can do, that's all I can do. Now I might be seven or eight back, but I can't control that. If I try to force it, I'm missing the cut."
George Coetzee (69)
"This is probably definitely my favorite major. It's always going to be my birthday week. It's nice to play well, obviously, in a very prestigious event. And to have my birthday coincide with it is also nice.
"I think yesterday morning was awesome and the afternoon was maybe a little windy. But I think this morning was quite bad. The wind blew. But obviously all the holes weren't playing like into the wind. So they weren't playing super long. You just had to kind of manufacture your shape for the crosswind.
"Before yesterday's round we knew that it was going to be a little windy in the afternoon, and it looked like it was going to be pretty miserable this morning. So when I played yesterday, I thought to myself you probably need a couple of birdies just to try to make the cut the next day, if the wind is going to blow. Yeah, we'll see how the day pans out. If the wind drops down, obviously I think we might have had the rough side."
Gary Woodland (68)
"It was nice to get back in it. I played better yesterday than I scored, which was frustrating. I got some work last night on the range, I came back out and I felt great. I got off to a good start. I got a couple of putts to go in there. I made an eagle on 5 and made another putt on 6. It was nice to get low early. I hit some good shots coming in. Didn't make any putts there until the last hole. It was nice, I was trying to get under par to get back to even. It was a good deal.
"I thought yesterday we got the tough end of the draw. And it was pretty tough this morning. We'll see. The wind is supposed to die down this afternoon, we'll see how it goes. Definitely the golf course was set up a little more favorable today, because it was tough out there.