The Open quotes: Round one
We bring you the latest reaction from the Open Championship at Hoylake as players complete their opening rounds.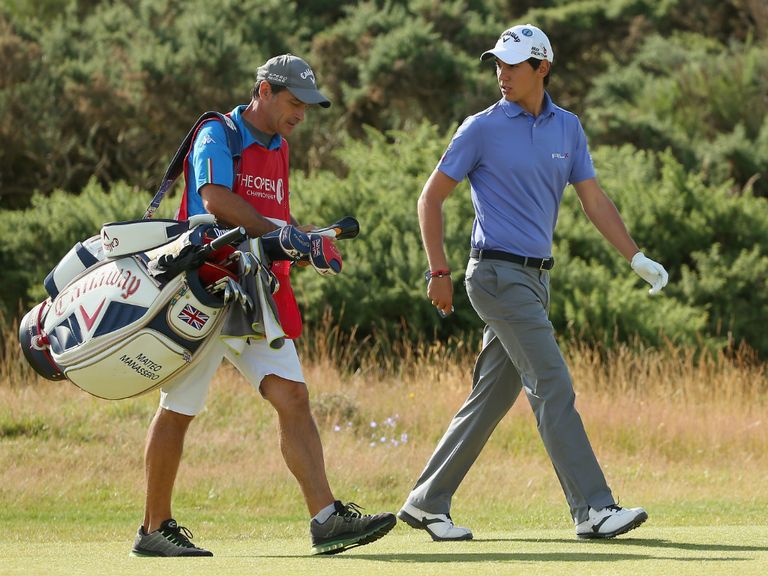 Matteo Manassero (67)
 
"Very, very pleased, actually. It's just the perfect start. As you all could see out there it was calm. It was just a really nice day to get off this Open Championship. So birdies were out there, but this golf course it's not easy. So you have to play really solid. You have to play smart a few times just to take your par and go. And then maybe possibly attack if you're playing well. If you're playing solid, you can attack in a few other holes. And then obviously to make seven birdies you need quite long putts to drop sometimes and a bit of luck. But it's been a really good round and I'm really pleased with it.
"I think I hit two drivers. I hit a driver on 16 and I hit driver on 10. Yeah, definitely two drivers only. But, yeah, you don't need to hit many drivers. I mean, probably the longer you hit it, the more drives you can hit because sometimes you can like - people were hitting far on 1, they can carry all the bunkers, or at least the left one. But I would say if you hit it long, you can take a few more risks, but it's not really necessary.
"You don't have so many surprises in this golf course. It's really fair. You just have to play well. So that was my preparation in general. But I knew that my game was there, but obviously I always think that a good game with zero confidence, it's not going to go very far, anyway. So I did need something to happen before this Open to at least cheer me up a little bit. And last week was really nice for me."
Edoardo Molinari (68)
"I missed a few putts, as well, but you can't make them all. And it's definitely the easiest it's going to play all week because the wind is very, very light. It's probably half a club. And some of the flags are quite difficult. Probably the R&A knew that the weather was going to be very benign today. So they just put some flags a little bit behind the bunkers. Apart from a few holes where you really have to pay attention to, the rest is pretty scorable."
Tiger Woods (69)
"It wasn't exactly the greatest of starts but I turned it around, and ground my way round. It felt like, even though I was 2-over through two, I still had four par-5s to go and I still had a couple of short holes. So if I played those holes well and the tough holes even par, I'd be somewhere under par. I felt like today someone was going to shoot seven or eight under par, the way it was early. But the wind is picking up now. It was dancing all over out there. It was hard to get a bead on where it was coming from. It kept changing, different angles. But I was able to get it round today."   
Rory McIlroy (66)
"Anytime you shoot 66 at the Open Championship, you're going to be pleased. We had perfect scoring conditions out there this morning. There wasn't much wind early on. The wind started to pick up a little bit on the back nine. But, yeah, there was plenty of opportunities to make birdies. I was able to take a few of them. Another great start and, yeah, looking forward to getting back out there tomorrow.
"I am glad that I went up to Aberdeen last week and played under some different conditions. I thought that it might prepare me well for this week. I've seen that there could be some weather moving in tomorrow afternoon and high winds and maybe a bit of rain, maybe a couple of thunderstorms. But I feel like I'm well prepared this week for whatever the conditions. I've practiced in windy conditions the last few weeks. I've practiced the shots that I might need for a bad day like tomorrow might be.
"Will that help in any way? It might do, because you're really just concentrating on one shot at a time when the weather is like that. It's not like I've shot good scores in first rounds and haven't backed them up before. I'm used to doing that. I just haven't done it recently. We'll see what tomorrow brings and what weather it is and try and handle it as best I can."
Sergio Garcia (68)
"Yeah, obviously very pleased. Every time you start a major championship and an Open with a 4-under, you've got to be pleased with it. Obviously a couple of birdie chances on the last three that I would have liked to do better with. But I got a little bit lucky on 18, too, with my tee shot. I can't really complain too much about it."
Henrik Stenson (72)
"I figured anything under par would have been a good start. We had perfect weather and the golf course was quite receptive. I felt I could possibly shoot a pretty good score. I got derailed with the double bogey on 6. Actually didn't hit such a bad shot but it plugged in the bunker and I couldn't get it out. So other than that I felt like I played really well. I struck the ball well. I hit most of them on line. I'm feeling pretty good."
Rickie Fowler (69)
"It was pretty good. Definitely off to a good start. I'm definitely happy with the round. Made a lot of good swings out there. Made a lot of good putts. Just didn't finish as strong as I'd like to. Good solid start at an Open, at a major. I'm happy about it.
"I definitely enjoy playing in the wind. I like - today it's almost like some of the holes were playing, if it's playing off to the right or the left, you can use the wind as some sort of a wall on certain sides of the hole, and today there wasn't really that. You just had to step up and hit a good shot to hit the fairway. Sometimes you can use the wind to your advantage if you know how to play it properly. So that's why I enjoy playing here. I feel like I can control my ball out in the wind. Whatever the weather does or decides to do, we'll be ready to play."
Adam Scott (68)
"Yeah, it was tougher this afternoon, for sure. The wind kicked up a bit and the back nine played very tough coming back into it most of the time, and then in and across, and all of those kind of things make it very demanding. But positioned it off the tee really nice today. I can't say it could have been better, but it could have been, I guess. 18 was messy, but there were a couple of short putts and a couple of par 5s I didn't take advantage of, and from good position. But to keep pace with an early lead of Rory is important, I think.
"It's a good start. I've got a long way to go. 36 holes to put myself in a position. So I'll just be grinding the next two days. If I keep swinging well, I think I'll give myself enough chances to be there. Like I said Tuesday or Wednesday, I've kind of got it make it happen when I'm playing good at the moment."